Sales / Marketing
Fit and flatter
by Ada Ng
Ruby Lau (left), Martin Romero Espinosa
store managers
H&M Hennes & Mauritz Ltd
Photo: Lewis Lam
Multinational fashion retailer harnesses the power of a motivated workforce to create a global fashion empire

Staying competitive in Hong Kong is tough. On almost every corner of the city, customers can walk into big-name fashion houses, apparel chains, petite luxury boutiques and bargain shops. Therefore, fashion retailers need more than strategic pricing, a convenient location and choice of merchandise to survive.

For H&M Hennes & Mauritz Ltd, the global fashion retailer from Sweden, it is the people that the company employs that makes the difference.

An energetic and fashion-conscious team is crucial to creating a satisfying shopping experience and brand loyalty in the constantly changing fashion world, notes Martin Romero Espinosa, store manager, H&M.

"New fashion items arrive at the shop on a daily basis. So, our sales team must be able to display them nicely so as to excite customers," Mr Espinosa says. He suggests that keeping things fresh is one of the ways to lure customers to come back for more.

Currently the world's third largest retailer by sales revenue, H&M made its first foray into the Asian market in 2007, with a flagship shop in Hong Kong's Central district. The company now operates six retail outlets across the city, 21 branches in mainland China and nine in Japan. Last month, the company launched its first store in South Korea to further expand the company's Asian presence.

People value

Fashion is all about people. With access to a global business platform, H&M believes in rewarding talented staff with overseas job placements and internal rotations.
"We manage a linear international hierarchy," emphasises Cher Chui, PR manager, H&M. "Employees who have the capability paired with the right aspirations are given ample career opportunity on a global scale."

Mr Espinosa is one of the many H&M employees who has enjoyed international work experience. He first started at a H&M store in Spain as a part-time sales associate when he was still a student. With in-store training and guidance from a mentor, Mr Espinosa rose through the ranks and was subsequently promoted to floor manager in less than two years. Gradually he gained greater responsibility, which included launching the Hong Kong flagship store three years ago. "I never thought I would make fashion retailing my career, let alone work in Hong Kong," he recalls.

As a trainer and mentor of the new Hong Kong team, he has seen how quickly the young and talented employees have grown and developed in parallel with the rapid growth of H&M.

While the company always hires locally when it enters a new market, Ms Chui says new employees are supported by more experienced overseas colleagues at the start-up period. "We encourage internal promotion, with a belief that development opportunities make a committed team," she adds.

Learning by doing

H&M store manager Ruby Lau's career has been an ongoing journey. She recently returned from an overseas stint to support the opening of the company's first retail shop in South Korea, and openly welcomes the company's internal promotion policy and "learning by doing" motto.

Locally, Ms Lau says the company offers intensive classroom and in-store training to ensure new recruits learn and adopt the H&M way of doing things. Aside from customer service techniques, topics range from workplace safety to folding garments.

Equally important to frontline staff, according to Ms Lau, is teamwork. "Our sales advisors, floor managers and visual merchandisers contribute their expertise and insights to make the store environment inviting," she notes.

While many aspects of a frontline position are learnt on-the-job, the company values certain personality traits in its staff. "They must love fashion and working with people," stresses Mr Espinosa, adding that a high level of adaptability is also essential.

Ms Chui says the company expects more shop openings in Hong Kong and a number of full-time and part-time staff will be employed for every new outlet.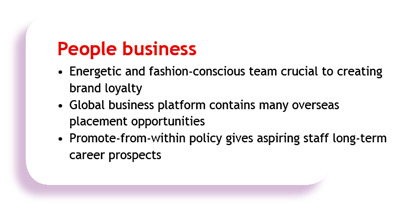 Taken from Career Times 16 April 2010, A10

讚好 CTgoodjobs 專頁,獲取更多求職資訊!