Career Path
Forging a bright future
by Nicolette Wong
Siju Daniel
managing director
FXCM Asia Limited
Photo: Lewis Wong
People who make it big time in the finance industry have one thing in common: they all love a challenge. Siju Daniel is no exception.

Now managing director of leading forex broker FXCM Asia Limited, Mr Daniel concedes that he has always been interested in finance, but it was his move into the foreign exchange sector that propelled his career towards a new and richly rewarding role.

With a university degree in finance and economics, he entered the employment market eight years ago as an equity salesman for a New York-based financial institution. However, with the stock market experiencing a sharp downturn at the time and stock prices declining, his interest quickly turned to the relatively new field of foreign exchange.

"When I went for a job interview at FXCM in 2003, currency trading and foreign exchange were new concepts to me," he recalls. "Joining the company provided an exciting opportunity to learn more about the industry, especially as FXCM was expanding rapidly at the time."

Best foot forward

Mr Daniel initially held a position at an associate level in currency trading. With clear prospects ahead, he opted to work an overnight shift that overlapped with the European working day and saw him working closely with a team of experienced brokers. His astuteness and keen sense of the markets quickly earned him accolades and he was promoted to team manager within a year.

Once he returned to regular business hours, a vast field of knowledge opened up as a result of his exposure to other business functions such as business development, as well as his interaction with the company's senior management team.

In 2004, Mr Daniel was tasked with FXCM's expansion in the US and he put in all effort to build up strong and diverse teams of professionals from New York to San Francisco.

"During my two years in San Francisco, I cultivated an efficient 30-strong team of specialists in sales, marketing, business development and institutional sales and, to some extent, I had the chance to essentially run my own business," he notes.
His next move took him back to New York, where he stepped into a more strategic role—one that required him to drive projects and handle business partnerships. It was in 2007 that an opportunity brought him to the forefront of the foreign exchange market in Hong Kong.

In his current position, he oversees the company's sales, retail, institutional sales, marketing and business development, meeting with the department heads and managers on a day-to-day basis to examine and resolve any business issues that may arise. "My long-term goals are to increase FXCM's presence in Asia Pacific and to see that we continue to grow strategically and organically," he remarks. Once business is closed for the day in Hong Kong, Mr Daniel liaises with the firm's international offices to ensure that the company's Asian operation remains in sync with global developments.

Job satisfaction

The most exciting aspect of Mr Daniel's career so far has been the ongoing growth of the foreign exchange market. He has seen the industry expand both in terms of profile and exposure over the last decade.

"I'm proud to have been part of this. I've seen the company grow and my staff members go places. My time with FXCM has been tremendously rewarding," he stresses.

There is a growing awareness of the importance of an effective regulatory regime, he points out. "As our industry matures, new laws and rules are making products much safer for the clients."

Tightened regulations are also leading to more consolidations. In many instances, smaller foreign exchange dealers that can no longer meet strict capital requirements are taken over by larger firms.

Mr Daniel advises newcomers to the industry to gain as much experience and exposure as possible and to learn from their senior colleagues.

Aspiring foreign exchange professionals should have a genuine interest in working in financial markets, regardless of their academic background, he says. They should be able to work efficiently as part of a team, have strong professional ethical values and be keen to embrace challenges. Those with the right personality and drive will find ample opportunity to quickly work their way up.

"It doesn't matter if you start out as an operations associate dealing with client documentation," he says. "Keep your eyes open for chances to work with colleagues and managers in different departments. If you show your superiors that you're committed to learning, you'll be the first to be considered once an opportunity opens up."

Throughout his career, Mr Daniel's personal credo has been that he should be proud of everything he achieves. "You must be happy to put your name to any piece of work you do. It must represent who you are, and that often means going the extra mile to give your absolute best," he concludes.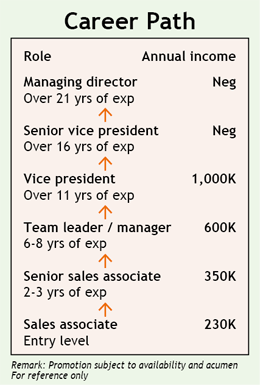 Taken from Career Times 17 September 2010, B10

讚好 CTgoodjobs 專頁,獲取更多求職資訊!