Self-enhancement
From niche to mass market
by Nicolette Wong
"Every business owner has a set of problems they want to solve,"—Danny Yeung, CEO, Groupon Hong Kong
Competition is fierce in today's markets, aspiring entrepreneurs therefore need to be observant, adaptable and creative

While effective communication helps build relationships, personal branding is an essential component of a winning business plan.

Speaking recently at Career Times' eighth Marvellous Ways to Sell Yourself seminar, founder and CEO of Groupon Hong Kong Danny Yeung highlighted the elements of successful business communication. Executive director of bma Investment Limited Canny Yeung shared her tips on self-marketing to win over potential business partners; while G.O.D. founder and CEO Douglas Young spoke of the need for a unique vision in starting any business in today's ever-shifting culture.

Sealing the deal

Seven years ago, Danny Yeung ventured into the franchising business when he was 25, but it was his move to Hong Kong to kick start group-purchasing business uBuyiBuy in March 2010 that took his game to a whole new level.

"Before my move to Hong Kong, I generated a lot of buzz for uBuyiBuy by launching a publicity campaign that featured popular local artists," he said. The group-buying website kicked off a new trend in Hong Kong, and now, following the acquisition by Groupon in December 2010, is a leader in its field.

"As a foundation for a successful pitch to potential clients and partners you must understand their business models. Every business owner has a set of problems they want to solve. It might be getting new customers without spending a lot on publicity, or getting the word out speedily through social media," Mr Yeung noted. "Ask the right questions and show that you have what it takes to help your clients achieve their goals."

Elementary as it may be, proper etiquette in business exchanges can make or break a deal. Professional communications, such as emails with proper signatures and courteous phone manners are important. Scheduling a meeting at least three days in advance is a sign of respect, as well as giving full attention to the client during a meeting. Follow-up emails are a must as they open the door to feedback and further discussion.

"Pay attention to your client's complaints," Mr Yeung pinpointed. "Online social media is a great tool for this, where you can address clients' issues with your services to come up with proactive, prompt solutions."


"Your offer only matters when people know how they can benefit from it,"—Canny Leung, executive director, bma Investment Limited
Branding to win

From spinning popular Canto pop songs to reviving one of the oldest Hong Kong soccer teams, Canny Leung, executive director, bma Investment Limited, has been a symbol of success. "Anyone intending to brand themselves or their business should start with careful packaging," Ms Leung noted.

'It's not so much about what you have to offer but how you package it to fit your clients ideal," she remarked. "Go straight to your diverse accomplishments and how they can add value to your client's business. Your offer only matters when people know how they can benefit from it."

In her experience of securing big-name sponsors and business partners, Ms Leung said that creativity plays a major part. Using budding karaoke empire Red Mr as an example, she explained how a small enterprise can score big points with great ideas.

"We approached Microsoft about using their technology for our song selection directory, and the multi-touch, tabletop screen that could also be used for placing orders and playing interactive computer games," she recalled.

The passion for breaking new ground is the key to gaining the support of potential partners for business start-ups. When seeking sponsorship or business deals, Ms Leung contended that one must be open about the long-term visions as well as present capacity. "Recognise any weaknesses in your business and turn them to your advantage. If you have a limited variety of products on offer, make sure they are top quality and the customer's experience will be a good one," she advised.


"Don't be afraid to go for the alternatives and take a risk,"—Douglas Young, founder & CEO, G.O.D. Ltd
New expressions

As a creator of lifestyle and taste, Douglas Young, founder & CEO, G.O.D. Ltd, has always believed that novelty is the critical element in business success. As brand building must be grounded in a distinctive style, young entrepreneurs must examine the markets they wish to enter in order to find their niches.

"There are many types of business model in a market, and you must find your own voice and formula if you want to succeed," he remarked. "Don't be afraid to go for the alternatives and take a risk, because the mainstream will be filled with established players already."

G.O.D. has been a remarkable example of revamping the old to create an original style that taps into a new segment of the home decoration and lifestyle products market. By fusing East and West, traditions with the contemporary, Mr Young presents a new identity for Hong Kong's discerning consumers and homemakers alike.

"When it comes to commodities, successful brand building should feature aspects of our culture and society that speak to the consumers. These insights often come from our observations of everyday life and surroundings," he told the seminar-goers.

The inspirations for many G.O.D. products stem from old architecture, newspapers and household items such as old-styled calendars that are a part of Hong Kong's collective memory. The controversial "Delay No More" slogan has been a runaway hit with international customers and the company's overseas business partners, since it delivers a unique aspect of the city's spirit with a fun touch.

"The trick is to explore existing patterns and icons, and transform them into innovative, fun products that surprise the customers. The experiment can be a roller coaster ride because only one out of 10 ideas you come up with may materialise," he stressed. "Keep innovating and you will see the fruits of your creative labour."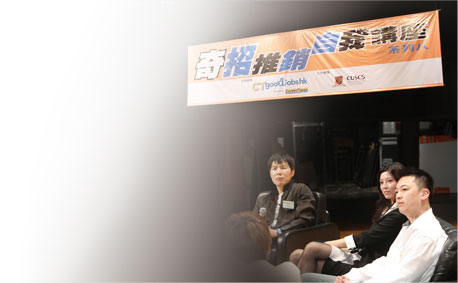 Taken from Career Times 29 April 2011, A16

讚好 CTgoodjobs 專頁,獲取更多求職資訊!