Career Path
From the ground up
by Charles Mak

These days whenever the four male members of Mak Fuk-yee's family get together, they talk football, among other things. A game of Mah-jong may follow. They do discuss work and related issues, since they all work for the same company after all.

In 1948, Grandpa Mak Fuk-yee became a sheet metal mechanic for the Hong Kong Aircraft Engineering Company Limited (HAECO). "We lived within the vicinity of the Kai Tak Airport in Kowloon City," he says, explaining his career choice.

His son Mak Shu-kay followed his career trail 18 years later as he wrapped up school at The Hong Kong Technical College (currently the Hong Kong Polytechnic University). "I immediately entered an apprenticeship and my dad was my mentor," recalls Mr Mak, current head of HAECO's sheet metal section. Four years as an apprentice helped him lay a solid foundation and he only has his father to thank for: "He was strict and I never expected him to cut me some slack."

Juggling myriad responsibilities, which comprises a range of administrative tasks as well as HR development and staff training, Mr Mak is keen to keeps his feet on the ground. "We are part of the trade and have seen a lot of 'ups and downs', from the TriStar L-1011 launch in the 70s, to the introduction of Boeing 747 jumbo jets, and the rise of Airbus," he says. "We've provided our service and expertise at overcrowded Kai Tak and will continue to do so now at the state-of-the-art Chek Lap Kok International Airport."

Part and parcel

A commitment to the aviation industry runs deep in the Mak family. Mak Shu-kay's younger sibling Mak Shu-sing takes much pride in his current role as a HAECO engineer (sheet metal).

"Growing up in a neighbourhood so close to the airport you got to breathe and live the industry," he says. "But the job requires more than a genuine interest. It's more important to learn the skills and technologies; follow all instructions and procedures, and comply with stringent standards."

Safety is paramount to air travel so a job in aircraft servicing and maintenance can cause stress, he points out, recalling the Kai Tak runway overrun in 1993 and the 1999 China Airlines MD-11 flip-over. "Incidents like those in addition to increased customer expectation keep us on our toes," he adds. "Good comradeship alleviates pressure and job satisfaction drives us to go the extra mile."

Most of Mr Mak's work colleagues boast on average 20 to 30 years' experience in the field. "People that make it through the initial hardship will eventually find this niche profession worth their efforts," he notes. His son Marco Mak is a case in point.

Rainbow's end

A computer graduate from the Hong Kong University of Science and Technology, Marco Mak had learnt a great deal about the aviation industry and HAECO at an early age. He signed up for HAECO's aircraft engineering licence (AELT) programme in 2004 after navigating the employment market for a fruitless year, and is now an approved maintenance technician.

"The programme put me through three years of training," he says. "During that time I had the chance to learn the ropes from my predecessors and the experience paved the way for my future."

Barely 30 years' old, Mr Mak has set his sights high, eyeing the role of approved maintenance supervisor, which is one step up from his current position. His university qualification may have given him a head start but he modestly notes that young people should pursue their career goals regardless of academic qualifications.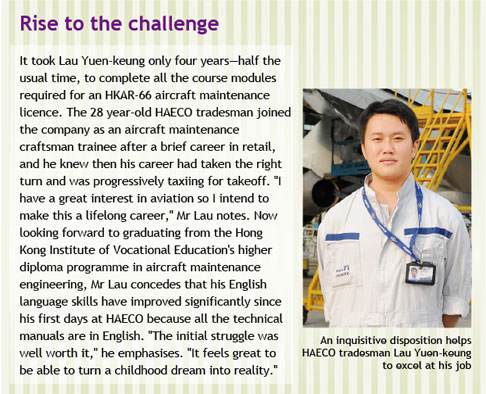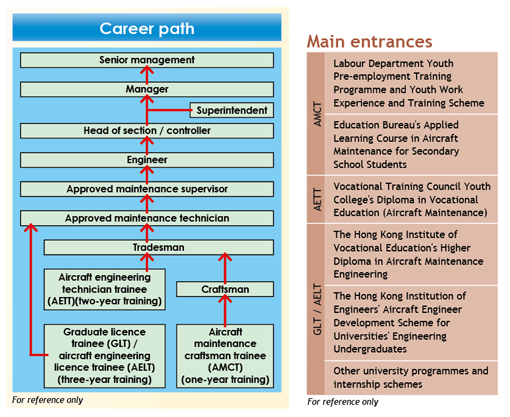 Taken from Career Times 11 February 2011, B12

讚好 CTgoodjobs 專頁,獲取更多求職資訊!