Career Path
Getting a head start
by Grace Chan
Edmond Wong
project director
Dragages Hong Kong Limited
Photo: Edde Ngan
From an early age, Edmond Wong was fascinated by mega infrastructures like tunnels and bridges. He went on to study civil engineering at the University of Washington in the US and, after graduating in 1978, returned to Hong Kong to kick off his career as an assistant engineer for reputable French contractor Dragages—his preferred career platform.

"In the old days, company logos were usually designed in a horizontal typographical style, but the Dragages one was unconventionally vertical. That, as well as the group's landmark projects such as the Shek Pik Reservoir and Lion Rock Tunnel, impressed me," recalls Mr Wong, who is currently project director of Dragages Hong Kong Limited.

Dragages was first established in Hong Kong in 1955, when it was awarded the contract to redevelop the runway at the old Kai Tak International Airport. It was one of the first foreign contractors to be involved in a major construction project in the city.

Not too long after landing in Hong Kong, Mr Wong found himself assisting at a quarry project at Sok Kwu Wan on Lamma Island. This was followed by various landslide preventive works and a bridge construction project, the first phase of the Tsuen Wan Bypass.

He notes that one of the main benefits of working for Dragages has been the all-round exposure and training offered by the company. "Three years after I joined, I received a 24-month secondment to a consulting firm, where I gained solid design experience from a consultant's perspective," he says.

After several years of training on design and having gained work experience in both the mainland and Hong Kong, he was given increased responsibility in terms of project design and methodology.

Job satisfaction

Mr Wong was promoted to project manager at the young age of 36, with his first assignment being a pipe-bridge design and build project at Tolo Harbour. "That particular undertaking honed my project management skills and helped me to build up the confidence to work independently," he reflects.

Of all the projects he has worked on, Mr Wong has found the design and construction of the Kai Tak Airport Taxiway Bridge in 1992, a short-cut bridge from the runway to alleviate heavy congestion, the most testing—but at the same time highly rewarding.

"We had to overcome a number of constraints. For instance, piling plant works had to be done within the confined heights of the Kai Tak nullah and some construction activities were limited to a timeframe between midnight and dawn in order not to disrupt takeoffs and landings," he says. "The most challenging was that the project involved nearly 20 divisions of various government departments, so, in addition to technical knowledge, I also had a chance to demonstrate leadership and good communication skills. The opportunity to build a vast people network was second to none."

The project was completed ahead of schedule without a single incident and earned the company significant industry recognition. Mr Wong moved on to work on other major contracts, including the Rambler Channel Bridge (now known as the Cheung Tsing Bridge), the Kwai Tsing Tunnels (part of the KCR's West Rail) and five cable tunnels for CLP Power, applying different tunnelling methods.

Another promotion followed in 2002, when Mr Wong moved into the role of project director, involving overseeing projects from design to completion and taking on additional management responsibilities.

"While I find it extremely gratifying designing new methods, the most rewarding aspect of my job is seeing a project completed with good safety records," he emphasises.

Constant thrill

Although he has been with the company for 33 years, Mr Wong still finds that no single project is the same and he has never felt the need to take his expertise elsewhere.

He is currently involved in the tunnelling works for the Express Rail Link (Hong Kong Section). "Dragages has been a pioneer in new technology and know-how in construction and has brought the most advanced bridge construction and tunnelling techniques to Hong Kong. There have been many opportunities to learn from our French counterparts," he points out, adding that he hopes he can be involved in one more bridge project before he retires. "I'm proud to be working for a company that is so highly esteemed in the industry."

Considering the number of civil engineering projects in progress in and around Hong Kong, Mr Wong believes industry prospects look good. He advises budding engineers to pursue professional qualifications and opportunities for self-development.

"Continuous learning is a must and newcomers who grab the chance to learn from senior colleagues can go far in this field. If they're willing to expand their horizons and travel, there's also plenty of scope for growth outside the comparatively comfortable confines of the Hong Kong market."

Mr Wong stresses that integrity, an open mind and a respectful manner are essential personal qualities for a good civil engineer. "Attitude makes all the difference. If you're passionate about your job, everything else can be learnt along the way."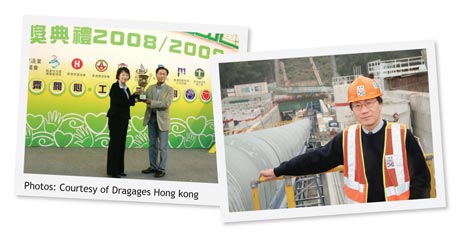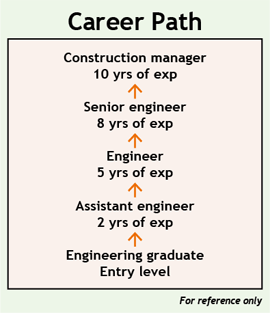 Taken from Career Times 10 September 2010, B10

讚好 CTgoodjobs 專頁,獲取更多求職資訊!