MT Opportunities
Giving all it takes
by Grace Chan

Only strong aspirants need apply

In December last year, City Telecom (HK) Limited (CTI) received more than 800 applications for a place in the company's one-of-its-kind CXO of the Future management trainee (MT) programme. Of the 17 candidates on the shortlist for a rigorous three-round selection process, none made it through to the final panel interview.

Known for its unconventional corporate culture, CTI allows only exceptional graduates with a strong drive and outstanding creativity to move through the ranks to eventually take up top executive roles.

Singled out are those accepted to the programme, which was launched more than 10 years ago; and of the 20 executives so far groomed through this initiative, some have already been promoted to division-head positions.

The CXO programme, which was restructured in 2007, runs for 18 months, incorporating job rotations, challenging assignments and a final placement. Since last year, overseas applications are also accepted. Trainees earn a monthly salary of HK$20,000 during the training period, with a discretionary performance bonus.

This attractive package aims at drawing the cream of the crop from universities in Hong Kong and abroad, says Carrie Wong, manager, talent management, City Telecom (HK) Limited. However, prospective trainees in the past were mainly attracted by the company's reputation and prospects for future development.

"The candidates' personalities and career aspirations must fit in with CTI's corporate values and cultural attributes," Mr Wong points out, adding that the right match does not depend on individual achievement, but rather on the interaction and synergy between the candidates and the company.

Constant challenge

Short-listed candidates that make it through to the Outward Bound live-in selection round are expected to demonstrate the essential leadership qualities and drive necessary to succeed. "They are required to complete their assigned tasks within a certain time frame while displaying leadership skills in terms of for instance, resource planning," Ms Wong explains.

Once appointed, trainees are constantly challenged. The varied goals set for them include sitting the Chartered Financial Analyst (CFA) Level I exam five months after signing on with the company, running a half-marathon, and reading one management book and reflecting on personal insights every month.

Trainees are also expected to gain a thorough understanding of the company's business during the first 12 months of job rotations through all 40 business divisions. They are given challenging ad hoc projects to expand their horizons and to examine their adaptability and flexibility. Before embarking on their final six-month placement, they get the opportunity to discuss their career aspirations with their mentors and the CTI talent management team.

It is essential for the recruits to have strong business acumen and leadership flair, as well as the ability to look at various issues from different perspectives, Ms Wong emphasises. The company gives them global exposure by having them joined senior executives on overseas business trips and international conferences.

"We take pride in our innovative culture and so look for a "think out of the box" mindset in our MTs," Ms Wong says. "They are expected to take initiatives to formulate novel ideas. In turn, we encourage them to aim high, ask for more and strive towards achieving their training objectives within the 18-month period."

Completion of the training does not automatically insure a permanent position, and participants may lose their place on the course if they don't meet expectations. "Depending on their interests and career goals, they have to send their resumes to the department heads of their choice, detailing their strengths and individual learning outcomes during the training," says Ms Wong.


Zoe Wong
management trainee
City Telecom (HK) Limited
Creativity pays

Zoe Wong may have majored in French but she knew that a position as management trainee with CTI suited her personality and career objectives. So, after completing her studies at the University of Hong Kong in 2009, she produced a creative video to articulate her desire to succeed and passion. "I played it during the panel interview," she recalls.

Ms Wong was first attracted to the MT programme when she saw a CTI recruitment advertisement. She started to research the company, discovered that its "thinking out of the box" philosophy matched her personality, and subsequently opted for CTI over two other offers.

She remarks, "Considering the effort and resources that CTI spent on the recruitment process, and particularly the top management's participation in the selection process, I felt valued."

Broad exposure

Two months before the end of the training, Ms Wong has rotated through all major CTI business units and is now personal assistant to group chairman Ricky Wong.
"In the first six months, I thought I had to enhance my accounting or telecom technology skills, but these ended up being least important," she notes. "Instead, we were expected to stretch our potential and develop a business mindset in order to take up a future management role."

In addition to gaining extensive experience during the job rotations, Ms Wong was also given a chance to go on business trips and attend international conferences in Singapore and Shanghai.

"Last December, for example, I went to Tokyo with our chief financial officer to meet some investment bank analysts. Although I didn't have a finance background, I could speak Japanese and helped to present our ideas to the analysts in their language," she says. "They were impressed."

She also learnt much by planning the trips, from arranging itineraries to meeting people in the industry in other countries. "I wouldn't have gained exposure on this level if I hadn't joined CTI," she notes.

Ms Wong believes it is essential to absorb information and experience like a sponge at this early stage, in order to one day move into an executive position. "I'm grateful for all the guidance and support from my superiors, colleagues and peers," she concludes.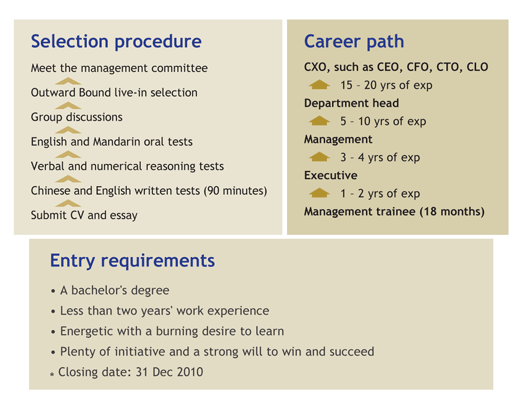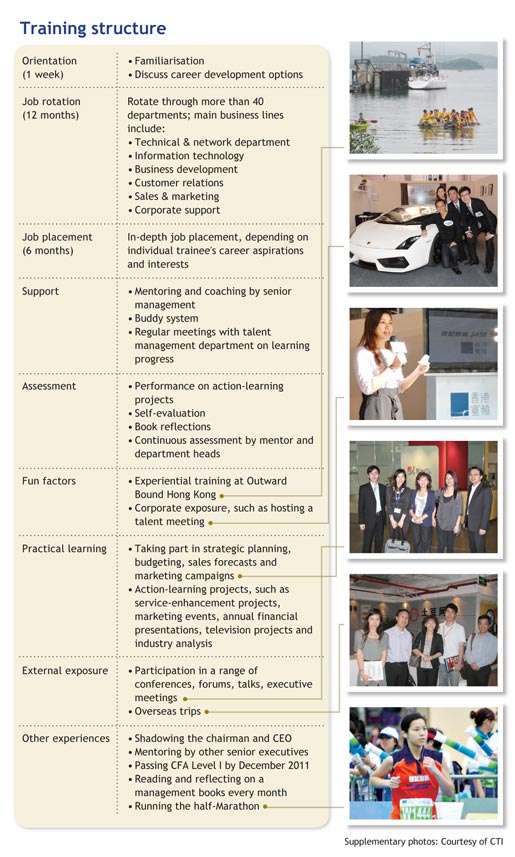 Taken from Career Times 10 December 2010, A15

讚好 CTgoodjobs 專頁,獲取更多求職資訊!