Education
Global recognition
by Christy Liu
Jack Lo, MBA programme leader
Hong Kong CyberU
The Hong Kong Polytechnic University
Photo: Lewis Lam
Collaboration between reputable Hong Kong and UK institutions provides executives greater flexibility in academic qualification enhancement

Businesspeople who are weighing up various MBA programmes tend to consider whether courses are internationally recognised and offer flexible modes of learning.

These factors are also important indicators of a programme's quality, says Jack Lo, MBA programme leader, Hong Kong CyberU (HKCyberU), the online arm of the Hong Kong Polytechnic University (PolyU).

Dr Lo explains: "Traditional modes of learning and study support do not always suit today's busy professionals, who need flexibility to accommodate their working schedules."

According to Dr Lo, there are currently more than 100 MBA programmes available in Hong Kong. "A globally recognised MBA degree with an international perspective not only enables students to acquire knowledge, but also enhances their career prospects," he remarks.

HKCyberU has joined forces with UK-based Heriot-Watt University's Edinburgh Business School to offer an MBA that is taught by experienced PolyU lecturers, but consists of a rigorous, specially designed learning schedule that enables students to study anywhere, anytime, and to take examinations in their desired locations around the world.

Active participation

The MBA programme is positioned as a broad-based management degree, which aims to provide students with fundamental management knowledge, develop the analytical skills necessary for problem solving and decision making and foster an understanding of the processes related to management and organisational behaviours. The programme also gives insights into the changing business, economic, social and political environments.

"We adopt a flexible structure and blended mode of learning, comprising online and classroom components, so that all students can actively participate," notes Dr Lo.

He adds, "The programme comprises a minimum of 15 hours of face-to-face tutorials for every subject. This provides students with the opportunity to learn from each other. However, attendance is not compulsory and we provide students with sufficient online resources, including past exam papers, a global discussion forum and other relevant material to enable them to prepare for examinations in their own time."

The university also arranges revision classes prior to examinations, while the programme's online learning platform allows students access to Edinburgh Business School's faculty staff and students across the globe.

Worldwide connection

The curriculum includes seven core courses: accounting, economics, finance, marketing, organisational behaviour, project management and strategic planning. Once students have successfully completed these as well as two elective modules, they qualify for the MBA degree conferred by Heriott-Watt University.

Since the programme is structured to allow the greatest possible flexibility, students can, for example, earn intermediate postgraduate certificates or diplomas in business administration en route to their final MBA qualification.

Assessments are based on three-hour written examinations for every course. These take place in June and December, as well as March and August in selected locations.

Students usually complete the programme within 30 months, but this varies, depending on the individuals' pace of study. The maximum time allowed to obtain the qualification is five years.

Founded in 1821, the Heriot-Watt University holds a Royal Charter from the UK government. In conjunction with its international academic partners such as the HKCyberU, the university currently has more than 10,000 students enrolled in the MBA programme. The authoritative Financial Times publication has ranked it the second-largest distance-learning MBA programme in the world.

The UK-based institution attaches great importance to the quality of its MBA programme and students, Dr Lo stresses. "The university meets regularly with representatives of its worldwide partners to discuss matters related to the programme. It also strives to connect former and present students from all over the world through The Watt Club alumni association."

Dr Lo adds that Hong Kong alumni have always been positive about the programme and many stay in touch to share their learning experiences with current students.
Applicants should ideally have a bachelor's degree and at least two to three years' work experience, but the university will also consider non-degree holders with alternative qualifications and substantial experience.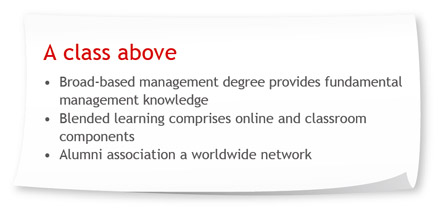 Taken from Career Times 26 February 2010, A11

讚好 CTgoodjobs 專頁,獲取更多求職資訊!