MT Opportunities
Global retail insights
by Grace Chan
International exposure attracts young talent with a natural flair for people and style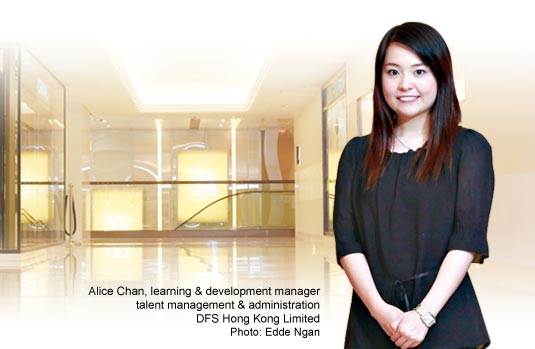 In a bid to maintain its competitive streak, luxury multi-brand travel retailer DFS looks to its human capital and, through a series of talent acquisition activities, injects new thinking into the business. Its 12-month management trainee (MT) programme, launched since 2004, has now become one of the group's key HR initiatives and every year attracts thousands of high calibre candidates.

The DFS MT programme, which comprises aspects in store operations and various key functions, offers young aspirants not only the essential skills and knowledge for a successful retail career but also great flexibility and genuine ownership towards their own development.

At the store level, trainees assume an array of frontline roles from sales associate to product sales manager. "They are expected to take the opportunity to sharpen their people techniques and store management skills," notes Alice Chan, learning & development manager, talent management & administration, DFS Hong Kong Limited.

Rotation in global merchandising exposes trainees to responsibilities involving merchandise assortment and business data analysis. "One of last year's MTs completed the programme two months ahead of others and another recently flew to Abu Dhabi to manage our new airport business," Ms Chan says.

Novelty design

The MT programme focuses primarily on hands-on learning, with trainees performing a number of functional roles that come with responsibilities and accountabilities. "This is the time that they will find themselves picking up responsibilities and contributing to the business," Ms Chan emphasises.

The training schedule was designed with a view to impart key knowledge, preparing young trainees for the fast-paced business arena and laying the groundwork for future development. For instance, short stints in merchandising and logistics provide trainees a chance to manage a diverse customer portfolio and get familiarised with the shipment and delivery procedures of the DFS global distribution centre.

Realising that young graduates these day prioritise industry exposure particularly that from overseas experiences, DFS last year arranged for three of its MTs to receive training in the group's Singapore store operation. Three other trainees have also helped to open the DFS store located in the Four Seasons Hotel in Macau.

To keep trainees on the right track, the group offers coaching and assesses their performance on a monthly basis. Aside from this, members of the DFS senior management team including its vice president and senior managers act as mentors to offer these budding graduates support and guidance.

In a bid to select the best talent, DFS adopts a stringent recruitment process, which included a one-day leadership adventure camp last year. "We're able to assess the candidates' personality features, interpersonal skills and leadership potential through a series of group activities and interaction," Ms Chan reveals. "The objective of our endeavour is to attract talent that are as committed to developing our business as we are to their careers."



Kathy Chan
product sales manager, DFS Galleria Macao (2008 MT)
Qualification: BBA in marketing, the Hong Kong Polytechnic University
Strengths: Diligence, strong self-motivation and job ownership
Achievements:
Conducted a market research and provided training to sales associates
Created a customer catalogue that helped build a customers base in mainland China and boosted store sales for the group's City of Dreams store in Macau
"I believe I've come a long way since my first days with DFS two years ago. In particular, I've developed myself from a university graduate into a product sales manager for the company's top and strategic brands. The MT programme immersed me in an exciting international marketplace. I have learnt to work in a team environment and gained all-round exposure from various business settings from store operation to logistics support. The learning curve has been steep but is exactly what motivates me the most."


Chris Wong
product sales manager, Abu Dhabi (2009 MT)
Qualification: BSS in psychology, University of California, LA
Strengths: Leadership competence and strong analytical skills
Achievements:
Compiled a training manual to enhance product knowledge for the global merchandising team
Played a key role in the re-launching of a key brand at the Hong Kong airport store
Manage 13 fashion brands for the group's Abu Dhabi store
"Challenging tasks and new projects expose MTs to new skills and knowledge. Prior to joining the MT programme, I worked in the DFS finance department in the US. The level of mobility across functions and geographical locations makes DFS an ideal workplace for me. A business trip to Abu Dhabi last year was a real eye-opener and I'm looking forward to my next career move there later this year."


Rosaline Chung
assistant merchandise manager, luxury jewellery (2009 MT)
Qualification: MA in global communication, the Chinese University of Hong Kong
Strengths: Language competence, strong people skills and a cheerful disposition
Achievements:
Completed the MT programme in 10 months
Created a worldwide training manual for a luxury brand
Reached a partnership agreement between DFS and a global brand
"I've always been passionate about luxury retailing so I worked extremely hard to exceed the company's expectations. When I was assigned to compile a training manual for a top international brand, I conducted a thorough research on the brand and supplemented the training manual with additional information. I'm grateful for the guidance and support from my mentor and colleagues who have played a major role in my development."

Taken from Career Times 12 November 2010, A19

讚好 CTgoodjobs 專頁,獲取更多求職資訊!