MT Opportunities
Graduate programme provides global banking perspective
by Grace Chan
Leading financier invests heavily in talent development through specialised training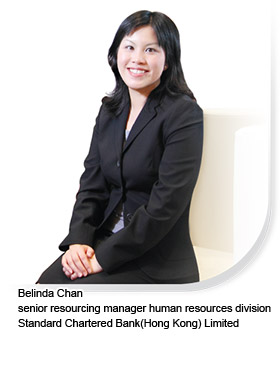 Today's graduates are highly mobile and tend to prioritise job satisfaction and a challenging working environment. Standard Chartered Bank's International Graduate Programme (IGP) targets exactly such aspiring young individuals.
With an aim to offer excellent global exposure and practical experience, the IGP has proven extremely popular. "More than 5,500 people applied for 25 places on the IGP in Hong Kong this year," says Belinda Chan, senior resourcing manager, human resources division, Standard Chartered Bank (Hong Kong) Limited.
The bank recruits approximately 300 international graduates globally every year, Ms Chan notes, adding that applicants must have good English-language skills. The successful candidates, from varying nationalities and cultural backgrounds, immediately embark on a week-long induction programme in Malaysia, where they take part in a range of ice-breaking games and team projects.
Day-to-day interaction during induction includes the exchange of ideas, the building of strong peer networks, the polishing of communication and interpersonal skills and the honing of business acumen. "This is good preparation for the trainees' future roles in the bank," says Ms Chan.
Finding a focus
Every international graduate (IG) rotates through four or five different job functions, with placements lasting three to six months. This arrangement tests their adaptability and flexibility, and provides them with a multidimensional perspective of the banking industry.
The job-rotation schedule incorporates diverse elements. "We encourage IGs to take ownership of their career development from early on. In fact, we give them plenty of choice," Ms Chan explains. The bank's HR team assists the IGs in following the career direction that suits their skills and interests, making sure they end up in positions that will maximise their individual potential.
"We expect our IGs to learn through experience and by taking on responsibility. Apart from ad hoc assignments, all are given leadership roles in actual business projects, teaching them to set goals and work towards achieving them."
The programme accepts university graduates from all academic backgrounds. Past IGs have included graduates with degrees in biology and civil engineering. "The scope and scale of the IGP give graduates ample room to share their specific knowledge and to learn to appreciate the value of diversity," Ms Chan stresses.
Standard Chartered is continuously enhancing the IGP framework and has high expectations of the graduates. "We are looking for candidates that are determined and confident with a strong motivation towards a career in banking," she concludes.
Cream of the crop
Compliance and assurance

Elizabeth Chan
BBA in Accounting & Finance (2008)
The University of Hong Kong
"IGs are given the chance to participate in major events such as the recent launch of Standard Chartered's HK$150 note, and to meet with government officials, business leaders and the bank's CEO and senior management. A while ago, I became one of the bank's ambassadors. This frontline role has taught me to be well prepared at all times."
Consumer banking

Anthea Tong
BCom in Accounting, Finance and Economics (2007)
University of Toronto
"I spent three months working at the bank's high-traffic Mongkok branch. That particular stint allowed me to experience the frontline operation and to make a real contribution to the team. The support by my colleagues gave me an excellent opportunity to build my confidence, interpersonal skills and business acumen."

Gavin Lam
BBA in Professional Accountancy (2008)
The Chinese University of Hong Kong
"Standard Chartered's investment in the IGP demonstrates a commitment to grooming its future leaders. Right at the beginning of the programme we had a chance to meet and chat with our CEO and directors. The experience was second to none. During training, I was assigned significant responsibilities that satisfied my hunger for challenge."
Wholesale banking

Frank Yuen
BBA in Insurance, Financial & Actuarial Analysis (2008)
The Chinese University of Hong Kong
"The structure of the IGP accelerated my understanding of the many aspects of the banking operation. I'm training to become a generalist, and the chance to move across functions and departments has helped me to explore my strengths and to subsequently map out an ideal career path."

Tript Bhatia
BSc in Microbiology (2008)
Imperial College London
"The job-rotation schedule helps IGs to build a solid foundation and maintains a good balance between on-the-job experience and skills training. I find the action learning programme the most challenging. We have worked with IGs from the US, Korea and China to formulate long-term strategies."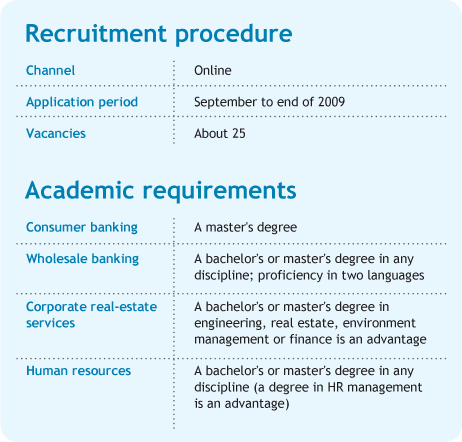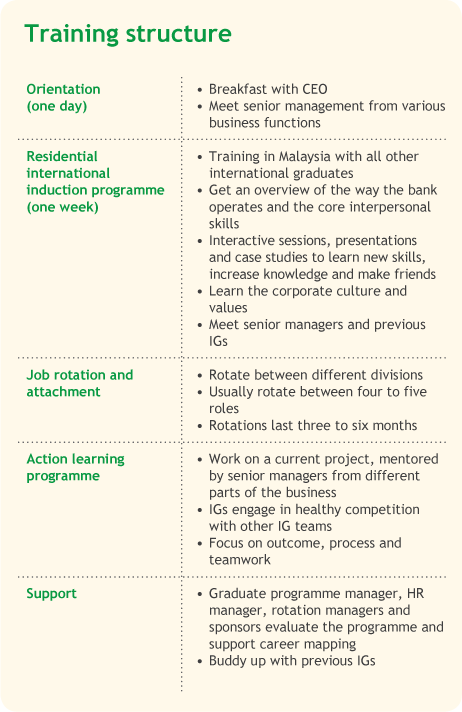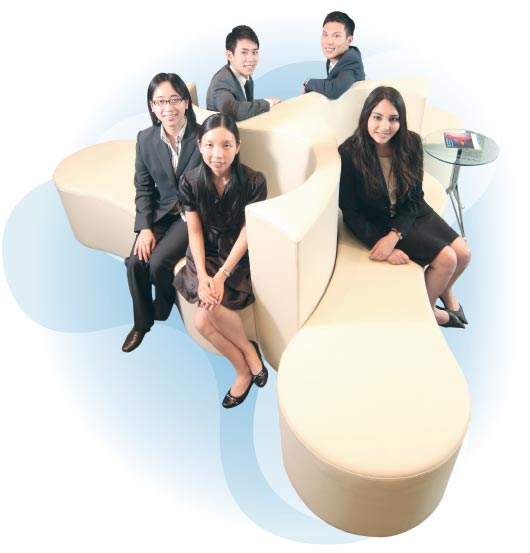 Taken from Career Times 30 October 2009, p. A3

讚好 CTgoodjobs 專頁,獲取更多求職資訊!