Self-enhancement
Growing the best assets in hospitality
by Aldric Chau
Success in the hotel and catering industry takes more than expensive towels and a big name chef. It relies on the people to make it work
Ivy Leung, director, intellectual capital and quality
Langham Place Hotel
Photo: Wallace Chan
With Macau resorts offering high salaries to all comers, key players there and in Hong Kong are building on their recruitment and retention policies. A recent Career Times seminar called "The Road to Success in Hotel & Catering" brought together management professionals from the hotel and catering industry to discuss industry developments and share their paths to success.
Service champion
Ivy Leung, director of intellectual capital and quality at Langham Place Hotel told the attendees that to maintain competitiveness, a hotel or catering group requires an effective management system for operation and human resources. Having won the Hong Kong Management Association's Quality Award 2007 among other accolades, Langham Place is widely recognised for its management philosophy.
The hotel's success, Ms Leung said, is also strongly connected to its core values: "communication", "hospitality", "anticipation", "mentorship", "presentation", "innovation", "optimisation" and "now", represented by the acronym CHAMPION. These self-explanatory terms form the foundation of the hotel's service policy and have made it a popular choice among business travellers, which make up more than 65 per cent of the total reservations.
Ms Leung said the hotel insists on treating every customer as a unique individual. "Every customer comes with varied needs and expectations and it is important that we provide tailor-made services."
Setting itself such high standards, Langham Place puts great effort into developing its intellectual capital and quality. "We use a special game-based recruitment process in which candidates are assessed through specially-designed activities," Ms Leung disclosed. "Instead of the usual face-to-face recruitment interview, we look more into the quality and behaviour of candidates in a more relaxed setting. A panel observe candidates' qualities and performance throughout the process and see things that they could not see during a typical interview."
Langham Place also emphasises staff learning and development, measuring staff development via a number of key performance indicators that allow staff to be categorised and so undergo specialised training.
Total package
Annie Chung, human resources manager
Cafe Deco Limited
Photo: Wallace Chan
The influence of Macau's developments on Hong Kong's hotel and catering industry is imminent, according to Annie Chung, human resources manager at Cafe Deco Limited. She said that the prosperity of the local economy and the consequent influx of foreign investors have contributed greatly to the industry's burgeoning growth, but the opening of new large-scale resorts and the growth of the tourism industry in Macau has led to challenges with staff retention. She pointed out that while many people have been attracted to the new workplace and the better financial incentives and fringe benefits that the casinos offer, the Cafe Deco group is providing competitive benefits to retain its workforce.

In addition to competitive remuneration and medical insurance, the company provides staff with on-the-job training ranging from job-related technical courses to language classes. A "best employee of the month" reward programme is in place to promote employees' morale and motivation for excellence. The company also runs a staff exchange programme between its outlets at the Peak, in Soho, Central, the airport, the Venetian Macao resort and as far away as Sydney.

Staff can also enjoy working in a truly multinational culture. "Our staff came from all over the world: mainland China, the US, the Philippines, Thailand, India, France, Germany and Singapore," Ms Chung explained. Open communication is a key in managing such a diverse workforce. "We care for all our staff and listen to their suggestions while giving them promising career prospects," she adds.

In the people-oriented hotel and catering industry happy staff means happy guests and customers, so creating an enjoyable work environment has to be a top priority for employers. Langham Place and Cafe Deco believe this includes a total employment package from salary and benefits to training and appreciation. By continuously developing their packages, the two companies are confident that they will remain attractive to the most talented staff.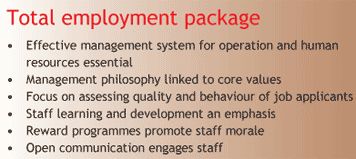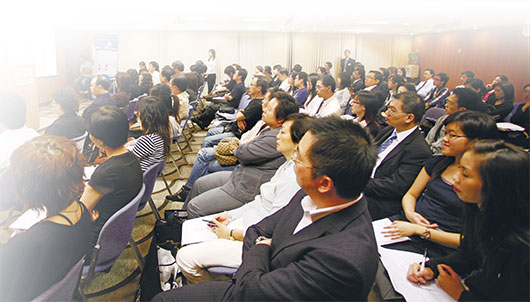 Taken from Career Times 02 November 2007

讚好 CTgoodjobs 專頁,獲取更多求職資訊!