Career Path
Hand of help
by Colette Wong
Ahmed Fahmy
medical director
International SOS (HK) Limited
Photo: Edde Ngan
The fast-paced environment of emergency rooms may be an ideal career option for many young medical practitioners but for Ahmed Fahmy, medical director of International SOS (HK) Limited, his true calling was the dynamic arena of emergency assistance.

Dr Fahmy's career aspirations sprouted when he left Germany as a teenager for his native France to study medicine. In the following years, he pursued further studies in Australia and the UK. "It's important for me to get in tune with the international field," Dr Fahmy explains. "It proved useful when I worked with non-French speaking doctors in Asia later on."

After graduation, Dr Fahmy worked for two years as an emergency medicine doctor, until an offer landed him in a French ski resort clinic. "It was an unconventional option and the job was particularly exciting," he says. "It had me and the team dealing with a good deal of emergencies such as heart attacks in the middle of the snowy mountains."

Later on, he returned to the nerve-racking frontline and offered his expertise in the emergency departments of several hospitals. He thrived on the challenge and diversity of the work, including intervention at accident sites where he witnessed immediate results of rescue attempts. As part of his training, he also worked as a general practitioner in private practices all over France. This experience gave him a varied perspective on the country's medical system as he worked with patients at different levels of care.

International exposure

Dr Fahmy's love of travel led him to join Service Medical International in 1995. Back then, the company was looking for an emergency physician for a private clinic in Zaire, Africa. It was an opportunity Dr Fahmy had always dreamed of, and a chance for him to embark on an international challenge. His next two moves took him to China and Nigeria. In 1997, his career took a fortunate turn when Service Medical International was acquired by International SOS, a world provider of medical assistance, international healthcare and security services.

"I made myself available for all opportunities," he notes. Dr Fahmy's new role as clinic and alarm centre doctor for International SOS brought him to Indonesia and Vietnam. In 1998 he moved to Beijing as a clinic doctor and joined the Hong Kong office the following year. While he had not planned for Asia's world city to be his current residential address, he was happy with the move.

In his present role as a stationed doctor and the company's medical director, Dr Fahmy makes hands-on decisions about medical cases and oversees the procedures of assistance operations. He is aware that people suffer from a great deal of stress when they are in need of medical help overseas. His mission therefore is to ensure his team delivers medical service to the highest standards. These may range from medical advice and assistance to healthcare consultancy, setting up and managing healthcare facilities, staffing, training and an array of occupational health services to individuals as well as corporations.

Dr Fahmy finds the intensity of emergency assistance incredibly appealing. The job calls for quick decision-making, which, in turn, has an immediate impact. "I have always been passionate about my work because I crave that constant adrenaline rush," Dr Fahmy muses. "The international environment is another big draw for me. I feel at home working with people of all nationalities and educational backgrounds."

Future promises

According to Dr Fahmy, emergency assistance has a long history in the medical system in France. The subject has received growing attention in recent years since it has entered the medical curriculum in many universities across the world. He notes that there is ample room for newcomers to the field and advises aspirants to strengthen their medical training.

"Working in emergency assistance we have no direct contact with the patients, so that is a trade-off that young doctors should consider before they join our field. Other than that it is the same as serving in other medical functions, since the goal is to help people," he elaborates. "We act out of our professional knowledge and ethics, go the extra mile to help patients in need, which can mean long and irregular hours."

Another important element of Dr Fahmy's line of work is its international environment. While medical doctors are usually stationed in local offices, they may need to consider the home countries of overseas patients to make the right medical decisions. The rewarding work presents many other challenges such as its unpredictable nature and constantly changing routine.

"The only certainty is you will be looking for solutions to your clients' problems and to bring them to safety," Dr Fahmy concludes. "For those who embrace diversity and unpredictability, emergency assistance has a lot to offer. It is deeply gratifying when you see what you can accomplish with a rescue operation."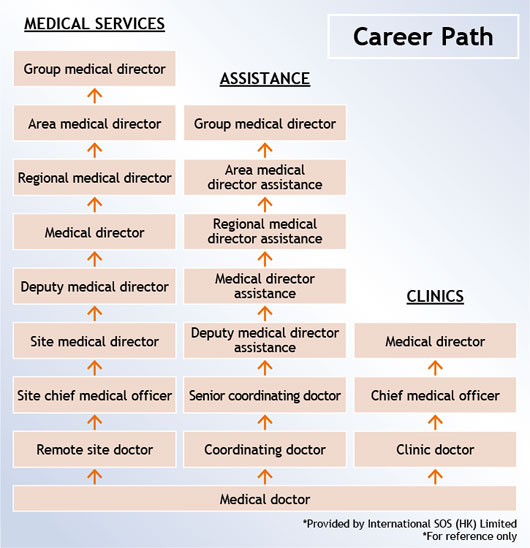 Taken from Career Times 16 April 2010, B12

讚好 CTgoodjobs 專頁,獲取更多求職資訊!