Money Moves
Healthy lifestyle boosts productivity
by Nicolette Wong
Roy Lo
deputy managing partner
SHINEWING (HK) CPA Limited
Photo: Dickie Tam

Prioritising a proper balance between work and leisure often seems to be a dispensable luxury in the pressurised accounting sector, but it is essential to prevent burn-out and promote a pleasant working environment.

Work-life balance is central to maintaining staff productivity, says Roy Lo, deputy managing partner, SHINEWING (HK) CPA Limited. "It doesn't always lead to better results when employees put in extra hours. They need time to recharge their batteries and return to work in a positive frame of mind, which is to our company's benefit," Mr Lo says.

As the largest domestic CPA firm in Hong Kong and on the mainland, SHINEWING provides comprehensive audit, accounting and management consultancy services to clients throughout the region. Over the past two years, the company has launched a series of measures to promote its work-life philosophy among staff.

Annual training equips employees with practical knowledge and skills to help them to manage stress. The company also has a buddy programme for newcomers, helping them to bond with their team members. Regular meetings and excursions give staff the chance to communicate with colleagues in a relaxed setting.

The firm's partners and principals provide new team members with guidance and see such interaction as instrumental to their personal development. "This helps them to fit in and deal with challenge, enabling them to do their best at work without dwelling on work issues once they leave the office," notes Mr Lo.

SHINEWING believes there is a difference between employees working overtime and overworking staff, he points out. The latter can be avoided through careful allocation of duties and efficient human resources management.

The company's management team recognises that individual employees have their own level of capability and stress tolerance. For this reason, the company conducts annual data analyses and staff interviews to gain insight into any problematic issues or particular concerns. These measures have effectively reduced overtime and increased staff productivity. "If employees are comfortable with their workload and duties, they're able to maintain their work performance, even if they sometimes have to work overtime, for example during the industry's peak season," stresses Mr Lo.

Since staff well-being is a priority at all times, SHINEWING provides its people with thorough safety briefings before they embark on business trips. Meanwhile, the company's social calendar includes regular leisure activities such as sports days, and voluntary work is encouraged as an aspect of staff motivation.

Work schedules may occasionally be hectic, but employees derive a great deal of satisfaction from helping others, Mr Lo observes. One rewarding recent initiative was a joint effort with Playright Children's Play Association to help children deprived of quality play opportunities owing to a lack of resources, illness or disability. "Our people are motivated to improve themselves and to pursue greater ideals. This, in turn, strengthens their sense of mission and responsibility within the company," Mr Lo concludes.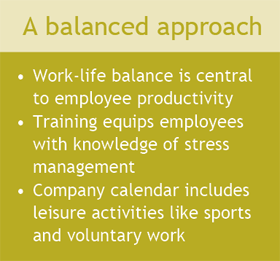 Taken from Career Times 4 March 2011, A4

讚好 CTgoodjobs 專頁,獲取更多求職資訊!