Self-enhancement
Helping people make changes
Text by Lotus Lau
Photos by Edde Ngan
Experienced facilitator Alistair Lamont shares his insights into the core of motivation and team building in Hong Kong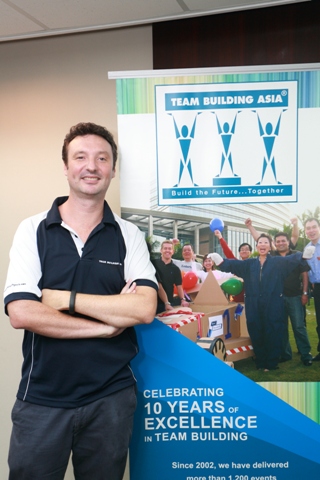 Alistair Lamont, lead facilitator of Team Building Asia

Over the past few years, management teams in Hong Kong have come to realize the importance of human capital to organizational performance. They become more willing to invest on their talents, which in turn brings about a soaring demand for professional training and development sessions. Opportunities thus come along for Team Building Asia, a leading team building provider in Asia.
Alistair Lamont, who has 17 years of experience in the People development field, is one of the lead facilitators of Team Building Asia. Having just joined for 3 months, he has become completely dedicated to the work the team is doing. "They are very well-established and have a very good reputation," says Alistair, "If you can prosper in Hong Kong for so long, you must be doing something right."
Since 2002, Team Building Asia has delivered 1,200 events to 74,000 participants in the Asia-Pacific region. Clients come from a broad range of industries, "Any industries, whether they are looking to formally develop their personnel or to conduct fun team building activities, are our clients." Alistair remarks.
Despite the promising prospect in recent years, Alistair admits that team building is still in its early days in Asia and that there is huge room for development. "Many firms in Asia still think that team building is equivalent to going to Ocean Park." Still, judging from the very busy business that they operate, it appears that motivation and team building have been gaining acceptance and everything is moving on the right track.
Exclusive tips of motivation
In order to motivate your staff, the first step is to understand what really motivates them. Alistair believes that the main gripe of the staff is not about money, but more about the management style. "In many companies in Asia, there remains quite an autocratic management and leadership style."
As the demographic of our workforce evolves, so should the management style. Alistair points out that the conventional management style doesn't apply to the younger generation anymore. "They (the younger generation) are happy to be given directions, but they don't like to be told what to do and want to have their input heard."
He believes that the solution is to change the management style up and give people the autonomy they deserve. "Allow people to be part of it. Be open to people giving their ideas. Give people autonomy to be able to control what they do every day. These are things that motivate people."
Another shortcoming of the management style in many organisations is that a lot of organizations and leaders are not so great at spotting people's strength. "They are often good at picking up the problems, but they are not very good at looking what people are doing well."
According to Alistair, the creation of a successful team requires an understanding of their people's strengths, and subsequent delegation. Both positive and developmental feedbacks are equally important. Management should also bear in mind that motivation should be done consistently as opposed to once in a while.
Behind every successful program
Over the years, Alistair and his team has put forward many successful programs. For instance, the team delivered a successful workshop on motivation and team building with CTHR.hk in August (For more information, please click here). Alistair admits that it is never easy to run a workshop this smoothly. "Usually if it seems effortless, it means that it involves a lot of work." he laughs.
To deliver a perfect solution, the team will first sit down with the client and understand his needs. They will then pick tailor-made activities which best suit these needs. Insightful de-briefs will be made after the activities to ensure that every participant gets the core idea and professional follow-up service will also be provided.
Understanding the importance of team work, Alistair never tries to make his work into a one-man show. Instead, he attributes the success to the whole team.
"I can't do this by myself. We've got a good business development team who understands what clients need. We've got producers who do an amazing job of project managing. We've great facilitators who enjoy what they do."
People development as a career
Despite having worked in the people development field for over 10 years, Alistair is never bored with his work. "It's so exciting when you see people make changes. If you could leave someone with a realization of trying to do something differently, that would have an effect on the rest of their lives. That's what excites me."
Looking back when he first started his people development career, there were only a few ways for such development. Good news for young people who want to enter the industry, there are now so many paths to becoming a professional - you can do degrees in coaching, facilitation and training.
Alistair encourages those who are fascinated by the coaching career to seize every opportunity they encounter: whether it's a presentation that they do or an event that they run in college. Those experiences will eventually become incredibly valuable assets when they join the workforce.
An interest in people is also a must for the job. "I believe that to be a really good people developer, you have got to be motivated by helping people take action and make changes in their lives." he says.
Related post:
Aciting differently on a Monday morning
讚好 CTgoodjobs 專頁,獲取更多求職資訊!