Career Path
Home truths
by Billy Chan
Wong Kit-loong
chief executive officer and executive director
Hong Kong Housing Society
Photo: Lewis Wong
A career in property management presents a great deal of challenge. Wong Kit-loong relishes solving problems. This quality, along with a cautious yet creative approach, has brought him a long way since he first joined the civil service as a young graduate.

Now chief executive officer and executive director of the Hong Kong Housing Society (HKHS), Mr Wong says working in the government system at the beginning of his career gave him a solid base to nurture his risk-management skills. The public service required specific procedures to be followed to get things done, and this orderliness proved useful.

"Every civil servant has a CSR guidebook and, when in doubt, I could always look at how my predecessor had dealt with certain situations and use that information as a guideline," he recalls.

Making headway

Career-minded people never rest in their laurels. Instead, they seek opportunities to expand their professional horizons. Mr Wong is a case in point. After seven years with the government, the private sector beckoned, and he joined a property management company where the environment was more flexible. However, his prudent, sincere attitude and pragmatic style soon helped him stand out as an employee that could make sound risk assessments while remaining firmly focused on results.

"As a middle manager, I was responsible for the budgets for certain projects," Mr Wong notes. "This required me to think out of the box and particularly to fine-tune my problem-solving skills, so that the team could work towards achieving our goals."

After seven rewarding years with the firm, Mr Wong moved on again—this time to become a senior manager at the HKHS, a non-profit private entity. Keen to learn and improve his insight for his new role, he obtained a professional qualification from the Chartered Institute of Housing and acquainted himself with the specific functions of the organisation's different divisions.

Job positions at the HKHS either fall mainly into the realm of property development or property management, he explains. The dual nature of the organisation provides employees with ideal opportunities to learn about drawing up housing policy and to nurture their professional property management skills. As in other sizable organisations, other jobs within the HKHS involve information technology, human resources, financial planning and other support services.

"My aim was to get a good understanding of all the different operations within the organisation," Mr Wong points out, adding that understanding the bigger picture helped him to get to grips with the HKHS's all-round aims and objectives.

"Making a sound judgment requires not only professional knowledge, but also the ability to see how change will affect different divisions of the organisation and how to handle this. Senior managers should therefore look further than simply burying themselves in day-to-day operations," he says.

For this reason, he regards an open mind as more important than educational background when it comes to hiring, and he tends to target entry-level candidates with a cheerful attitude and easy communication skills since a fruitful interaction always results in good rapport among the parties involved.

People focus

Since the HKHS workforce deals regularly with individuals from different backgrounds, as well as with groups of tenants and residents, it is crucial for them to develop excellent interpersonal skills. "Young people should make an effort to engage with society and their peers," he advises.

One of his aims in getting the right people on board is to expand hiring to applicants without university degrees. Graduates from institutions affiliated to the Vocational Training Council are often excellent candidates, he adds.

The HKHS offers annual summer internships and usually conducts career talks and recruitment sessions for university graduates from June to September. Positions are filled on a rolling basis as vacancies open up.

A property management veteran, Mr Wong believes there are a number of clear benefits to joining the organisation. "Firstly, housing development and management are not only major social pillars, but also areas that always require new talent," he says.

"Secondly, there are rich personal rewards including friendship," he emphasises. "Working at the HKHS gives me a strong sense of mission and fulfilment. While deploying public resources to address people's needs, I place myself in their shoes."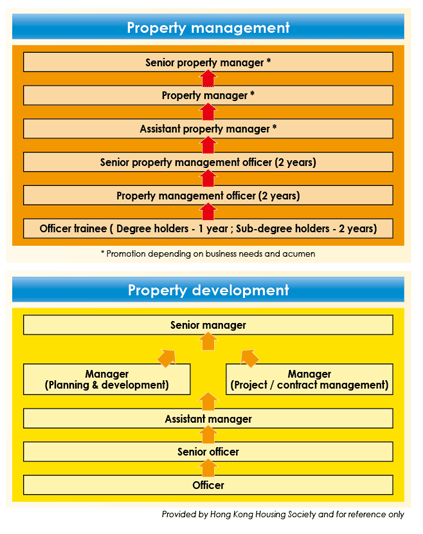 Taken from Career Times 21 January 2011, B10

讚好 CTgoodjobs 專頁,獲取更多求職資訊!