Education
Hong Kong holds strong
by Billy Chan
Vernon Nase, associate professor, School of Law;
director, Hong Kong Centre for Maritime and Transportation Law
City University of Hong Kong
Photo: Nolly Leung
The newly opened Hong Kong Centre for Maritime and Transportation Law promotes the city's position as the leading port in the region

For the last century, Hong Kong has been one of Asia's busiest and biggest seaports. However, neighbouring coastal cities continue to develop and compete with Hong Kong.

Despite Hong Kong's unique historical background and geographical advantage, competition in freight and passenger transportation has intensified in recent years. Strong competition comes from Singapore, followed by seaports in mainland China, where economic developments proceed at full throttle.

To secure Hong Kong's position in global maritime and transportation activities, City University of Hong Kong's School of Law unveiled its new Hong Kong Centre for Maritime and Transportation Law (HKCMTL) yesterday.

"The benefit that Singapore has in terms of government subsidy, and the benefit that mainland China has in terms of lower cost of labour push Hong Kong into a zone where, at times, it could be seen as a high-cost option," says Vernon Nase, associate professor, School of Law; and director, Hong Kong Centre for Maritime and Transportation Law, City University of Hong Kong.

Dr Nase believes focused education in maritime and transportation law can help Hong Kong to defend its stronghold and take related industries to a new level. The institution aims to provide training for legal services to the industry and, on occasion, give insights to business trends through research and study.

"For instance, by studying Singapore's socio-economic development and the incentives being offered there, it can be useful in assisting the government to consider steps that they need to take to encourage use of the port," he points out.

While the institute will offer electives to its law school students, it will branch out to people working in the industry with a list of short cross-disciplinary courses that impart additional knowledge in the hugely complex arena of maritime and transportation law. Also on the institute's agenda is to formalise a postgraduate law degree programme that targets students aspiring to further their studies abroad.

"If you could see a map of the legal bureau of any major operation, whether it's a steamship company, a major maritime corporation or an airline, the legal work associated with them is incredibly broad," says Dr Nase. He emphasises that training for graduates will translate into more job opportunities since companies favour candidates who have a broad range of legal skills as well as specific expertise in understanding maritime and transportation law.

The institution's research plans are set to developing an internal search profile and a publication profile—a blueprint that will set the stage for a bigger ambition. "We want to raise the profile of Hong Kong as a place that pursues excellence in the study of maritime and transportation law," says Dr Nase.

To implement these plans, the HKCMTL is focusing on building relationships with other educational institutions and major players in the field, including the University of Maine in the US, which has a solid foundation in teaching maritime law. At the upcoming inauguration later this month, the institution will stage an international conference on maritime and transportation law, with a line-up of respected speakers from the US, Europe, Australia and the mainland.

"We are in an early stage of development and the future is an open book," he says, hinting at the different strategies the institution is considering to maximise academic results. Since Hong Kong has not instituted space law, the institution will also tap into this area of study in future.

Another project occurring in tandem with the HKCMTL's opening this year is City University of Hong Kong's debut participation at the International Maritime Law Arbitration Moot Competition in Sydney. The competition involves students in preparing arguments associated with a complex shipping problem, such as the transportation of cargo that could involve the state of the hold on a ship, the responsibility for residue left from previous cargo and other disputes.

The contestants are given 50 pages of documents, which cover bill of lading, charter party agreement, contractual agreement, and correspondences from various parties as the dispute develops into an arbitration. Three participants from the university's School of Law are currently preparing the written memorandum to compete in July.

"Even though we are at an embryonic stage, we are already undertaking activities that will benefit our students and equip them with skills in maritime and transportation law," says Dr Nase.

With the doors open to the new law centre, Dr Nase envisions greater potential for Hong Kong beyond sole academic achievement. "Within the legal profession, there is a tendency to mandate arbitrations be conducted in London and other cities," he says. "But we want to contribute to the reputation of Hong Kong as a leading centre for arbitration and dispute resolution."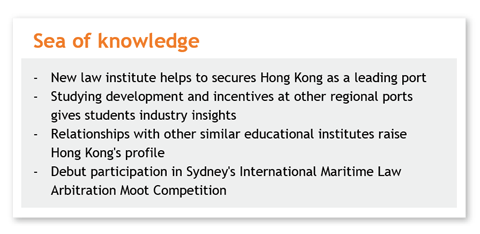 Taken from Career Times 19 March 2010, A10

讚好 CTgoodjobs 專頁,獲取更多求職資訊!