Career Path
Hospitality demands keep IT manager on his toes
by Nicolette Wong
George Wong
information systems manager
Hyatt Regency Hong Kong
Sha Tin
Photo: Edde Ngan
While a job in information and technology may sound mundane and isolated to outsiders, it can be as exciting and people-oriented as any position, particularly in the hospitality industry.

As the information systems manager at Hyatt Regency Hong Kong, Sha Tin, George Wong took up the demanding role in 2008 as new challenge that demands solving problems every day.i

In 1998, Mr Wong started in the industry as an information systems assistant in a local hotel upon graduation. For the first two years he gained exposure to a wide range of systems. Then in 2000, he joined the Hyatt group where his hard work landed him a position as assistant manager. The next big career breakthrough occurred in 2008, when the group opened a new hotel in Sha Tin. Through internal recruitment, Mr Wong proved himself to be the ideal candidate for the pioneer position.

"It was a challenge I gladly took up," Mr Wong notes. "It's a rare opportunity for an IT manager to oversee his department for the hotel's opening. I have gained a great deal of insights that have helped me formulate new plans and ideas."

The human touch

In his current role, Mr Wong is responsible for the routine system operations, maintenance and upgrades, as well as the management of staff and coordination with vendors. On an average day, he handles troubleshooting, system check-ups for outstanding and potential errors, and preparation for backup plans.

The technical aspect of his job comes with a human touch since Mr Wong works closely with members of his team as well as colleagues from other departments within the hotels. "Every department has a different set of computer system requirements, so my work remains diverse," he contends. "I also communicate and coordinate with external parties and come up with suggestions."

A training programme in collaboration with the Chinese University of Hong Kong's School of Hotel and Tourism Management will be launched. Mr Wong and his colleagues will share their experience with those who want to embark on a career in the hotel industry.

While academic training is an advantage, Mr Wong notes that university graduates of other disciplines can also join the industry, given they have a genuine interest in the field. "The job provides a lot of hands-on training, since the systems are always changing," he points out. "There's also plenty of scope for further studies and training, if newcomers are keen to develop a long-term career."

Aside from an outgoing personality and service-oriented mindset, a quick and responsive mind is also crucial since the job requires a high level of adaptability and problem-solving skills.

"We also need to come up with fast solutions to guests' enquiries," Mr Wong elaborates. "For example, a guest may be in need of computer support for their business presentation, and our department has a list of back-up options for their needs."

Support systems

For Mr Wong, the diverse and fast-paced environment has been the most rewarding aspect of his job. Every day he enjoys interacting and assisting hotel guests from all over the world. "It's very satisfying when they share with me their experience, or when I resolve their problems quickly," he notes. "Working with external parties brings different perspectives to my work. There's always something to learn from them."

The opportunity to coordinate with information systems staff from other Hyatt hotels is another benefit. Last year, Mr Wong made frequent visits to Macau, and contributed his expertise in system configuration to the newly opened sister hotel. He and his colleagues also visit other Hyatt hotels in Hong Kong to share their knowledge and discuss upcoming changes to the hotels' systems.

As information systems are constantly changing, Mr Wong pinpoints that young talent to IT should build a solid foundation and develop the ability to anticipate future changes. "In our department, we are always on call for emergency situations, so it's important for newcomers to develop a sense of crisis early on in their career," he emphasises. "The hotel industry is fast expanding across the region. It's a good time for young IT talent to gain a well-round perspective."

While Mr Wong's career may sound like smooth sailing, he has certainly had his share of challenges. "In our line of work we encounter difficulties everyday. Whenever there is an issue, I reflect on how I can make better plans for a similar situation next time," he concludes.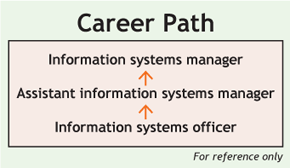 Taken from Career Times 14 May 2010, B12

讚好 CTgoodjobs 專頁,獲取更多求職資訊!