Self-enhancement
How consumer behaviour drives product sales
by Susanna Tai
Understanding the customer at different levels helps to build a business
Lawrence Lee, director, Asia Theatre
Photo: Courtesy of Asia Theatre
The study of consumer behaviour helps to reveal people's buying habits and the reasons for them. It has close links to marketing, since a better understanding of how individuals and groups make decisions about what to buy has a major impact on marketing strategies, as well as on sales and advertising campaigns.
One of the key aspects is to assess how friends, families, ethnic groups and society in general influence people and cause them to opt for one product or service rather than another which, at face value, may be very similar.
According to psychologist Abraham Maslow, humans have a number of needs which can be arranged in a hierarchy. He contended that when our basic physical needs for food, water and shelter are met, we can then think about something higher. This may mean being concerned with the need for love, esteem, self-actualisation, or a sense of belonging.
Just as there are different levels of needs, there are also different types of consumer behaviour. They include rational, emotional and experimental consumption, and the next episode of the TV series Strategic Marketing for SMEs will use several examples to illustrate these.
Sensitivity to needs
One is Asia Theatre, which sells high-quality audio-visual products and targets middle- to high-income consumers. The shop does not have ground floor premises and, as director Lawrence Lee explains, there is a very good reason.
"Our customers are looking for high quality and want to try out the products in spacious and quiet surroundings," he says. "They don't want to be disturbed by the noise of traffic outside. Therefore, we need to offer customers somewhere which is comfortable and may even feel a bit like home to them."
In keeping with this sensitivity to needs, Asia Theatre expects staff to offer advice and act as consultants in order to build closer relationships with customers. Furthermore, they organise regular gatherings for guests such as the editors of music magazines. The purpose of these functions is to promote their audio-visual products, but also to establish and cultivate closer ties with music lovers.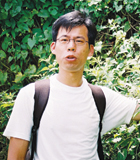 Charles Lee
founder and director
HK Traveler.com Ltd
Photo: Courtesy of HK Traveler.com Ltd

Experimental consumption
In the TV programme, experimental consumption is illustrated by the case of HK Traveler.com Ltd, which has taken advantage of the growing demand for ecological tourism. The company started out as a website with information for mountaineers, but soon developed into a business providing ecological tours to numerous destinations.
Founder and director Charles Lee says that everything evolved from his personal interest in posting pictures, routes and information about his own hiking experiences on the Internet. "Originally, I just wanted to share this with my friends, but it started to attract more people and got me thinking about the idea of eco-tourism," he explains.
Mr Lee ran his first such tour in 2000 and, the next year, his website was recognised as one of the best for hiking information and among the top ten for health-related pursuits. In 2003, after the SARS epidemic, the concept of eco-tourism really took off in Hong Kong, so the company started a membership scheme and began to train its own professional tour guides.
According to Mr Lee, most customers are deeply impressed by the experiences they have on a tour and referrals are now one of the major avenues for building the business. "The most important thing, though, is that our customers can share their enjoyment with a group of people who have the same interests," he adds.


Taken from Career Times 20 October 2006

讚好 CTgoodjobs 專頁,獲取更多求職資訊!