Self-enhancement
How to be sensitive when handling office politics
by Annie Leung, chief executive officer, CEO mindPower ltd

This is the eighth article in a 9-part series on empowering executives to climb the career ladder

It takes two to tango, but it takes only one meddler to bring in office politics

Office politics exist, and are an unavoidable by-product of concentrations of people working together in most businesses. While you should try to avoid contributing to office politics, you should be sensitive to the situation they create and, most importantly, avoid becoming a victim. Below is my story.

At the end of a long meeting, the managing director concluded, "The promotion activity proved to be successful in strengthening the company's brand image and in bringing additional revenue. But it involved too many resources and this is not efficient. This will be the last of it and we won't continue it next year."

The managing director was referring to a large-scale promotion activity, which had been my first task since joining the company. The successful promotion featured for the first time a strong line-up of beauty brands offering gifts, plus a travel agency as sponsor giving out a grand prize of a cruise holiday to Europe. The result was phenomenal in terms of increasing the company's brand awareness and profits. What had gone wrong then?

I was discouraged and disappointed with the managing director's decision. So I went and asked my supervisor, the marketing director, why the boss and my colleagues had reacted so negatively.

The marketing director gave me a lecture which I will never forget. "They did not like the idea because the project involved too many departments, and so required a lot of coordination and communications. They might have pretended to cooperate but deep down they disagreed with the whole idea. There was obviously a lack of internal 'selling' and you failed to gain a buy-in from each involved party."

His stern lecture continued: "You are from a different industry. It would be best if in future you tried harder to understand thoroughly the characteristics of our industry, then build trust with your colleagues. Some people might understand that you are just being straightforward, heading towards the direction you believe is right. However, some might see you as being crude, doing your work without acknowledging other people's feelings, concerns and worries."

Counter-measures

The key to dealing with office politics is to be positive, gain people's trust and buy-in in order to take down the "wall" they have built to protect themselves and their jobs. Here are some tips in achieving this:

Corporate culture
If a majority of the people in an organisation are conservative, it takes more time to gain their confidence. You will need to spend more time to achieve a full understanding of the industry. Once you have done so your colleagues will feel assured that you understand their situation. As an aside, the background of the company might give you a hint about its corporate culture. As a rule of thumb, in most US companies, staff tend to be more straightforward; in UK companies, you need to understand other people's feelings and determine the unspoken words; in Chinese companies, status-quo staff tend to respect the company's hierarchy, while orders and requests must be followed through. Maintaining the status quo is also important.
Communications
Remember that the word "communications" has an "s", meaning that it's a two-directional process. While conveying your ideas, you should at the same time listen carefully to what people say. Judge from their reactions to determine if further internal "selling" is necessary.

Different perspective
Put yourself in other people's shoes and try to see things from another perspective. Doing so, you should be able to adopt the most appropriate approach in order to avoid obstacles.

Unspoken words
What you hear may not be what others are really saying. You should try to determine their actual meaning by interpreting such other indicators as body language and gestures.

The best way to deal with office politics is NOT to avoid them but to identify who is creating these undercurrents, and handle the situation with care and integrity.

The next article will be about how to criticise without being offensive.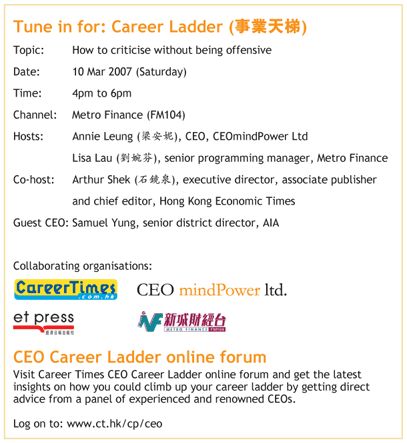 | | | |
| --- | --- | --- |
| | | Annie has studied extensively under Don Riso and Russ Hudson, the best selling authors of Enneagram. She is now developing training programmes on business applications through Enneagram. Recently, she has written two well-received management books — 《 CEO 樂 在 起 跌 中 》 and 《 活 用 你 9 大 領 袖 天 賦 》 which are available from all major local bookstores. For more information, please visit www.ceompower.com. |

Taken from Career Times 09 March 2007

讚好 CTgoodjobs 專頁,獲取更多求職資訊!