Self-enhancement
How to come out tops in a job interview
by Annie Leung, chief executive officer, CEO mindPower ltd

This is the fifth article in a 9-part series on empowering executives to climb up the career ladder

Be early, bright, alert, forthcoming and positive
Today's jobseekers tend to focus on the interviewing process, concentrating on such issues as dress code and answers to particularly challenging questions, but fail to see the importance of the other two components — preparation and follow-up.
I have interviewed so many candidates who perceived the interview process as simply a formality during which the interviewer uses a list of requirements as the only guide to measure the suitability of the candidates. Most certainly it is not as simple as that.
Preparation → Interview → Follow-up
1 Preparation
First and foremost, you must determine your own unique selling points and match those with the target company's needs.
Before sending out your resume, ask yourself two important questions:
Why you?
What makes you stand out from candidates with a similar background?
Rational and emotional needs
Listed in the job advertisement is apparently a set of requirements reflecting the company's rational needs, including academic qualifications and previous work experience, which are usually quantifiable. Further, you will need to consider a set of emotional needs such as corporate culture and personal attributes, which are also significant factors for a company to determine if you are a suitable candidate.
2 Interview
Now you should know your strengths and find out how they could relate to the company's rational and emotional needs. You should evaluate and choose the most effective approach for your job interview.
mindTransformation
The traditional approach is to follow the norm: prepare standard resume and proceed through the interview with standard replies. However, this may not help you to stand out from the crowd. A more proactive approach would be one that helps to match your uniqueness with the target company's needs.




Towards the end of completing my studies in the US, my goal was to become an account manager in a renowned advertising agency. Instead of adopting a traditional approach — waiting for job advertisement and sending in my resume in a standard format, I decided to adopt a creative but relevant approach in order to outpace my competitors.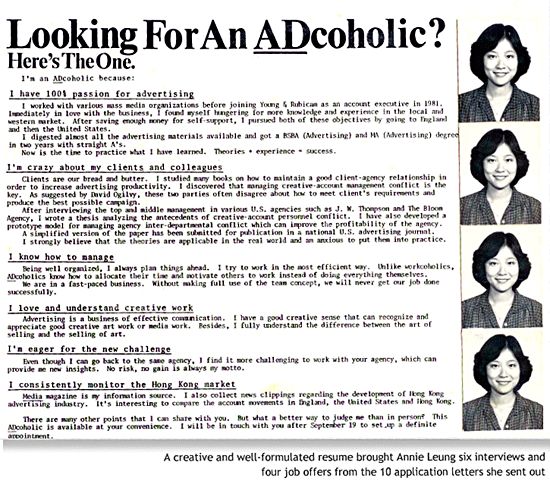 I formulated and sent out the above resume with 10 application letters via registered mail. Doing just that, I received six interviews and four job offers.

3 Follow-up

Don't wait for things to happen after the interview. Send the interviewer a thank-you note to reinforce your impression, and to amend answers to questions if you think you did not do well.

Summing up, I am going to give you the Top 10 CEO career tips. And remember, there is nobody who is worthless, only those who are ignorant of their worth.

Top 10 CEO career tips

Preparation
1. Do your homework
2. Rehearse, rehearse, rehearse
3. Visit the company's website before the interview
4. Dress for the role
Interview
5. Always arrive 15 minutes early
6. Use confidence booster — SMILE
7. Act like a pro
8. Make a powerful yet personal opening, and end on a high note
9. Ask appropriate questions to show off your USP
Follow-Up
10. Send the interviewer a thank-you note
The next article in this series will provide insights into creative presentation.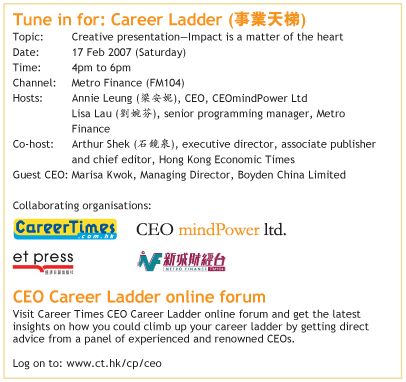 | | | |
| --- | --- | --- |
| | | Annie has studied extensively under Don Riso and Russ Hudson, the best selling authors of Enneagram. She is now developing training programmes on business applications through Enneagram. Recently, she has written two well-received management books — 《 CEO 樂 在 起 跌 中 》 and 《 活 用 你 9 大 領 袖 天 賦 》 which are available from all major local bookstores. For more information, please visit www.ceompower.com. |

Taken from Career Times 16 February 2007

讚好 CTgoodjobs 專頁,獲取更多求職資訊!