Self-enhancement
How to enjoy challenges and reach new heights
by Annie Leung, chief executive officer, CEO mindPower ltd

This is the seventh article in a 9-part series on empowering executives to climb the career ladder

Turn the impossible into opportunities
In 2000, I found myself a challenge by merchandising my own character creation Happy Q. Six years later, I took another challenge — establishing my management consultancy company.
People have asked me why I keep seeking challenges, knowing that there are risks involved. My answer is simple: I want to break new ground.
Typically, people don't like challenges because they come with unknowns and uncertainties. Yet, the beauty of challenges is that they give you opportunities to break new ground and reach new heights.
Facing challenges
People's reactions to challenges vary. They could generally be categorised into the following three levels: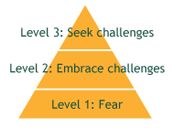 Level 1: Fear
Fears arise when we leave our comfort zone and face the unknown. Some people run away as quickly as possible, while others concentrate on preparing for the worst. Either way, they accomplish nothing.

Level 2: Embrace challenges
Embracing challenges seems more positive. People tackle issues, remove obstacles and ultimately stage a showdown in order to win over challenges. However, it's a reactive behaviour and there still involved a problem-solving attitude.

Level 3: Seek challenges
Leaders enjoy challenges. They correspond to the "challengers" in the Enneagram. Challengers are powerful, aggressive, confident, strong and assertive. They proactively seek challenges to open up new career and business opportunities.

Successful example

Anita Chan, sales director of Sun Hung Kai Properties, possesses a challenger's mindpower to outperform others. Recipient of the Distinguished Marketer in the 2005 HKMA /TVB Awards for Marketing Excellence, Anita has demonstrated her strength to seek challenges in order to achieve both the company's and personal goals. Making use of the CEOMP™ model, I have conducted an analysis of her success below.

Right after the 1997 financial turmoil, consumer behaviours changed drastically, and the number of registrations for private residential units valued over HK$10 million dropped significantly.

Despite such a challenging environment, an aggressive sales target was set for Anita's signature project Leighton Hill — 245 units sold at a desirable market price.

Anita well understood that she must employ all her best qualities as a marketer so as to answer the needs of her company, consumers and the public.

Further to a detailed analysis of the market condition and Leighton Hill's unique selling points, Anita had first of all to differentiate this development from the clutter of properties in the market by redefining the definition of a luxury home. The development was given an association to nobility, a status it enjoyed since its "birth", while its prestigious location — overlooking Happy Valley — was also an important selling point for its distinctiveness and uniqueness.

Turning the property into a "new glamour" and subtly suggesting that the residents were not merely rich but ones who also employed the mannerisms and etiquette of the aristocracy, Anita launched a remarkable above-and below-the-line marketing programme comprising pre-launch events, a series of TV advertisements featuring a teaser and emphasising the elegance of the property, and other creative ideas such as ballroom dance occasion and a millennium time capsule event which generated extensive media coverage.

The result was remarkable. Not only did the project generate a phenomenal 400 press stories, it achieved an 189-time over-subscription rate. Ninety-nine per cent of the units were sold by the end of the third week.

CEOMP™ model in action Anita's case can be explained with the CEOMP™ model:
Construct: Tackle the difficult assignment proactively to reach new heights, achieving both personal and the company's goals
Evaluate: Identify unique selling points
Option: Choose between employing a traditional approach to position the development as "just another luxury home", or an altemative to educate the consumer with "a new definition of luxury home"
mindTransformation: Turn the impossible into an opportunity
Progression: Proceed with creative marketing activities to achieve the target
The next article will be about how to be sensitive when dealing with office politics.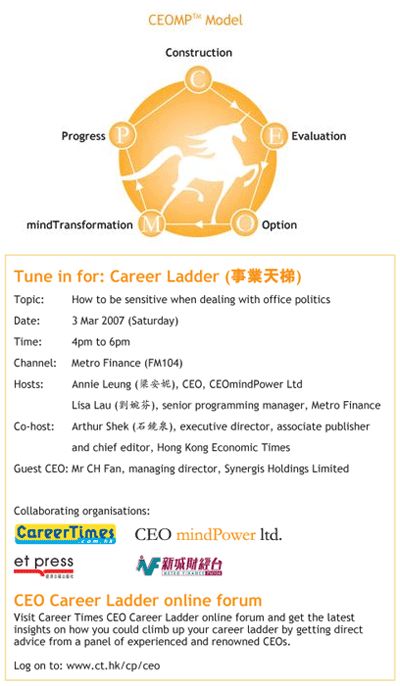 | | | |
| --- | --- | --- |
| | | Annie has studied extensively under Don Riso and Russ Hudson, the best selling authors of Enneagram. She is now developing training programmes on business applications through Enneagram. Recently, she has written two well-received management books — 《 CEO 樂 在 起 跌 中 》 and 《 活 用 你 9 大 領 袖 天 賦 》 which are available from all major local bookstores. For more information, please visit www.ceompower.com. |

Taken from Career Times 02 March 2007

讚好 CTgoodjobs 專頁,獲取更多求職資訊!