Self-enhancement
How to get that career breakthrough
by Annie Leung, chief executive officer, CEO mindPower ltd

This is the fourth article in a 9-part series on empowering executives to climb up the career ladder

Don't fear the problems and give up — be proactive and plan a positive way forward
Many people believe that a dream and reality cannot exist together. This is disproved by many industry icons who not only made their dreams come true but also materialised and integrated their philosophies into people's day-to-day lives. In this issue, we again use the CEOMP™ model to illustrate a success story in which our protagonist Jessica brought her dream and the reality together.
Construction — understand your principle and value
After obtaining a mass communications major degree with a minor in music, Jessica started working as a marketing executive with a sizable IT company and in a few years was promoted to marketing manager. But her real dream was to work in the music industry. As a first step to this career breakthrough, she went through her principles and values. Here are her thoughts: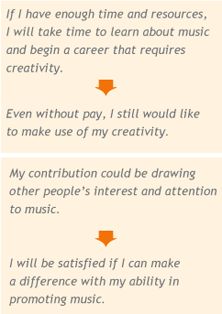 Through this process, Jessica came up with the objective that she would like to use her talent to promote music to the public and increase their interest.
Evaluation — determine emotional and rational needs
Jessica then realised she must strike a balance between her rational and emotional needs; that she needed to determine what she already had at the moment and what was required to achieve her goal. She drew up this list (below):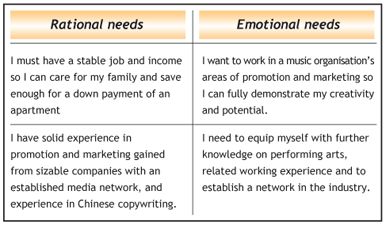 Option — balance emotional and rational needs
Judging from this personal evaluation, Jessica now clearly saw how she could satisfy both her rational and emotional needs.
She could work as a volunteer in a music organisation to gain working experience of the music industry
She could use her leisure time to expand her knowledge of performing arts
After accumulating enough experience, she could seek a marketing position with a well-known music organisation
mindTransformation — focus on limitations or opportunity?
Unlike Jessica, many people tend to focus on limitations and give up. Jessica took a proactive approach in focusing on opportunities.
She saw that her marketing expertise could help small organisations draw the public's attention. With them enjoying improved ticket sales, she could then request a salary and achieve a stable income. At the same time she would be promoting music to the public through creative ideas like gaining the co-operation of property developers and mobile phone companies in promoting music.
Progress — review progress and objectives
For the first six months Jessica worked as a volunteer with a small music organisation, grasping the chance to meet industry professionals. Within nine months, she completed various studies on music and broadened her academic qualifications. In one year, she was offered full-time jobs by a prominent music organisation plus the original small organisation.
Jessica's story is inspirational, proving that through your actions you can create a career breakthrough and turn your dreams into reality.
The next article will provide insights into a successful job interview.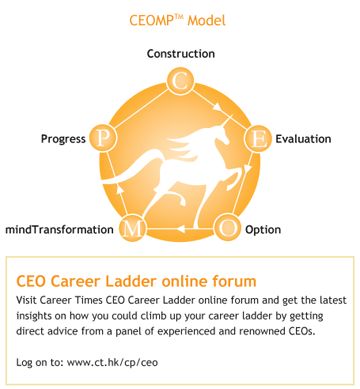 | | | |
| --- | --- | --- |
| | | Annie has studied extensively under Don Riso and Russ Hudson, the best selling authors of Enneagram. She is now developing training programmes on business applications through Enneagram. Recently, she has written two well-received management books — 《 CEO 樂 在 起 跌 中 》 and 《 活 用 你 9 大 領 袖 天 賦 》 which are available from all major local bookstores. For more information, please visit www.ceompower.com. |

Taken from Career Times 09 February 2007

讚好 CTgoodjobs 專頁,獲取更多求職資訊!