Self-enhancement
How to make and take criticism
by Annie Leung, chief executive officer, CEO mindPower ltd

This is the final article in a 9-part series on empowering executives to climb the career ladder

Don't be afraid to speak out if your views are non-personal and valuable
Criticising others seems to be a forbidden practice, especially in the Chinese community. However, from the business perspective, constructive and appropriate criticism is a necessary means to consolidate and examine views from different (internal and external) parties so that essential improvements can be made. This is why we see the current trend for companies to put more and more efforts into customer service and opinion surveys. Through these, companies collect a general view of their products and services from customers' perspectives, and propose changes to better suit their business requirements.
In a similar fashion, candid and professional internal criticism is also important, if it is done in a positive way that stimulates improvements in different parties, including subordinates, peers and upper management. However, criticism may also be seen as rude or offensive. The question is, how to criticise without being offensive?
A friendly criticism
"I am not sure about the rest of the world but in Asia, children would not even know what a CEO is. Definitely they would think such a doll seems too serious, thus not approachable, and so they would never cuddle it. I foresee that sales figures would be relatively low. Beyond doubt, it is not suitable to be launched in China, Hong Kong, Taiwan or anywhere else in South East Asia."
Holding such strong opinions about the proposed doll, the words flew from my mouth without hesitation. But my unexpected statement was greeted by applause from those present.
This setting was the boardroom of the multinational company's headquarters in Los Angeles where I used to work. The meeting was attended by all the general managers from across the world to evaluate product samples proposed by product managers. Everyone present was free to express their opinions so that the product managers could improve, modify or even remove the proposed products, ensuring that the products fulfilled the needs of our prospective customers in different countries.
That was the first time I had attended such an important meeting since joining the company. Through my first two days of active listening and observation, I found that the general managers from Europe and Latin America were very much active in the discussions and sometimes would get into vigorous argument with the product managers. However, such heated discussions did not seem to affect their relationship since they would enjoy social chats with one another in other occasions. On the other hand, general managers from Asia behaved differently at the meetings, having nothing to say. Any opinions they held would only be expressed during subsequent private discussions among themselves. Dan, head of the Asia Pacific region, was the only one who would proactively respond during the meeting.
After I had spoken my mind so openly, Dan told me, "Your response will benefit the company in launching products which are suitable and attractive to children in Asia, and not launching other unsuitable ones. As long as you have a reasonable standpoint, expressing strong opinions towards the issue but not a person in particular, your views will be welcomed."
Dan also reminded me that despite the differences between Eastern and Western cultures, senior executives should also be aware of the overall objective.
Lessons Learned
To achieve a win-win situation, here are a few lessons I learned from the situation above:
Criticism is not a bad action as long as it is factual, objective and not personal
We need to see things from other people's standpoint
The person making a criticism should be open-minded and always bear in mind that the objective is to generate opinions serving the company's best interests
Finale
Throughout the 9-part Gear Up, we have looked at various concepts including how the CEOMPTM model and the Enneagram could apply in different business and work situations. The core message is that breaking new ground and reaching new heights is not difficult. All it takes is to adopt a different mindset to see things from a different perspective.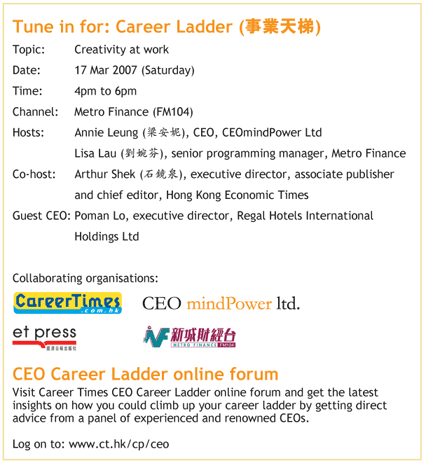 | | | |
| --- | --- | --- |
| | | Annie has studied extensively under Don Riso and Russ Hudson, the best selling authors of Enneagram. She is now developing training programmes on business applications through Enneagram. Recently, she has written two well-received management books — 《 CEO 樂 在 起 跌 中 》 and 《 活 用 你 9 大 領 袖 天 賦 》 which are available from all major local bookstores. For more information, please visit www.ceompower.com. |

Taken from Career Times 16 March 2007

讚好 CTgoodjobs 專頁,獲取更多求職資訊!