Self-enhancement
How to reach out
by Maggie Tang
Public relations expert highlights the art of relationship building
Mary Cheung, managing director and founder
Mary Cheung and Associates (International) Limited
Photo: Wallace Chan
While most of us realise that building lasting relationships is the key to success both in business and in life, achieving this is not always easy in practice. Speaking at a recent Career Times seminar on Building Relationships for Success, Mary Cheung, managing director and founder of media relations company Mary Cheung and Associates (International) Limited, discussed the main elements in building lasting and profitable relationships.
"It takes a team to succeed in today's business world," said Ms Cheung, who is also an image coach and former Miss Hong Kong. "No one individual or company has all the skills and knowledge necessary to run projects, especially sizeable ones, which means a collective effort is often required." Harmonious interpersonal relationships can make sourcing processes smoother, while cooperation increases the chances of success.
Ms Cheung added that interpersonal relationships are important when it comes to business relations and interaction among colleagues within companies. Where tension exists in a company, the morale and efficiency of staff are adversely affected.
Making the first move
Stressing the importance of nurturing relationships in almost every aspect of life, Ms Cheung said, "You have to be interested in people in the first place. You can make more friends by becoming interested in others than by trying to get others interested in you. Make the move to reach out and get to know people." One tip is to develop a range of interests, which enables one to engage in a variety of topics of conversation. "You can be a magnet to strangers if you are an interesting person to interact with," Ms Cheung noted.
While it is easy to exchange business cards, Ms Cheung pointed out that befriending someone goes far beyond simply finding out the person's name and occupation. Typical "business card collectors", who enthusiastically exchange business cards without any intention to get to know the card owners, often fail to realise that obtaining cards are not the same as networking with the card owners, she said. "The first encounter with someone is important, but all successful relationships are the result of follow-up actions." Ways to follow up include calling and catching up with people with whom you have not spoken for a while and being available to help friends in need.
It is important in any interaction to focus on making others feel valued. One way to do this is through eye contact, which is "one of the most important forms of body language", showing sincerity and interest in the other party. "If you look away, you won't remember the person's face, which can be taken as a sign of disrespect. This may ruin all chances of further developing the relationship," Ms Cheung remarked. Eye contact is also an important aspect of etiquette, along with good grooming, body language and expression. "Good manners are a life skill that give you an edge," she said.
Honour your agreements
Another essential component in building lasting relationships is integrity. In order to establish empowering relationships, you must be consistent in your thoughts, expressions and actions. Integrity also leads to self-respect and respect from others. "We make agreements every day and failing to honour those agreements is detrimental to relationships. Integrity comes from honouring our agreements, which is challenging as it tests our strength to uphold our accountability regarding ourselves, family and business," Ms Cheung explained.
Drawing from her life experience and business success, Ms Cheung told seminar-goers that professional relationships often develop into lifelong friendships. "Every relationship is open to unlimited possibilities and all are precious, deserving equal treatment. We must not be calculating, but treat others with warmth. A network of true friends can bring joy and prosperity," Ms Cheung concluded."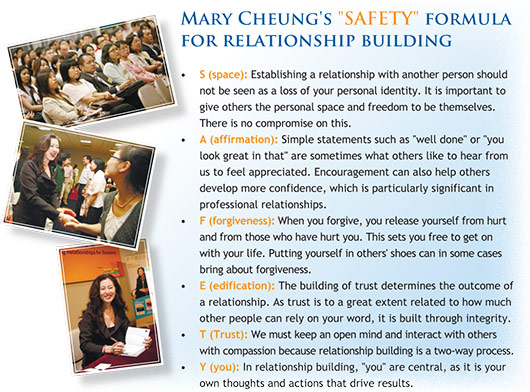 Taken from Career Times 07 September 2007

讚好 CTgoodjobs 專頁,獲取更多求職資訊!