Self-enhancement
How to stand out from the crowd
by Annie Leung, chief executive officer, CEO mindPower ltd

This is the first article in a nine-part series on empowering executives to climb up the career ladder

You can make it happen by building on your strengths and eliminating your weaknesses
Over the past two decades, I have worked with top-notch companies and individuals who have one thing in common — they are like unicorns that possess a genuine intuition to let their niches shine.
With a strong belief that every company and person is unique, I started up a consultancy business last year with a vision to empower them to uncover their unique strengths so that companies can become CEOs of their industries and individuals can become CEOs of their lives.
Art of empowerment
In this debut article, I will share with you how one can stand out from the crowd in a corporate environment and swiftly move up the corporate ladder.
I am giving my career tips in a structured and step-by-step approach so everyone can easily grasp the ideas and subsequently put them into practice. And I will demonstrate cases by using a well-tested and trademarked management model that I have invented — the CEOMPTM Model.
At an individual level, this empowerment model starts by defining personal goals and missions, followed by a review of the reality to identify what gap might exist. Then, people will identify different options and find ways to achieve their goals. This involves renewing or even changing their mindsets and acquiring the necessary skills in order to implement their empowerment plans and attain their life mission.
At a corporate level, the CEOMP™ Model starts with vision alignment and strategic planning. Then, in the evaluation process, executives have to review and analyse their business. Knowing about their company's current problems, they must figure out the different ways to improve performance, and — equally important — how to execute them. This usually involves changing fixed beliefs to reach new heights. Initiative assessment is necessary before you can determine the next steps.
Stand out from the crowd
To outshine others, one should not passively wait for chances to appear. Instead, we should always be alert and actively watching for and seeking opportunities. The idea of planning and executing a "signature project" can always be explored as it can help your company to succeed and at the same time, demonstrate your unique capabilities. Here are the five steps necessary to planning for your signature project:
1 CONSTRUCT
Construct an objective that meets the goals of your company and yourself
The objectives should be set by integrating your own unique strengths to match with your company's needs
2 EVALUATE
Evaluate the feasibilities of your proposal
What are the pros and cons? What would be the most attractive "catch" for your boss?
Start gathering useful information or even conduct simple surveys and cost analysis if necessary
You must evaluate from the angle of your boss, your peers, NOT just from yourself
3 OPTIONS
To increase your chance of success, here are some options you should also consider:

Timing — good timing is important so make sure your manager is in the right mood for it
Buy-ins from major stakeholders — before getting the final go-ahead from your manager, it is important to get buy-ins from your other major stakeholders
Company culture — A good proposal should take into consideration your company's culture, and also be politically sensitive
4 mindTransformation
When things are ready, it is very important to refresh yourself with a positive mindset

Start challenging yourself with all traditional beliefs
Be open to transform your mind by exploring new beliefs from different perspectives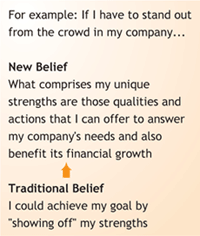 5 PROGRESS
Review what lessons you have learnt and what adjustments should be made
This will build a perfect start and pave the way for all your future success
In sum, with the help of the CEOMP™ Model, you can embrace new beliefs and eventually stand out from the crowd!

The next article in this series will provide insights into how to turn crises into opportunities.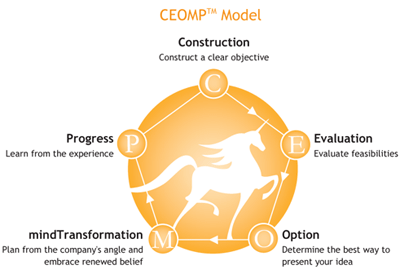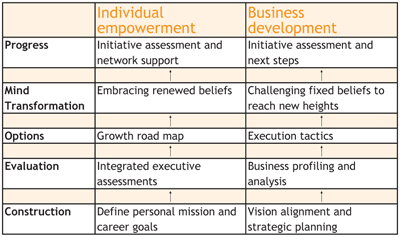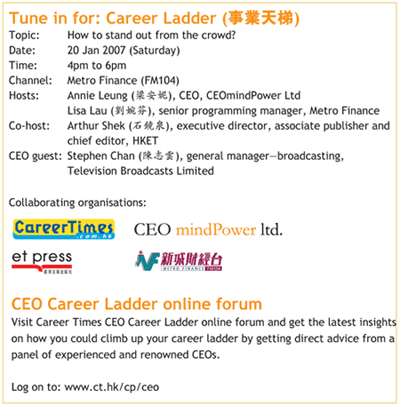 | | | |
| --- | --- | --- |
| | | Annie Leung is chief executive officer of CEO mindPower ltd. Before starting her own consultancy business, Ms Leung held senior positions in various multinational companies: Warner Brothers, Mattel Toys & Longman Education. Over the years, she has successfully built renowned brands such as Hello Kitty, Barbie and Longman Textbooks across the FMCG, retail and education sectors. |

Taken from Career Times 19 January 2007

讚好 CTgoodjobs 專頁,獲取更多求職資訊!