Self-enhancement
How to turn problems into great opportunities!
by Annie Leung, chief executive officer, CEO mindPower ltd

This is the second article in a 9-part series on empowering executives to climb up the career ladder

Make it happen by transforming your mind and looking at the situation from a positive perspective
Over the years, I have witnessed many examples where great companies and executives turn a seemingly big problem into a huge business opportunity. It is not just about how to solve a problem, but instead these successful cases not only turn the company around 180 degrees but help it reach new heights in business.
In this issue, I am going to share a classic and well-known example of how a renowned Hong Kong organisation reacted proactively to what everyone in the market believed to be a big threat.
After the plan to launch Disneyland was announced in 1999 by the HKSAR government, almost everyone in Hong Kong was excited. With this fierce competitor soon to arrive, Ocean Park's future, and its facilities at that time, faced a big challenge. A big question mark hung over Ocean Park and its management team at that time, and all of Hong Kong was watching and waiting to see what would happen. Being a traditional and local theme park with over 20 years' operational history, Ocean Park is still standing strong. Let's find out how the park fought off the challenge, and just what were the secrets of its success.
To illustrate this interesting case, I will again be engaging the CEOMP™ management model to facilitate a clearer step-by-step analysis.
1 Construct

Have a good understanding and analysis of the external environment (threat)
Conduct an in-depth assessment of one's competitiveness and weaknesses
Set an objective and go for it
The first objective was to decide if Ocean Park should "take on the fight" or "fade into the background" — in other words, maintain status quo or close down the park
Decision:
Considering Ocean Park is a home-grown and valuable asset of Hong Kong with a rich heritage of providing edutainment to millions of visitors, the management decided to take a proactive and bold approach. It would take on the fight and reposition itself by rolling out a major redevelopment programme.
Business objective:

Greatly increase the Park's competitiveness and appeal among target stakeholders
Build Ocean Park as the preferred and must-visit theme park for both locals and tourists
2 Evaluate
With Disneyland's arrival obviously a big threat, Ocean Park undertook numerous research and analysis studies, both internally and externally, with various options for consideration.
The main strategic decision that needed to be made was: To compete or to complement?

Pros and cons of each option were evaluated and the likely consequences were also carefully considered.
3 Option
After much deliberation, the management team made an unconventional decision — instead of "competing" directly with Disneyland, it decided to take on a "complementary" role.
The underlying fact was that the opening of Disneyland in Hong Kong would bring in more tourists and more talking points on these two theme parks, Ocean Park chose to ride on all these as opportunities and took on a bold "fight back" mission by differentiating itself as a park that provides "real experience with animals and nature" versus Disney's fantasy world.
Ocean Park re-emphasised itself as the "Park of the Hong Kong people" where everyone could enjoy interactive entertainment and edutainment with all kinds of animals. They started to prepare a master redevelopment plan and launched various new initiatives such as jellyfish exhibition, Ocean Park academy, annual conservation month and animal encounter programmes all year round. More importantly, they obtained support from the Legislative Council and the public to upgrade Ocean Park into "the world's best marine theme park".
4 mind Transformation
Traditional Belief:
Respond reactively to a problem to minimise the risk
New Belief:
Focus on identifying an opportunity out of the threat: to complement the launch of Disneyland and ride on the awareness and new visitors this new competitor will bring.
5 Progress
With Ocean Park's proven success now in the "fight back" battle, it has never stopped rejuvenating by bringing in new and fun elements to the park, including:

1) A master redevelopment plan to be completed by 2012 — this not only expands the size of the park, but also redevelops it in multiple phases with new and innovative attractions due to open every year
2) Event-driven promotions (such as Halloween, Christmas and summer promotions) during peak seasons
3) Other promotions (such as free entry on birthdays) during non-peak seasons
All of these have widened the park's customer base bringing about multiple visits during the year, definitely increasing attendance figures and drawing in more revenue.

The next article in this series will provide insights into how to handle setback.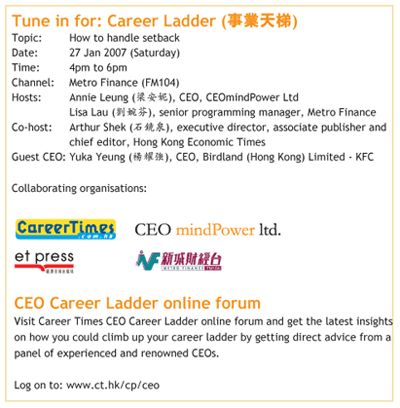 | | | |
| --- | --- | --- |
| | | Annie Leung is chief executive officer of CEO mindPower ltd. Before starting her own consultancy business, Ms Leung held senior positions in various multinational companies: Warner Brothers, Mattel Toys & Longman Education. Over the years, she has successfully built renowned brands such as Hello Kitty, Barbie and Longman Textbooks across the FMCG, retail and education sectors. |

Taken from Career Times 26 January 2007

讚好 CTgoodjobs 專頁,獲取更多求職資訊!