Career Path
Human interests
by Martin Williams
Anthony Thompson, managing director
Hong Kong & Southern China
Michael Page International
Photo: Louis Lam
A competent recruitment consultant needs excellent communication skills and must enjoy dealing with people from different backgrounds. These qualities stood Anthony Thompson in good stead when he moved into recruitment after a brief and unsatisfying stint as an accountant.

The shift, early in his career in his native Australia, proved successful and he was immediately in his element in his new role with a well-established recruitment company in South Australia.

The work took him out of his comfort zone, as success depended largely on building a reputation and establishing a solid client base, he recalls.

"It was rather easy to break into the field," says Mr Thompson, now managing director of Michael Page International's Hong Kong & Southern China operation. "While the job may seem quite technical, it depends a lot on personality and attitude."

Once established, he soon started looking for opportunities further afield, with his wish list including Hong Kong, London and New York. "I decided on Hong Kong, as it's close to Australia, welcoming, and the pace of life is exciting. It's also the business hub of Asia."

Golden opportunity

Mr Thompson subsequently joined Michael Page in 2000 as a consultant. This meant he had fewer responsibilities than in his previous position, but he was sold on the company's business model and the opportunities it offered.

The recruitment environment, where promotions are earned on merit, requires perseverance and skill, and he thrived in the role. "You have to be confident and deliver results, as well as communicate effectively with people on all levels," he remarks.

His next move up was to become manager of the company's sales and marketing manager, and things progressed from there until he took up his current position in 2006.

He has found that flexibility and adaptability are important to succeed in the Hong Kong workplace. Michael Page employees hail from wide-ranging backgrounds and include former lawyers, accountants and engineers. Many of them have been with the company in Hong Kong or China for five or six years and several for more than a decade.

"It's important to us that our people take their careers seriously, but we also believe in leading a full life outside work. Many of our staff members are keen on sports, while others are interested in the arts or do volunteer work," he notes.

Bright future

Mr Thompson's current role involves a fair amount of business planning and he regularly travels between the Michael Page offices in Hong Kong and Shenzhen. Apart from tapping into new markets, he also invests a lot of time into training and interviewing potential new recruits.

"We're looking for people that are ambitious, determined and have a proven track record, not only in their professional careers—they may also have done well in sport, music or other pursuits. We'll only recruit people with strong presentation and interpersonal skills," he stresses.

Prospective newcomers should consider whether they have what it takes to work in a results-oriented industry where they will be meeting and dealing with people from many different backgrounds on a daily basis, he advises. They should also accept that part of the remuneration is variable and dependant on performance.

Although Michael Page is well known for financial-services recruitment, this is not its main source of revenue and Mr Thompson has established strong partnerships with key players in industries ranging from engineering, manufacturing and retail to procurement and supply chain management.

In March, the company will be launching a new consultancy, Page Personnel, to focus on business support roles, including secretarial services. "We've invested in building an excellent database, so we'll be able to quickly send clients candidate shortlists," he says.

Hong Kong's recruitment industry is less mature than those in Europe and the US. Mr Thompson believes there is strong potential for the development of Hong Kong's contract recruitment market and that the industry is far from peaking.

With the right people on board, the company can only grow. "There are no limits. If you have what it takes, you can succeed, regardless of your background," he concludes.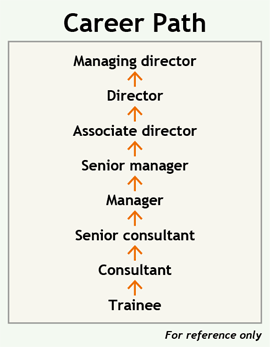 Taken from Career Times 12 March 2010, B14

讚好 CTgoodjobs 專頁,獲取更多求職資訊!