Property / Construction
Increasing home values
by Grace Chan
Aaron Chiang
head of human resources & administration
Hong Yip Service Company Ltd
Photo: Lewis Wong
Property management offers a rewarding career for service oriented people with the right technical and communication skills

Real estate plays a major role in the Hong Kong economy. With a growing demand for quality service and added value from landlords and owners, the property and facilities management sector in the city is thriving.

"Cleaning, maintenance and security services now constitute only a fraction of our service portfolio," says Aaron Chiang, head of human resources & administration, Hong Yip Service Company Ltd.

A wholly owned subsidiary of Sun Hung Kai Properties Limited, Hong Yip has been operating since 1967 and takes pride in its expanding professional services portfolio which covers luxury houses, public and private estates and a host of shopping centres, office and industrial buildings, restaurants, schools as well as government properties such as museums and sports complexes.

Firm foundation

Backed by its extensive network of subsidiaries, Hong Yip is in an advantageous position to offer its clients and customers a comprehensive one-stop service model, encompassing everything from daily management to security, cleaning, home services, mechanical, electrical and water-pump maintenance as well as building consultancy and projects.

Over the years, the company has initiated many groundbreaking new services for the residential properties it manages, including door-to-door delivery of daily necessities, laundry and home-cleaning services and special offers of festive delicacies. This helps ease the burden of time-consuming household chores for residents, Dr Chiang notes.

Hong Yip also runs various recreational activities, interest classes and travel offers to help foster a sense of community and leisure within its properties.

"Our vision is to create the ideal home for our customers and to serve them from the heart," he adds. "We strive to meet our clients' expectations, setting ever-higher benchmarks, and our service aims to be on a par with hotel standards."

Increasing customer requirements have brought tremendous business opportunities to the property and facilities management sector, but, at the same time, more is expected of service staff.

"Although the challenging nature of the job means our employees need to continuously update their technical knowledge and keep abreast of change in the market, the right attitude is more important than academic qualifications and work experience when it comes to assessing job candidates," Dr Chiang stresses.

Young people keen on a career in property management often start off in frontline positions such as assistant administrative officer or assistant customer service officer. "Personality and people skills are important in the service industry and prospective recruits should be customer-oriented, approachable and patient," he says. "They also need to have strong communication and interpersonal abilities, since they'll be expected to deal with people from different backgrounds and handle varying expectations and needs. Fluency in Mandarin and English is definitely a plus."

Moving up

Recently, Hong Yip's human resources & administration department became the first commercial company in the Industry accredited by the Hong Kong Council for Accreditation of Academic and Vocational Qualifications as an authorised operator capable of organising in-house programmes from Level 1 to Level 3 of the Qualifications Framework.

In order to keep up with industry best practice and provide consistently outstanding service, Hong Yip has developed through its well-established People Development Academy a series of structured training and development programmes for both new recruits and existing staff. Ongoing training activities include industry knowledge and technical skills as well as legal regulations, management practices, customer services, reception techniques, crisis management and handling complaints and emergencies.

"Career advancement depends very much on individuals' personal aspirations and credentials," says Dr Chiang. "For instance, it takes an assistant administrative officer an average of eight years to advance to a managerial position."

He notes also that since the industry has become increasingly complex and legally regulated, staff members aspiring to move into managerial positions are required to earn professional qualifications from recognised bodies such as The Hong Kong Institute of Housing with a view to becoming a Registered Professional Housing Manager.

With its extensive portfolio, Hong Yip provides an attractive platform for career progression. "A decade ago, we had less than 6,000 employees. Now, we have more than 11,000 in Hong Kong alone," Dr Chiang points out. "Our expanding business presents staff with a wealth of opportunities for vertical and lateral development."

Newcomers to the industry should be prepared for many daily challenges in meeting customer needs, as well as working unsocial hours, Dr Chiang cautions. However, the long-term rewards are great for high-calibre candidates with the right mindset.

"Slumps in the economy tend not to affect the property and facilities management industry, since residential and commercial buildings, as well as shopping centres need to be properly managed to preserve their asset values," he remarks. "In addition to job security, financial incentives and a challenging career, our staff members are also assured of good prospects for career advancement in the long run, considering the development of Hong Yip Group's business in Hong Kong and mainland China."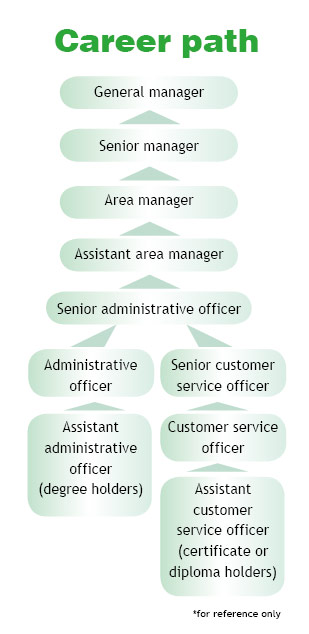 Taken from Career Times 18 June 2010, B3

讚好 CTgoodjobs 專頁,獲取更多求職資訊!