Self-enhancement
Intelligent technologists
by Sophie Leung
Elite professional community embraces advanced information technology
Cally Chan, general manager, HP services, technology solutions group
Hewlett-Packard HK SAR Ltd
Photo: Edde Ngan
Information technology is now an indispensable feature of any successful company. People who choose to tap into the IT profession are confronted with an increasing number of career options.
In the first of four career development seminar series co-organised by TechMatrix Research Centre and Career Times, three experienced IT professionals shared their views on career success. "You can virtually go anywhere you choose once you understand the information flow of core business," revealed Stanley Suen, general manager of Career Times Online Limited and moderator of the first career development seminar series.
Cally Chan, general manager, HP services, technology solutions group, Hewlett-Packard HK SAR Ltd echoed Mr Suen's optimism. "As a service provider, we are the bridge between the user community and technology," she noted. Working for HP for 18 years, Ms Chan commented on the recent changes in information privacy legislation and sees a bright future for the industry as IT becomes increasingly important.
At the beginning of her tenure with HP, Ms Chan started as a programmer and was soon appointed to oversee security centres in the Asia Pacific region alongside outsourcing services for China and Hong Kong. This exposure to global markets helped nurture her management skills which have proved extremely useful.
Second language
Witman Hung, executive vice president and co-founder
Next Horizon Company Ltd
"IT experts hold the formula to deciphering information, in addition to comprehensive knowledge on information flow within the whole company," said Witman Hung, executive vice president and co-founder, Next Horizon Company Ltd. A seasoned professional in the field with 20 years' experience, Mr Hung noted that IT has become the second language in every business.

Regarding professional expectations, he said that people looking to work for project-based service providers or consultants must be prepared for long hours at work and the pressure is great. However, such tough training is ultimately rewarding as it provides diversified exposure and broad career opportunities.

Indeed, Mr Hung regards the new IT professional as a strategist, capable of understanding and translating the value of IT into business revenue. To advance to the next level though, professionals should demonstrate both positive team dynamics and leadership qualities.

Presentation skills
Derek Cheung, head of IT outsourcing —d evelopment services
Computer and Technologies Solutions Ltd
"Clients not only pay for the end product but also the development process," emphasised Derek Cheung, head of IT outsourcing —d evelopment services, Computer and Technologies Solutions Ltd. Mr Cheung has worked on several government projects, including managing the data centres for the Water Supplies Department and the Land Registry. He pointed out that IT professionals should perfect their presentation and business writing skills to explain technical language to clients.

Mr Cheung's projects usually last from a few weeks to several months, differing in technicality and business applications. It is not unusual to handle six or seven projects at the same time in any two-year period. Mr Cheung remarked that people who enjoy working in a dynamic environment will gain the most from project work.

A good consultant is both a mentor and trainee, welcoming knowledge sharing. Quality focus is important as consultants are advocates for standards and methods, raising the bar in the industry and enhancing Hong Kong's competitiveness as a whole.

Keynotes
Local IT professionals hold the edge
Global exposure in project management a major advantage
IT a second language in the core of every business
Communication skills essential for career advancement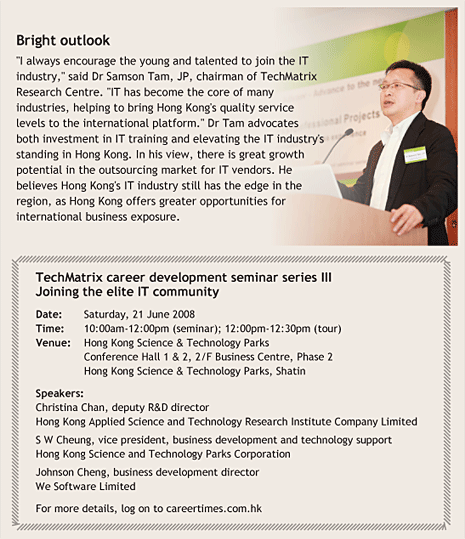 Taken from Career Times 13 June 2008, p. B19

讚好 CTgoodjobs 專頁,獲取更多求職資訊!