Career Path
IT buff builds global business in Hong Kong
by Wendy Shair
Gabriel Young
country manager
Gartner Hong Kong
Photos: Wallace Chan
Even for seasoned professionals, it can be a tough challenge to keep up with the rapidly changing corporate environment powered increasing by information technology. But Gabriel Young relishes the ongoing opportunities for growth and personal fulfilment.

"I've always been fascinated by science subjects and, above all, advanced computer technology," explains Ms Young, country manager for leading information technology research and advisory company Gartner Hong Kong.

After obtaining a degree in computer science from The University of Melbourne, she spent the first few years of her working life as a software engineer for an IT consulting firm in Australia before returning home to Hong Kong and taking a position with an IT company, working subsequently in a number of sales and marketing positions and serving a range of clients, including airlines.

"I found it satisfying to be able to provide clients with tailored mission-critical solutions to their business issues," she recalls. "That particular job gave me the chance to get to know all sorts of people in the industry. But after a while I started missing the IT business and my old friends and colleagues in the industry, so I decided to get back into the field."

New beginning

In 2007, Ms Young joined Gartner, taking on the role of regional client director. Her efforts subsequently earned her several global sales awards and she was promoted to her current position in July 2010, overseeing product development and business operations in Hong Kong.

Founded in 1979, the firm is headquartered in Stamford, Connecticut in the US and it serves a global clientele spanning 85 countries and regions. "Gartner has gained such a foothold in Asia and in 2010 we've achieved double-digit growth in Asia and in particular 35-per cent growth in Hong Kong," she notes.

While she concedes that her profession is largely male-dominated, this has not impacted on her personal career development. Ms Young stresses: "Gender should not be an issue in the workplace. Professional attainment is the result of dedication and a strong commitment."

Working for the world's largest technology research and advisory firm is greatly gratifying, Ms Young finds, and she particularly enjoys articulating and communicating the value of Gartner's services to the senior executives of client companies, she says.

"Customers respect our reputation. I feel that they value my input and I'm proud of our advisory services, particularly where we assist clients in making key decisions," she adds.

She points out however that one challenge is finding and placing the right talent into the right jobs. "We look for "clock-speed", keen learners who enjoy being on top of the trends. It is equally important that they are IT savvy with good business acumen, and have the sales knowledge necessary to cater to the business initiatives of our discerning clients who are mainly top company executives. Our staff must be able to relate to the business of our existing and potential customers," she remarks.

The key to successful client relationships is to understand customers' business initiatives, she notes. "It's important to know how the service we provide could impact on their business. To establish long-term relations, we must ensure that we add value."

Scope for growth

Ms Young describes her management style as people-oriented, precise, direct and positive. "I aim to get things done fast and expect my staff to be energetic and sharp. They must react quickly to our clients' needs."

She believes that Gartner's strategic advisory services are superior to those provided by competitors worldwide and employees should therefore be totally committed, ensuring that they gain the necessary understanding of the businesses they service, as well as maintaining good professional relations with clients.

"The growth potential for our industry remains big, as the market has such potential and there are still quite a lot of new clients out there. We want our sales professionals to reach out to prospective customers from different sectors and to identify client needs proactively," she says.

In order to retain quality people, Gartner offers good remuneration packages, including bonuses and other incentives. "We plan to hire more people this year to support the company's growing client base," Ms Young concludes.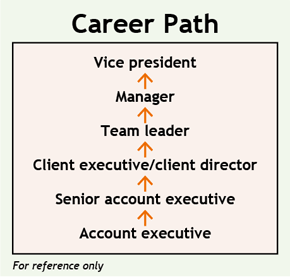 Taken from Career Times 25 February 2011, B12

讚好 CTgoodjobs 專頁,獲取更多求職資訊!