Career Path
IT lady exerts leadership
by Adam Philbin
Judy Leung
chief operating officer
Arcotect Limited
Photo: Edde Ngan
The fast moving and ever changing landscape of the information technology industry provides the challenge that Judy Leung relishes. As chief operating officer of software company Arcotect Limited, she oversees the entire operation and ensures all projects are handled with the due level of care.

Arcotect is an ISO certified company that provides professional IT services, with a focus on the public and telecommunications sectors. "I manage all of the company's capabilities as a focal point, leveraging the company's research and development, IT services delivery, sales and marketing, overall human resources and administration."

Ms Leung has had to adapt to fit her current role. In fact, she first worked for Vivienne Tam, after graduating with a fashion merchandising qualification. After a few years of hard work, she was promoted to production manager. She subsequently quit the job and spent a few months travelling the world. Returning home in 1990, she took an administration job with a network systems integration company.

"Since it was a small company, I had the chance to learn about various products and to build relations with the vendors. After seven years of service, I left the company as general manager," she recalls.

Moving along her path in the IT industry, in 1997 she shifted from networking to software, becoming marketing vice president of a software developer. "This gave me the opportunity to become familiar with government projects, as I liased with users from departments and bureaus for case studies," she says.

In 2001 she joined Arcotect Limited as vice president - strategy, primarily responsible for business development. Under her leadership, Arcotect won the tender for the Hong Kong government's IT contract, over 200 bidding contractors around the world. She was then appointed as the company's IT services vice president, supervising the company's project teams, before assuming her current role.
"Now my typical day is spent making decisions. I review and approve all things, such as costing, proposals, project progress, payment and HR," explains Ms Leung. "We always have about 30 projects running concurrently and a few proposals due every week."

Keep moving

The pace of IT development presents endless opportunities for aspiring individuals. "It's never too late to join the industry," says Ms Leung.

To start a career in the field, a university degree and relevant certifications are clearly useful. "However, to be successful, one must always produce quality work," Ms Leung stresses.

She also considers English language proficiency crucial to an IT career. "A lot of young people may not hold it in high enough regard, but a high standard of English is vital for the preparation of formal documentation, which is essential to the job," she adds.

Ideal entry points for IT graduates are programmer and network engineer roles in a system integrator (SI) company. "This gives you the opportunity to experience many different platforms in the shortest time," notes Ms Leung. Graduates without an IT background are also welcome. "We have staff without a formal education in IT but they have become excellent business analysts, acting as a bridge between the end-users and the project team".

Having the chance to work on a variety of important projects is a challenging and rewarding aspect of the job. "I am proud to tell people about the work we do," says Ms Leung.

Looking at the industry, Ms Leung recognises a need for talented professionals. "Lately it seems that we don't have a sufficient supply of JAVA trained software programmers," she observes. "However IT is a necessity now, and all vertical businesses need a comprehensive and sturdy IT support system. So, opportunities for career development can only increase."

Professional certifications are nowadays more important within the IT industry, according to Ms Leung. "In the old days, people could work and learn their way into the industry. These days, clients are more sophisticated, and look at the qualifications of team members when evaluating tenders. The industry needs certified people to win the deal and perform the work."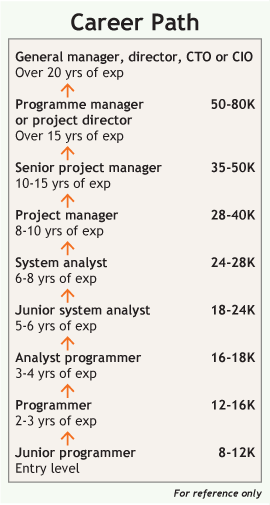 Taken from Career Times 29 January 2010, A16

讚好 CTgoodjobs 專頁,獲取更多求職資訊!