Self-enhancement
Keep your employees engaged
By Lotus Lau
Global training consultancy Dale Carnegie reveals the real picture of employee engagement in Hong Kong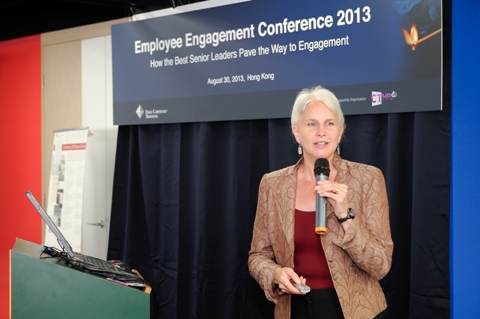 Triana Newton, Regional Vice President - APAC of Dale Carnegie
In face of increasingly high employee mobility in Hong Kong and Macau, employers find it tougher than ever to keep their employees engaged. Dale Carnegie Training, a performance-based training company, held its annual Employee Engagement Conference 2013 on 30 August 2013. More than a hundred senior management members in the city attended the event and shared insights into how the best senior leaders pave the way to engagement.
The speaker of the day was Triana Newton, Regional Vice President - APAC of Dale Carnegie. Participants gathered together in groups of four, enabling vibrant discussions and sharing of thoughts.
The real picture
The participants were first asked to draw on a piece of paper what, in their view, an engaged workforce should look like. Some simply drew a happy face, whilst some thought engagement was like finishing a jigsaw puzzle together. But ultimately, as Triana said, managers must have a clear picture of the ways in which they would like their teams to be engaged.
The discussion then moved onto employee engagement matters in Hong Kong. A previous study by Dale Carnegie Training placed the number of "fully engaged" employees in Hong Kong at 28%, and "disengaged" employees at 15% – meaning nearly two thirds of employees are only partially engaged, significantly more than the global percentage (45%).
Such demographics have implications for managers as to how to handle the issue. Triana then raised the subject of discussion: which group should management work with first in order to maximise the effectiveness of engagement efforts?
Participants then got the chance to voice their opinion via an instant poll, choosing between the fully engaged, the partially engaged and the disengaged. The results revealed that majority of the managers thought prioritising the partially engaged employees would be the most effective way to keep the whole organisation engaged.
However, Triana revealed it was actually the most effective to work with the group of fully engaged staff first, for they are the ones who can have an impact on the rest of the organisation with their highly motivated spirit. They should be the key to employee engagement and management should endeavour to keep them actively engaged.
Senior leadership attributes leading to engagement
Having learned which group of staff should be given priority, management should also bear in mind that "satisfaction with immediate supervisor" is the biggest driver of employee engagement among all factors. Triana made this message clear by playing a simple game of paper tearing. Participants were given a single set of instructions for tearing a piece of paper, only to find that five different outcomes resulted, which illustrated how important clear leadership and guidance is to subordinates.
It is key for management to have an understanding of what attributes make a good leader. Triana summed them up in four words: direction, competence, communication and collaboration, stressing the importance of teamwork and coordination.
1/ Direction: Share the intention to work on employee engagement; involve the team in the creation of engagement strategies
2/ Competence: have leaders create their personal action plan around their competencies
3/ communication: build team skills to contribute and input
4/ collaboration: enlist your fully-engaged in peer leadership initiatives; "wildly" celebrate successes both large and small
At the end of the day, Triana encapsulated the essence of the fruitful afternoon in her final point: a concrete action plan. She reminded participants to set a timeline for their plans so as to make clear what things are to be done, and when.
Raise the awareness
Though the day's session was already highly interactive, enabling participants to be engaged in keen discussion, Triana revealed that the actual training classes would go even further in terms of the level of interaction.
"Because we're doing a session with a large group of people as opposed to a long-term training program today, it is probably the most time that you will have a trainer standing in the front of the room talking," said Triana. "It is the inverse of what you will see in our regular classes in terms of the participation of trainer and participants."
All in all, the day's session was all about raising awareness and Triana was happy to see that it had been a great success. "Today was about starting the conversation, which I think we did. Hopefully it catalyses people saying: this is something important, and I need to prioritise this," she said.
Alignment with CTgoodjobs
The Dale Carnegie team would also like to attribute the success to CTgoodjobs, which supported the organisation of the event. Grace Chan, Managing Director of Dale Carnegie Training, expresses her sincere gratitude to CTgoodjobs. "It's great that CTgoodjobs can help spread the news. It has the exposure to the local side, which helps Dale Carnegie to be seen not just as an American brand; it also closely works with local companies."
Triana shares agreement and thinks there is a huge synergy between what CTgoodjobs does and what Dale Carnegie does. "When you look at the great alignment between the two companies, both are seeking to help people in their work life. So the missions of the companies are very similar, and in fact complement each other really well."
13 Sep 2013
讚好 CTgoodjobs 專頁,獲取更多求職資訊!