Retail Banking
Keeping pace
by May Chan
Annie Ma, managing director
sales and distribution, consumer banking,
DBS Bank (Hong Kong) Limited
Photo: Lewis Kwong
Financial institution sees bright future in consumer banking

The consumer banking sector faces new challenges and opportunities as the global economy starts to recover.

While some consumers may be bewildered by the vast number of wealth management products available on the marketplace, the options all come down to serving four fundamental financial needs, says Annie Ma, managing director, sales and distribution, consumer banking, DBS Bank (Hong Kong) Limited.

"These are to protect, to grow, to save and to borrow. In the past, people bought gold and property and relied heavily on savings. But today it's a totally different scenario," Ms Ma says.

Over the past decade Ms Ma has seen a rapid proliferation in the financial products available, as well as increasing market sophistication.

There has been a sharp rise in the number of investment and insurance products, such as insurance policies, funds and different forms of foreign exchange packages. This reflects changes in both the investment market and the public perception of wealth.

Following the Lehman Brothers mini-bonds saga and other upheavals in the financial world, Hong Kong customers have become more wary but interestingly, much more accepting of financial products. "As client numbers grow, the overall financial literacy does too," Ms Ma adds.

A leading bank in Asia, DBS believes that "the people factor" is what sets banks apart. Job applicants are assessed on their service orientation, as well as their technical and communications skills. All new employees undergo three weeks' technical skills and product training.

Ethical service

As the banking and finance industry emerges from the gloom of the financial crisis, a new mindset and practices have emerged. By and large, the industry has developed new measures to regulate banking services and restore good faith in the finance sector.

DBS, for example, introduced a new service training programme for its consumer banking staff in 2009. More than 1,000 of its employees, including all frontline staff and operations and supporting staff, spent a day and a half reacquainting with the bank's service values—"REACH", which stands for "receive", "engage", "assist", "close" and "honour".

The bank's business ethos is manifested both in its dealings with clients and product offerings. Employees are required to take a needs-based approach, identifying and analysing clients' wishes, goals and risk appetite before recommending appropriates services and products.

The bank has also enhanced internal communications to ensure that customers are empowered to make informed choices. More than 200 relationship managers attend daily online morning briefings to obtain essential market updates on areas such as foreign exchange and global investment markets and other relevant developments in both local and global contexts.

"Our staff can also access product information, training materials such as videos, and market updates through our intranet," Ms Ma says. "They may also log on and review other information and keep track of their own performances."

Future developments

People are paying greater attention to retirement planning and are more inclined to start putting money aside early to accumulate retirement funds for long-term investment. "The growing needs for wealth preservation and protection products are a natural reaction to the financial meltdown. People are reflecting on the precautionary measures they should have taken prior to the crisis," Ms Ma points out.

She also notices a growing demand for investment products. This sentiment was particularly strong in the last quarter among consumers who have a net wealth ranging from HK$500,000 to HK$1 million.

According to Ms Ma, the investment banking sector will expand over the coming six months. "The market is picking up. Although it cannot be compared with its heyday in 2007 and 2008, there will be an improvement in consumer banking in 2010," says Ms Ma. "While there will still be volatile times, I anticipate more opportunities than challenges," she adds.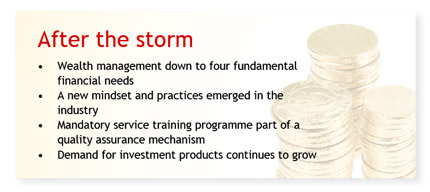 Taken from Career Times 15 January 2010, p. A5

讚好 CTgoodjobs 專頁,獲取更多求職資訊!