Career Path
Laying the foundation for a fulfilling career
by Grace Chan
Kelly Ko
project quantity surveyor
Chun Wo Construction and Engineering Co Ltd
Photo: Lewis Wong
Working in the construction industry was a natural choice for quantity surveyor Kelly Ko. "I love the idea of building something from nothing, and I've always wanted to be involved in the process," says Ms Ko, project quantity surveyor, Chun Wo Construction and Engineering Co Ltd. "My job interests me and is a perfect match to my career aspirations."

After graduating from the Hong Kong Polytechnic University with a degree in quantity surveying, Ms Ko entered the profession in 2005 when she joined Chun Wo's three-year elite training programme.

She first learnt about the company at a university career seminar and was impressed by the programme's rotational structure, which is designed to familiarise trainees with all aspects of the business, from cost control to sub-letting, tendering and contract management.

The programme provides graduates with practical work experience before taking their Hong Kong Institute of Surveyors Assessment of Professional Competence (APC) examination.

Brick by brick

Young graduates can choose whether they want to join a developer, contractor or consultancy firm as an initial step into the industry, but Ms Ko opted for being involved in the actual construction process.

A major construction conglomerate, Chun Wo is involved in numerous landmark projects in Hong Kong. "This exposes me to tremendous all-round learning opportunities," she notes.

Soon after Ms Ko joined Chun Wo, she obtained her Hong Kong Institute of Surveyor professional membership. "During my three years of training, I gained hands-on experience in civil, building and fitting-out projects. These included bridge construction at San Tin near Lok Ma Chau and the Bel-Air building project at Cyberport," she recalls.

Entry-level assistant quantity surveyors must have sufficient technical knowledge on functions such as cost measurement. In Ms Ko's early years at the company, she was mainly tasked with handling project payrolls, cost and procurement evaluations, preparing contract documents and monitoring on-site progress.

"I felt valued and trusted. My colleagues at all levels were supportive and never hesitated to share their experiences and keep me on track," she says. "Obviously I was expected to equip myself with the necessary knowledge and hard skills, but I could always seek advice when needed."

Ms Ko sees the one-year secondment at a consulting firm as one of the most exciting aspects of the elite training. "The stint taught me to see things from a consultant's perspective, giving me a full picture of the business and enhancing my ability to work in a team," she points out, explaining that consulting firms work closely with developers, who are in turn the clients of contractors.

Building competence

Quantity surveyors should be adaptable and flexible and be able to work independently to deadlines in a cost-effective manner. "Most importantly, we need to be team players with good communication, interpersonal and problem-solving skills," Ms Ko says.

It is part of the job to interact with other parties involved in projects, both within the organisation and externally, so fostering good working relations is vital. "My training was structured in such a way that it also honed my interpersonal communication skills. This made my job easier," she emphasises.

Once she finished the programme, Ms Ko was involved in the floor-by-floor renovations of Windsor House in Causeway Bay, a project that gave her great job satisfaction.

"It was amazing to see how we were able to transform the old layout into a brand-new shopping mall. This was one of my most memorable achievements," she notes.

Ms Ko is grateful for the fast-track opportunities the training programme gave her: "It normally takes eight to 10 years to become a project quantity surveyor, but I'm already there. The next step for me would be involvement in some of the company's other major landmark projects."

Prospective entrants to the field should regard obtaining professional qualifications as their prime objective for career development, Ms Ko advises. "Quantity surveyors are most in demand during boom times when private developers are keen to invest, but even when the economy slows down, the government launches infrastructure projects. It's crucial for us to maintain a high level of professional integrity and accountability at all times," she concludes.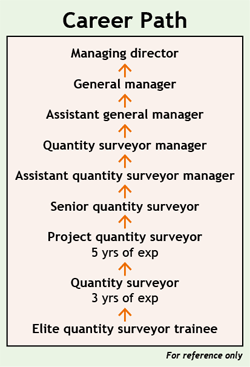 Taken from Career Times 16 July 2010, B12

讚好 CTgoodjobs 專頁,獲取更多求職資訊!