Self-enhancement
Laying the foundation
by Grace Chan
It may seem that the global economy is sliding into the depths of recession but opportunities still abound for quantity surveyors
Stephen Lai, managing director, Rider Levett Bucknall;
chairman, quantity surveying division
Hong Kong Institute of Surveyors
Photos: Wallace Chan
Accelerating infrastructure development in regions such as China and the Middle East has resulted in a soaring demand for quantity surveyors. At a recent Career Times seminar "Quantity Surveyors' Road to Success", four industry players underscored the indispensable role of quantity surveyors in the entire building process.
"Every construction project, regardless of its scale and location, needs quantity surveyors," said Stephen Lai, managing director of Rider Levett Bucknall, a property and construction multinational with 2,000 staff in more than 80 offices worldwide.
Chairman of the quantity surveying division of the Hong Kong Institute of Surveyors (HKIS), Mr Lai noted specifically that China is now more receptive to Hong Kong quantity surveyors. Back in 2005, the HKIS signed reciprocal agreements with mainland authorities. This July, some 65 Hong Kong based quantity surveyors were recognised as registered cost engineers.
"The resourcefulness of Hong Kong quantity surveyors sets them apart from their mainland counterparts," he stressed.
Chances are equally abundant in the Middle East. "Hong Kong and the Middle East both follow the British legal system and English is widely used there," he said.
However, he pointed out that the China market can be an ideal platform for younger professionals to launch their careers: "Currently, Hong Kong has fewer new building projects but many mainland cities are still undergoing rapid development."
Universal skills
| | |
| --- | --- |
| Francis Leung, senior vice president of the HKIS | |
Francis Leung, senior vice president of the HKIS, further addressed the significance of quantity surveyors in Hong Kong infrastructure. "The range of core skills such as cost planning and contract management is needed in every construction project. In view of this, quantity surveyors play an important role in the value chain," Mr Leung said.

Aside from developers, consultancy firms and contractors, job opportunities are also available in the government. "New opportunities can be found in financing, for instance, in the area of public private partnerships (PPP)," he remarked.

"The key to success is to keep looking for lateral opportunities to broaden your exposure," Mr Leung highlighted, noting that graduates from many disciplines can build their profession in quantity surveying.

Joanna Kwok, project quantity surveyor of Gammon Construction Limited, is one such high-flyer, who reached her current position within just five years.
| | |
| --- | --- |
| Joanna Kwok, project quantity surveyor of Gammon Construction Limited | |
She rated self-motivation as the most crucial element in paving a career. Upon graduation, Ms Kwok initially joined Davis Langdon & Seah, one of Hong Kong's biggest consultancy firms, where she identified her career goal. "Consultancy firms are an ideal environment for people who are strong administratively. I prefer visiting sites and seeing the whole construction process," she said.

For this reason she made a move to leading local contractor Gammon and underwent a 30-month graduate training programme which included job rotation at some of the company's key functions.

"The comprehensive training assists us in obtaining the Assessment of Professional Competence (APC) qualification," she added, emphasising that a professional chartership is essential for career development in the field. "A passion for construction and the building environment is equally important. Besides, participating in social and academic events help hone interpersonal skills and build a social network, which can benefit our advancement in the long run," she advised.

Meticulous planning
| | |
| --- | --- |
| Paul Ho, head of the division of building science and technology at City University of Hong Kong | |
Paul Ho, head of the division of building science and technology at City University of Hong Kong, revealed the low-down in excelling in quantity surveying. A thorough understanding of a person's competitive edge is particularly important, he noted.

Past chairman of the quantity surveying division of the HKIS, Dr Ho suggested surveying graduates look for opportunities with companies that offer adequate training towards the APC qualification. "Recent developments in the field place professionals in a fast-track career but it is of utmost importance that younger professionals seek to build a foundation for future career advancement," he cautioned.

Dr Ho believes that life-long learning is essential. "Higher academic qualifications can always help to sharpen your competitive edge and prepare you for the next step up," he concluded.

In the field
Mainland China and the Middle East the ideal career platforms
Quantity surveyors sought after across the board
Professional qualifications, wide exposure and people network essential
Surveying graduates must seek to build strong foundation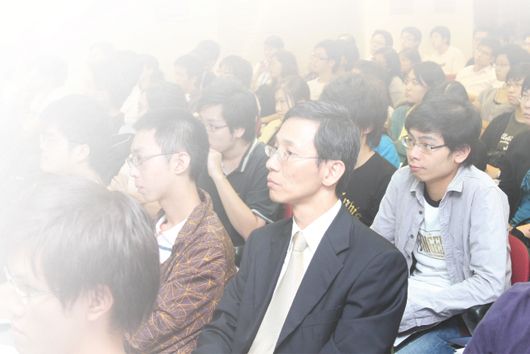 Taken from Career Times 07 November 2008, p. A7

讚好 CTgoodjobs 專頁,獲取更多求職資訊!