MT Opportunities
Learning to see the bigger picture
by Grace Chan
Multinational market leader launches focused new training scheme for future managers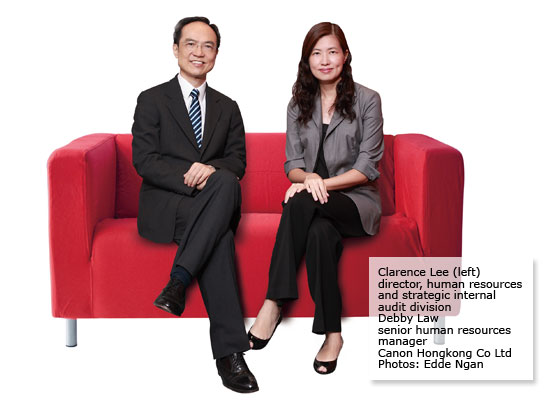 In the fast-changing world of digital imaging, manufacturers must ride on continuous innovation and superior creativity to ensure that their brands remain strong and in high demand. This inevitably results in stiff competition for talent.

In view of this, Canon Hongkong, which is approaching its 40th anniversary next year, introduced a new 15-month management trainee (MT) programme to sustain the supply of fresh talent by fast-tracking young graduates towards sales and marketing management roles.

"Canon's leading position in the marketplace and dynamic business nature appeal to career-minded young people, who are also discerning users of digital imaging products," says Clarence Lee, director, human resources and strategic internal audit division, Canon Hongkong Co Ltd. "Our MT initiative is more than a sheer recruitment drive. We're specifically looking for high-calibre candidates who are keen to take up the challenges related to future leadership positions."

Over the past decade, the company's staff management policy focused mainly on hiring experienced personnel and providing employee training to facilitate fast professional growth in line with business expansion. Now boasting a staff complement of 640, the organisation believes it is increasingly important to groom its own people as part of a structured succession plan to fuel long-term growth.

Hands-on experience

Early in September, eight top candidates were admitted to the MT programme following a rigorous, three-round selection process involving written tests, group discussions, individual interviews and presentations.

"The successful applicants impressed us with their 10-minute presentations and positive attitude, as well as their clear passion for the industry. We believe they all have set career goals and the right temperament and skills to become excellent managers," notes Debby Law, senior human resources manager, Canon Hongkong.

The programme kicked off with three days of orientation, comprising team-building exercises, communication workshops, an Enneagram personality test and experience sharing with members of the senior management. This was followed by two weeks of intensive classroom training.

During the first year of training, MTs are expected to learn for the full spectrum of the industry via exposure to all aspects of Canon's business, including marketing, product planning and sales promotion of the company's two core business ranges—business products and consumer products. The last three months of the programme will be dedicated to job attachments in other key functions including human resources, IT, accounting, corporate communications and administration.

"The MT curriculum emphasises on facilitating hands-on experiences," says Ms Law, noting that trainees will be tasked with real projects such as product launches and sales promotions.

Towards the end of the first two job attachments, trainees will be required to produce reflection reports, summarising the experience they have gained, as well as their learning outcomes. "Senior managers act as mentors, supervise and evaluate their progress and performances."

In a bid to encourage growth, Canon Hongkong ensures a structured career path for its trainees. In particular, those successfully completed the programme will initially be appointed as officers, with future promotions leading to positions as supervisor, senior supervisor and assistant manager. "This is our first MT programme. We'll learn from the experience and continue reviewing its structure to keep it fresh and market relevant," Mr Lee concludes.

Wendy Lai

BSc in information management

The University of Hong Kong

"Canon's diverse business profile gives me exposure to both corporate customers and general consumers. Although dealing with both categories makes the work more challenging, it will definitely help to expand my skills and knowledge.

I hope to absorb as much knowledge as possible over the next 15 months, but I believe ongoing learning is the only way to success."

Clifford Lo

BA in philosophy and politics & public administration

The University of Hong Kong

"The MT programme's rotational training structure gives me the opportunity to learn from colleagues across various departments and help me to hone my interpersonal communication skills.

I'm particularly impressed by Canon's environmentally friendly policies, which go further than just marketing, but are consistent within the company's overall operations."

Danielle Lee

BSSc in communication

Hong Kong Baptist University

"Digital imaging is a massive, fast-growing market with myriad development opportunity. Most importantly, digital products are now indispensable to most people's lives and marketing them provides the human touch.

I like the MT programme's rotational structure, since all the company's divisions are linked to work towards a common business goal."

Ernest Siu

BSocSc in policy studies and administration

City University of Hong Kong

"I was attracted by the job rotations and by the fact that I would be guided by an assigned career coach. I'm also very impressed with Canon's consistent green policies and corporate social responsibility initiatives.

These factors really make the company an employer of choice."

Helen Chan

BA in language studies for the professions

The Hong Kong Polytechnic University

"I was particularly attracted to Canon because of its leadership status in the global market and fast-moving business nature. The fast changing digital technology will definitely challenge me.

I'm looking forward to the job rotations and hope to reach management level in five years' time. I'm confident that I'll be able to make a contribution to Canon's success."

Frankie Lai

BBA in accountancy

The Hong Kong Polytechnic University

"Canon is known for its creative and fun marketing strategies, which are among the things that appeal to me most.

I believe the rotational training and diverse business profile will help me to develop my expertise in this field and I look forward to developing a rewarding and exciting Canon career."

Iris Yeung

BBA in hotel and tourism management

The Chinese University of Hong Kong

"I'm confident that there's plenty of scope for long-term career development in the digital imaging industry and believe that the job rotations as part of the MT programme will provide me with a full picture of the company's business operations.

I'm keen to learn all I can and certain that the Canon platform will provide me with ample chance for growth."



Mike Mak

BEng in computer science

The Hong Kong University of Science and Technology

"Apart from the structured training and clear career path, the company also trusts and values its people. I admire the company's culture and management ethos. My senior colleagues are really supportive of me contributing fresh, new ideas.

I enjoy the fact that we always work together as a team."

Taken from Career Times 19 November 2010, A16

讚好 CTgoodjobs 專頁,獲取更多求職資訊!