Financial Planning / Wealth Management
Major event marks fifth anniversary
by Charles Mak
Carrie Leung (left), chief executive officer, The Hong Kong Institute of Bankers
Perry Mak, publisher and managing director, Hong Kong Economic Times Holdings Limited
Photos: Wallace Chan
Competitive force brings out enthusiasm and spirit in a new crop of financial elite

Increased dynamism, heightened customer expectations along with tightened regulations have written a whole new genre in financial planning.

The inception of the Hong Kong Institute of Bankers Outstanding Financial Management Planner Awards five years ago bore witness to this and the annual event, now in its fifth year, continues to speak volumes and effect change by setting new benchmarks.

Carrie Leung, chief executive officer, the Hong Kong Institute of Bankers, says, "China's growing affluence has brought into shape a new market segment. From this year on, we've incorporated a new award category to examine the level of professionalism of financial planning practitioners serving high net worth clients."

In the awards presentation ceremony last Friday, members of the adjudication panel joined awardees and their peers in celebration of good practice, raising their glass to enhanced ethical standards and professionalism.

Ms Leung notes that this year's participants evidenced relative intellectual capacity and analytical abilities but cautions that growing intensity in the industry leaves no time for planners to rest on their laurels and that the only way to stay in the game is up.

Growing sophistication

Changes across political jurisdictions such as the Hong Kong government's recent curb on property investment from the Capital Investment Entrant Scheme, pressure on the Chinese currency and the SGX-ASX merger can easily raise the spectre of market volatility but these nevertheless bring a new realm of responsibility to the financial sector. Professionals in the field must be equipped with the know-how to help their customer to react promptly to economic fluctuations while working in the best interest of the Hong Kong industry against the evolving global backdrop.

In view of this, the HKIB spares no efforts in paving the way forward for long-term growth for the banking and finance industry in Hong Kong. "Dealing with mounting complexity is top of mind for planning practitioners," says Ms Leung. "The industry is gaining speed towards maturity and only people with the corresponding intellectual strengths and professional attitude will help sustain growth at this critical juncture in its development."

She emphasises that the HKIB will in future adheres to its role as a catalyst for professional advancement and industry growth. The institute articulates its aspirations in talent sustainability via an exhaustive series of well-publicised events and affiliation programmes including recent collaborations with the United International College in Zhuhai China, the Hong Kong Institute of Vocational Education, Hong Kong Shue Yan University; as well as the Chartered Institute of Bankers in Scotland and the China Banking Association. The HKIB was also appointed to draft the Specification of Competency Standards for the retail and corporate and commercial banking sectors under the government's Qualifications Framework.

Ms Leung remarks that aspiring individuals looking to obtain the HKIB CFMPTM (Certified Financial Management PlannerTM) designation—the first and only programme that puts wealth management practices into an international banking context, are bound by stringent professional requirements.

Pushing the boundaries

Participation in the HKIB Outstanding Financial Management Planner Awards denotes a significant step forward for practitioners looking to make a mark in Hong Kong's banking and finance industry, notes Perry Mak, publisher and managing director, Hong Kong Economic Times Holdings Limited. "Banking professionals who practise their skills in strict accordance with recognised expertise and professionalism are best positioned to propel this pillar industry towards sustainability, which will safeguard Hong Kong's future as window to the Chinese economy as it continues to gather strength."

Momentous growth in mainland affluence has triggered an insatiable appetite for cross-border wealth management service in the country's prosperous demographic group. The influx of mainland retail investors essentially puts Hong Kong's financial sector on its toes. "The SAR boasts a sophisticated financial system but at the end of the day it is down to the level of service to keep the interest of investors from the motherland and abroad," Mr Mak stresses.

To satisfy customers' discerning palettes for wealth management services, banking employers are pulling out all stops to beef up human capital, generating a torrent of opportunities for aspiring individuals. "There is a lexicon of career choice albeit anticipated ebbs and flows on the global landscape," Mr Mak emphasises.

Career Times, co-organiser of the HKIB Awards, takes considerable pride in the organisation's continuous commitment in boosting advancement in Hong Kong's banking sector. The proprietary TRUST assessment model in particular puts professional ethics in the limelight, says Dominau Au, sales director, Career Times Online Limited. "As a major recruitment engine in Hong Kong, Career Times also makes a point to ensure that the employment market is governed by strict ethical considerations," remarks Mr Au.

He adds that the long-term partnership between Career Times and the HKIB has ushered in a new dawn for the local financial community and it has over past five years borne luscious fruit. "The HKIB competition is regarded as the main event of the year and it never fails to excite a great deal of attention from key players across the banking and finance industry," Mr Au says.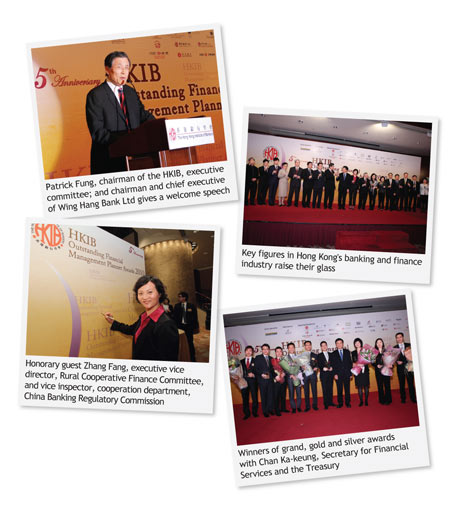 Taken from Career Times 5 November 2010, A11

讚好 CTgoodjobs 專頁,獲取更多求職資訊!