Career Path
Make it happen
by Charles Mak
Blanche Cheng, assistant director—events
InterContinental Hong Kong
Photo: Dickie Tam
People at the top of the corporate ladder possess similar attributes. They have a natural knack for getting along with people, strong multitasking and lateral thinking skills, a sharp eye for quality and an intuitive sense of crisis. Blanche Cheng, assistant director—events, InterContinental Hong Kong, adds that commonsense is nothing but vital. "This is something that cannot be taught," Ms Cheng says. "Novices, particularly those who aspire to a career in event management, certainly need this to survive the initial years."

Event management may consist of a large sales aspect, but there is more than meets the layman's eye. "People versed in selling still need a plethora of skills to get down to the nitty-gritty of managing an event," says Ms Cheng. "Selling space is only the more obvious aspect of the job."

These days, Ms Cheng juggles her time between annual dinners, wedding banquets, corporate meetings as well as conventions, which entail, in addition to making arrangements for the event itself, the responsibility of booking hotel accommodation and planning at least three meals a day for overseas delegates.

Another part of Ms Cheng's job is coaching junior members. "Talent succession sustains the hotel's advantageous position as the venue for private and corporate events, so it is important that we bring new staff up to speed," she stresses.

All-round skills

As competition in the marketplace increases, customer expectations rise. To seasoned professionals like Ms Cheng, people management remains the biggest challenge. "Event managers are in a position where we need to pull resources and efforts from other departments. We must exercise people skills, liaise with colleagues with tact and respect norms and usual practices," she notes.

Over the years, Ms Cheng has proactively shaped and moulded her life and work experience into the deeply satisfying career she has today.

Her first job as a hotel telephone operator triggered an interest in people interaction, so after three months, she requested a transfer to the front desk where she met and dealt with people from diverse cultural, social and business backgrounds. "The nature of my job gave me great exposure to people," she says. "I learnt to think on my feet and get things right the first time."

In a short stretch of 18 months, she bagged a huge range of technical and soft skills but felt her language skills were lagging. This prompted a bold decision to leave Hong Kong for a two-year study in Ireland. "My line of duty put me in touch with colleagues who had all the business sense, communication skills and language proficiency from a decent education. I was green with envy," she says.

Returning in 1995 with a business administration qualification, she was ready for the fray. Initially, she landed a job as a convention coordinator at the Hong Kong office of a Macau hotel with the chief responsibility of booking Hong Kong corporate clients into convention and incentive facilities. However, the office environment lacked buzz. So she quit and a few unsatisfying stints followed, including a desk job at a carpet manufacturer. One who prefers diversity to routine, Ms Cheng returned to the bustling hotel scene and never looked back.

At this point, she joined the InterContinental hotel as a secretary for the food and beverage department and was promptly promoted to banquet coordinator after three months. Then a year later, she assumed the position of events manager.

Integrity pays

As revenues may be indicative of job performance in today's cut-throat business arena, when it comes to client relations, Ms Cheng always remains diplomatic and maintains a positive attitude and friendly demeanour. "That's the only way, whatever the job," she stresses. "Be honest with clients if certain requests cannot be accommodated, but stay helpful and always offer an alternative."

She admits the InterContinental brand makes her job a little bit easier. "We are an established hotel chain with a reputation for event management so customers know what to expect and have faith in us," she says. "Expectations are high and so is the satisfaction for a job well done."

Nowadays, she craves the adrenalin rush from handling sizeable corporate functions and conventions but enjoys similarly the occasional nuptial bliss. "Clients planning for wedding banquets usually have no previous experience and they expect not only our expertise but also empathy with their excitement and in some cases anxiety," Ms Cheng says. Since a wedding banquet may take up to 18 months to arrange, Ms Cheng often finds friendship in the process, "which is a real bonus," she remarks.

As with many jobs, the position requires meticulous attention to detail. "Regardless of your position or rank, competent personnel in the field are prepared to run errands," she says.

She suggests aspiring individuals to start with a front office job or a management trainee position, which offers broad exposure to hotel operations, before setting foot in event management. "Prepare for setbacks but don't let anything blunt your enthusiasm," she advises.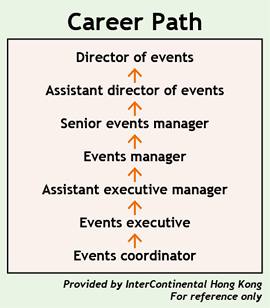 Taken from Career Times 4 June 2010, B12

讚好 CTgoodjobs 專頁,獲取更多求職資訊!