Self-enhancement
Make it happen
by Sophie Leung
Turning innovative ideas into marketable and technologically advanced commodities
Christina Chan, deputy research and development director
Hong Kong Applied Science and Technology Research Institute
Photos: Wallace Chan
Progress and cutting-edge technology go hand in hand, with information technologists constantly pushing the boundaries.
This is the tenet of the third career development seminar series coorganised by Techmatrix Research Centre and Career Times. Alan Kan, secretary general, Hong Kong Electronics & Technologies Association and moderator of the seminar noted: "To become a successful pioneer in technology, you need to have long-term commitment."
Opportunities abound
"There are abundant career opportunities for developing embedded software," said Christina Chan, deputy research and development director, Hong Kong Applied Science and Technology Research Institute (ASTRI).
Instead of running on computers, embedded software works on microprocessors in special purpose hardware, such as electronic consumer products, household appliances or medical equipment. Ms Chan pointed out that more than 1,000 companies in Hong Kong nowadays focus on business activities related to embedded software, either as developers or manufacturers.
The Hong Kong government founded ASTRI in 2001 to explore new business opportunities linked with technological advances through applied research. The company is currently recruiting candidates for its summer internships and hiring new graduates to join its customer-orientated R&D team.
"We are looking for people with the necessary technical knowledge, an innovative mindset and enthusiasm for the job. It is essential that candidates are able to persevere, as debugging can be a long and painstaking process," Ms Chan added.
Right skills
Johnson Cheng, general manager
We Software Limited
Johnson Cheng, general manager, We Software Limited, advised young IT graduates to evaluate their own hard and soft skills so as to assess their suitability for this frontline sector.

"New technical skills can be learnt on the job, but employers are really interested in candidates' soft skills, such as the ability to work independently, in a team and under tight deadlines," Mr Cheng said.

We Software is a software development and quality testing company that handles many international outsourced projects. For this reason it is not only looking for people with the necessary skills, but also for candidates that will be willing to travel.

"Our IT engineers are responsible for conducting a wide range of mobile tests for electronic equipment, such as quality assurance testing of electronic toy guitars," Mr Cheng told the audience, adding that all-rounders with IT skills are highly sought after in the industry.

Entrepreneurial spirit
S W Cheung, vice president, business development and technology support
Hong Kong Science & Technology Parks Corporatio
"We anticipate that 3,700 new jobs will be created following the completion of Hong Kong Science & Technology Parks' Phase Two," said S W Cheung, vice president, business development and technology support, Hong Kong Science & Technology Parks Corporation (HKSTP).

He alerted the audience to the job opportunity database on the organisation's website, where positions are posted by HKSTP tenant companies.

There are currently 218 companies with 6,300 staff based at the HKSTP, including more than 4,000 technology engineers. It is expected that the community will grow to 330 companies with a total of 10,000 staff when Phase Two construction finishes by the end of this year. The completion of Phase Three is envisaged for 2011.

Referring to the organisation's programme of financial and technical support for small companies with an average of three to five employees, Mr Cheung told seminar-goers, "We are proud of our incubation programme, which allows many start-up companies to successfully turn their innovative ideas into marketable products." He pointed out that the programme welcomed both ambitious young newcomers and experienced professionals.

Mr Cheung acknowledged that the process of delivering newly developed technology to the market can be long and stressful, but reminded his audience of the importance of the entrepreneurial spirit. "The process is worth the extra effort, as success brings generous rewards and the satisfaction of improving human life," he emphasised.
Great demand for IT professionals in embedded software development
About 3,700 new jobs to be created after completion of HKSTP Phase Two
R&D requires entrepreneurial spirit and perseverance
Success brings generous rewards and job satisfaction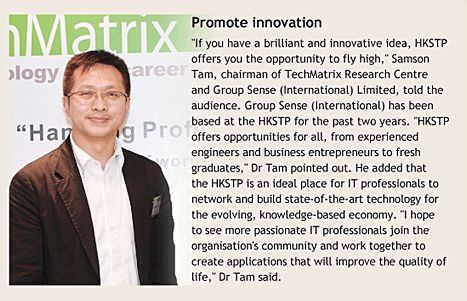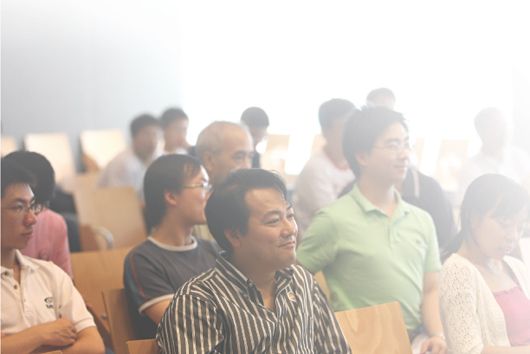 Taken from Career Times 27 June 2008, p. B19

讚好 CTgoodjobs 專頁,獲取更多求職資訊!