Self-enhancement
Making a creative presentation that sells
by Annie Leung, chief executive officer, CEO mindPower ltd

This is the sixth article in a 9-part series on empowering executives to climb the career ladder

Creating impacts straight from the heart
In the business world, we often convey ideas through presentations. Being able to express our ideas accurately and precisely are prerequisites, while the ability to create an emotive impact can make a decided difference.
However, many people fail to get their main or intended message across simply because they keep their "brainchild" at the forefront of their mind and not their goal. In short they ignore, by default, the needs of their target audience.
Different perspectives
I learned my lesson the hard way when I started my career in advertising. One day, a young creative director asked me how he should sell his creative ideas to the client.
"As the originator of ideas and concepts, I am responsible for explaining to clients exactly what they are and how they work.
''If the ideas do not get through in the end, I would think to myself that I must have overlooked something in the creative process. So I would take a different tack, a more proactive approach to try and address the matter from the user's perspective," he said.
It is important that you see things from the perspective of your audience when making a presentation in order to get their buy-ins, grab and hold their attention. And you must never fall in love with your own idea. Remember, it is not just a matter of what you say but how you say it.
Different strokes
What appears creative to one listener may not seem so to the others. To sell your ideas to different people, it is vital to understand the "personality" or mind-set of your target audience and speak their language.
Enneagram will help you to "speed-read" people and, with it, you can create a presentation that appeals to them. Here are some examples: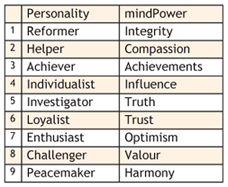 Facts and figures for investigators Investigators are, in general, scientific and so facts appeal to them. An effective presentation would focus on providing interesting details, facts and figures. As the investigator is extremely analytical and quite precise, you will need all the relevant information in your presentation to make it appealing to satisfy him or her.

New ideas for enthusiasts Enthusiasts have a constant thirst for a new and exciting experience and they like to see new ideas. Your presentation should provide different choices that will keep them interested. These ideas should be suitably creative and even break new ground to keep the enthusiast interested. This will match their creative mind.

Results for achievers Achievers are success-oriented. They like to see results. You will not be surprised that a presentation articulating what you can achieve will really appeal to them. Creativity to them are ideas that sell. They welcome any ideas as long as you can instil the confidence that they can deliver results.
Successful scenario
I once needed to stage a signature project to achieve a sales target when working at Mattel. My boss was an achiever and I knew that in an achiever's eyes, creativity means any idea that sells.
From my research, I found that no one had ever produced a limited edition of the Chinese Empress Barbie. I set out to persuade my boss that it would be a good idea to produce the first completed with a gold coin and certificate of authenticity to celebrate the 1997 Handover of Hong Kong.
The idea was considered to be "low-risk" but yet, if successful, it would certainly capture massive attention. And, most importantly to my boss, the idea would bring in sales — which meant hitting the target.
Outlining what could be achieved, I successfully convinced him to press ahead with the project by introducing the idea to Barbie's brand manager in the US.
The result was remarkable. Not only did the project prove my ability and creativity but also, the collectable Barbie was a sell-out; even the Hong Kong Museum of History acquired a set for its collection, which added to the general popularity of a concept that became a factual success.
The next article will discuss how to enjoy challenge and reach new heights.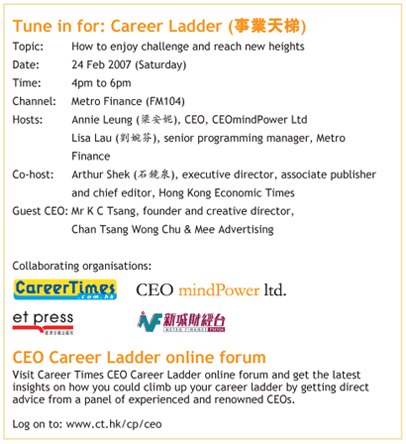 | | | |
| --- | --- | --- |
| | | Annie has studied extensively under Don Riso and Russ Hudson, the best selling authors of Enneagram. She is now developing training programmes on business applications through Enneagram. Recently, she has written two well-received management books — 《 CEO 樂 在 起 跌 中 》 and 《 活 用 你 9 大 領 袖 天 賦 》 which are available from all major local bookstores. For more information, please visit www.ceompower.com. |

Taken from Career Times 23 February 2007

讚好 CTgoodjobs 專頁,獲取更多求職資訊!