Asset Management
Making informed choices
by Grace Chan
Lau Ka-shi, managing director & CEO
Bank Consortium Trust Company Limited
Photo: Lewis Lau
Provident fund provider set to boost public awareness

In the face of the impending "employee choice" regime, leading mandatory provident fund (MPF) trustee Bank Consortium Trust Company Limited (BCT), is dedicated to raising the financial literacy of MPF members, expanding its product range and enhancing customer service.

"Sometime in 2011, employees will be free to choose any of the existing 38 MPF schemes for their own portion of mandatory contributions under their current employment," explains Lau Ka-shi, managing director & CEO, Bank Consortium Trust Company Limited. "We hope to see greater engagement among MPF members, with increased control over their retirement assets."

Currently, many members do not actively manage their accounts due to a lack of time or financial knowledge on investing for retirement, says Ms Lau. "There are members who pay little attention to their MPF investment, and some might not even check their benefit statements," she notes.

For this reason, the company is committed to investor education and has taken various measures to engage MPF members in this respect. These include an investor education website "Retirement Rainbow", which is the first of its kind in Hong Kong's MPF market, as well as instant messaging and other online services, alongside quarterly e-statements and fund fact sheets. "We will continue to enhance our IT platform, giving members easy access to useful information," notes Ms Lau.

While the company's customer service officers offer "high touch" assistance to members, a telemarketing team provides them with customised services. "We also furnish employers with the latest market information through briefings, seminars and various publications," she adds.

Greater choice

BCT adopts a multi-manager approach for some of their constituent funds, blending the expertise of different fund managers with diverse investment philosophies. "This gives us the flexibility to choose the best available managers to reduce volatility of return for our members' investment," stresses Ms Lau.

She reminds MPF members that with MPF investment being long term in nature with the advantage of dollar-cost averaging and compounding effect, they should not focus on the short-term gains or volatility. She also cautions those who are still decades away from retirement not to switch funds too often.

"They may consider choosing Asian equity funds or China and Hong Kong equity funds for long-term investment because positive growth of economy is expected," she points out. "The central government will focus on stimulating domestic consumption and China's GDP growth rate is likely to exceed eight per cent this year, so China related funds would probably outperform others."

Following the recent launch of the Hang Seng Index Tracking Fund and the Hong Kong Dollar Bond Fund under its master trust scheme, the company is conducting a feasibility study on further expanding fund choices for scheme members in the coming 12 to 18 months.

Expert advice

Ms Lau advises MPF members to gain as much information as possible about investing for retirement and to conduct risk profiling before making investment decisions.

"All scheme members should review their accounts regularly—at least once a year—and it is a good idea to seek professional advice," she remarks.

She adds that factors to consider when choosing a service provider include service scope and quality, range of funds offered in a scheme, long-term sustainable fund performance and management fees. On average, fees for some schemes have dropped to 1.5 per cent from last year's two per cent.

On the part of the trustees, the employee choice regime will entail increased workload, which may include documentation and product materials, system enhancement, intermediary training and compliance requirements. "Despite this, we will continue to offer the best service with competitive fees," Ms Lau says.

One of the industry's major initiatives this year is to work with the MPFA in developing an electronic platform that can expedite the data and document transfer process among trustees. "This platform should minimise the time needed for transferring members' asset from one scheme to another," she explains.

Currently providing pension products and services to more than 680,000 members, BCT expects its business will grow and therefore plans to increase its workforce by at least 10 per cent this year.

"We are going to strengthen our IT, call centre, and operations teams, among others, in order to cope with our expanding business and services," Ms Lau says. "For our existing colleagues, in particular MPF intermediaries, we will provide more training to keep them abreast of the latest market and regulatory developments."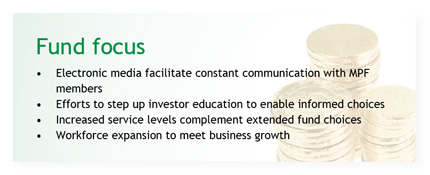 Taken from Career Times 15 January 2010, p. A11
讚好 CTgoodjobs 專頁,獲取更多求職資訊!