Self-enhancement
Making the most of change
by Aldric Chau
Managed correctly, change can bring about growth and new opportunities
Mabel Ng, director
organisational consulting
Right Management Hong Kong Limited
Photos: Wallace Chan
Frequent change is a fact of life, whether it affects entire countries or the ways organisations are structured. Success therefore often depends on individuals' ability to take advantage of the opportunities presented by change. Speaking at Career Times' recent seminar Riding High on Change, change management expert Mabel Ng offered some valuable tips on harnessing the power of change.
"Change can be viewed positively or negatively," said Ms Ng, director, organisational consulting, Right Management Hong Kong Limited. "Change is a process. We need to manage it wisely so as to use it in the most constructive manner."
Step by step
The first step towards managing change is to understand the reasons behind it, Ms Ng stressed. There is always a reason for change, whether it is a negative balance sheet, economic downturn or personal interests.
"Once you understand the reasons for change, you should move on to establish what it is all about," Ms Ng noted, adding that change can fall into two broad categories: personal and organisational.
Not all change has a good outcome, she noted, recalling instances where companies were ruined following management changes and the subsequent breakdown of team morale.
Ms Ng quoted change management guru and Harvard Business School professor emeritus John Kotter, who stated that only 30 per cent of corporate change programmes were successful. "Successful change management, in most instances, is all about managing people," Ms Ng said.
Manipulating change
Taking a company merger as an example, Ms Ng explained that when two companies merge and their respective teams are brought together under one roof, both corporations' operation models, codes of practice and cultures are affected. In such circumstances, it is crucial for employees on different levels to drive the change together.
The new company's top executives must drive the organisational change by focusing on making the right decisions associated with the change. These may include adjusting business processes and practices, systems and policies. Ms Ng pointed out that all these issues affect staff engagement.
Middle managers, who are in direct contact with frontline staff, should execute change strategies and lead their teams through change, while keeping top executives up to speed with how changes are affecting operations.
Frontline staff experiencing a change of manager should try to embrace the notion that any positive outcomes will benefit the company as a whole.
Successful change does not only depend on the involved parties' participation, but also on their awareness of the different stages of change, Ms Ng pointed out.
Experts in change management often analyse the various stages of change using the "Change curve" model. There are different schools of thought on the change curve. Some divide change into four stages — avoidance, resistance, exploration and integration; while others use a simpler model. "Regardless of the school of thought, the key is to steer the company and the people through the different stages of change," Ms Ng said.
In the groove
Someone who is laid off in the current financial turmoil may experience the stages of avoidance, resistance, exploration and integration, Ms Ng explained. The person may initially refuse to accept that he has lost his job and experience a struggle before starting to see some positive aspects of the situation, learn from the experience and move on.
While the laid-off employee's initial disappointment seems inevitable, Ms Ng noted that there are useful strategies to deal with such sudden life changes.
Walking her audience through these strategies, Ms Ng said it was crucial to learn from past experience. In the case of sudden change, people should focus on the areas that they can control. The next step is to alter their mindset by looking at negative change as a blessing in disguise and avoiding looking only at the downside.
Being unemployed can be a great catalyst for exploring alternative — and often better — positions or industries, she emphasised. The final step is to focus on finding solutions for any practical problems associated with the change.
Ms Ng added that it is crucial for people experiencing change to rely on their networks of family and friends for emotional support.
Considering the fast pace of global change, she believed that managing change correctly has become a survival skill for both individuals and organisations. "By learning the skills to manage change during the current economic downturn, people can turn uncertainties into opportunities," Ms Ng said.
Managing organisational change
Communicate change details effectively
Open up discussions at various levels
Manage challenging reactions carefully
Use a coaching approach
Manage staff motivation and performance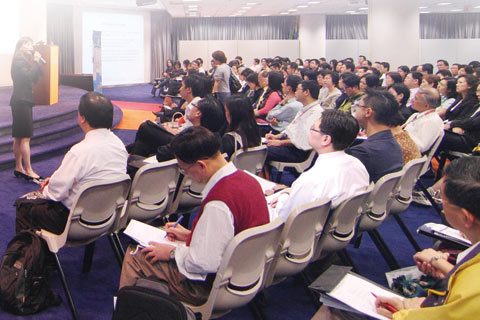 Taken from Career Times 24 April 2009, p. B6

讚好 CTgoodjobs 專頁,獲取更多求職資訊!