Career Path
Manual dexterity
by Grace Chan
Paulus Fong (left), senior academic officer, science team
Joe Fu, academic officer, mathematics team
EDFLOW Learning Center
Photo: Nolly Leung
While teaching is no doubt a challenging profession, it can also be extremely satisfying. This is the experience of Paulus Fong, who has seen young people improve academically and grow personally.

After obtaining a master's degree in molecular and environmental plant science from Texas A&M University in the US in 2001, Mr Fong stayed abroad for another four years to continue his research.

However, finding the work solitary and not as satisfying as he would have hoped, he decided to return to Hong Kong in 2005, kick-starting his second career by taking a position as academic officer with the EDFLOW Learning Center. He was primarily responsible for teaching chemistry and biology classes.

"I used to work as a private tutor in the US and enjoyed it. When I first started, I struggled to capture my Hong Kong students' attention and even found that they ignored me at times," he recalls.

After getting some advice, he tried a different tactic: chatting to his students to create a relaxed atmosphere before starting the class. "The key was to speak their language and things started improving. It's satisfying to get on well with my students and to see their studies progress."

Now a senior academic officer, Mr Fong's workday entails teaching, updating study materials and preparing assignments. Where needed, he gives personal attention to ensure that students achieve their learning objectives.

Full attention

Unlike Mr Fong, Joe Fu has always been passionate about teaching and became a tutor after working as a software engineer for just one year. "I prefer people interaction to working with computers and find it so heartening when students take in what I teach them."

He initially worked for the Labour Department's Youth Pre-employment Training Programme (YPTP), an initiative aiming to provide young school leavers aged 15 to 19 with training and workplace attachment opportunities and to enhance their employability.

"That experience inspired me to dedicate myself to education," he says, noting that he then took a teaching assistant position at a secondary school, but after three years left to study for a postgraduate diploma in education—the prerequisite for getting a secondary school teaching job.

Mr Fu joined EDFLOW Education Learning Center as a part-time academic officer in 2006, becoming full-time when a position became available. "Compared with teaching at a regular school, this job leaves me free from administrative work, so I can devote my full attention to teaching," he says.

Now an academic officer for the centre's mathematics team, Mr Fu believes his previous work experience helped him to better understand his students' needs, and particularly the gaps in their learning. "I like to capture their interest by applying mathematical concepts to daily life," he says.

Despite his busy schedule, Mr Fu, who likes to keep up with current affairs, has recently completed a master's degree in applied science from the City University of Hong Kong.

Bright prospects

Mr Fong enjoys reading academic journals and newspapers, and likes to draw students in by discussing topical issues that relate to their studies. "This benefits them academically and personally. It's the best part of my job," he notes.

Students regularly show their gratitude for his hard work and dedication, says Mr Fu. "The parents often offer us treats during festivals, which we appreciate." The biggest disappointment is when students give up their studies. He adds, "In such cases, we try our best to help them get back on track."

Mr Fong is positive about his career development prospects. "When I first joined EDFLOW, we only had three full-time academic officers. We've since grown into a two-centre operation with 20 full-time teaching staff. I've also developed personally during this time," he says, adding that experienced staff within the organisation tends to move into supervisory roles involved with course-design work.

Both Mr Fong and Mr Fu regard patience and a caring attitude as essential for teaching professionals. "This job is anything but monotonous. Every day brings new challenges, since every student has a distinct personality and family background. To pass on knowledge effectively, we need to get students to open up to us and bridge the communication gap," Mr Fong concludes.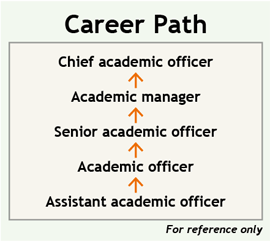 Taken from Career Times 26 February 2010, A13

讚好 CTgoodjobs 專頁,獲取更多求職資訊!