Self-enhancement
Market segmenting, targeting and positioning
by Susanna Tai
Marketing is everything in reaching prospects
Lewis Soo (front row, centre) Residential market manager, CLP Power Photo: Courtesy of CLP Power
For all businesses, including large corporations and small-to-medium sized enterprises (SMEs), creating a marketing strategy is the key to fending off the competition.
A marketing strategy is based on predictable customer behaviour in a specific market. In order to study customers and their expected buying habits, the process of segmenting, targeting and positioning is necessary. These steps are chronological and interdependent.
Segmentation divides a market into distinct subsets with similar needs or behaviour. As each segment is fairly homogenous in attitude and need, they tend to respond similarly to a given marketing strategy. This will produce similar ideas and feelings about the marketing mix of a product or service at a specific price, and distributed and promoted in a certain manner.
The process of segmentation is distinct from targeting, which aims at choosing market segments to address. After the most attractive segments are set, a firm should not directly start targeting them all at once. The attractiveness of segments usually depends on other important factors, including defining the abilities and resources a company will need to enter a market and analysing the competition. Such activities are crucial to deciding which segments will actually be targeted.
Positioning aims to design an appropriate marketing mix for each segment. This process, which comes after defining the target markets, develops the marketing mix based on the ways of creating an identity or image of the product in the consumer's mind. The upcoming TV episode of Strategic Marketing for SMEs illustrates this concept.
The right targets
CLP Power has successfully aligned its induction cooker with specific groups of customers. Residential market manager Lewis Soo says it is a key to understand customer needs, and define target segments and the customer value proposition.
"Our research indicates that younger couples with children, or dual-income, childless couples with disposable cash of HK$20,000 or above are more receptive to induction cooking and more inclined to share their good experience with friends and associates," he says.
Thus CLP's customer value proposition is that, "induction cooking brings a modern lifestyle through a superior and unconstrained cooking experience that is safe, comfortable and healthy," he remarks.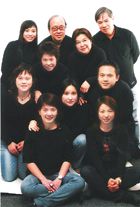 Rick Tsing (second row, right)
founder, Lunch Republic


CLP has evolved a "4P strategy" to fulfill its customer value proposition:

Products: encourage suppliers to introduce more stylish, expensive models;
Pricing: by employing a 'premium' strategy;
Place: a distribution network for its premier position as the first induction cooker specialist retailer;
Promotion: build an inspirational lifestyle platform.

There were more than 200 outlets selling nine foreign and local induction cooker brands for CLP last year.

Food for thought

Lunch Republic, lunchbox supplier to primary and secondary school children, has developed an attractive profit margin after setting the right marketing strategy towards primary schools as more change to full-day from half-day sessions. "The change raised demand for lunchboxes, which prompted me to become a supplier," says company founder and director, Rick Tsing, whose service company has adopted a rotational supply platform.

"We work with several suppliers and can thus provide a greater variety of meals. There is also a growing trend for healthier food in schools to which demand we cater," he adds.

Lunch Republic is currently working with more than 20 suppliers and caters to over 20 schools. Mr Tsing focuses on market segmenting that targets primary and secondary schools, with positioning covered by variety and quality of service.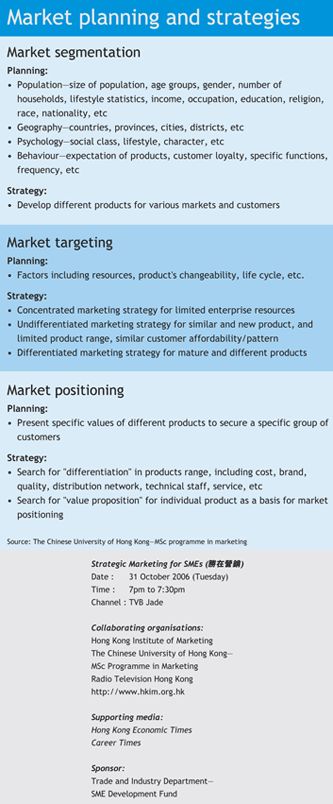 Taken from Career Times 27 October 2006

讚好 CTgoodjobs 專頁,獲取更多求職資訊!