Self-enhancement
Marketing research points the way to success
by Susanna Tai
Different approaches needed to detect consumer trends
Eva Chiu, sales manager; Andrew Li, marketing manager, Etin Hong Kong Limited
Photo: Courtesy of Etin Hong Kong Limited
One key objective of any marketing research initiative is to lower the risks associated with a new project, while raising the likely rate of return on investment.
Small to medium-sized enterprises (SMEs) in Hong Kong use a variety of methods to collect market data. Some do their own research relying on individual observation, exchanging industry information, and obtaining second-hand data from Internet searches or official government statistics. Others turn to specialist companies which can offer systematic research and detailed analysis of results. The upcoming TV programme Strategic Marketing for SMEs will discuss the options and how they work for different enterprises.
One of the examples used is Etin Hong Kong Limited, a trading and sourcing company established about a year ago, which produces promotional umbrellas and souvenirs. Sales manager Eva Chiu says their role is to help clients build brands. "They use our umbrellas as a promotional tool, so we need to provide creative and tailor-made services," she explains.
As a start-up, the company could not afford to pay for external assistance with marketing. Therefore, they did their own research and analysis. "If, for example, a client manufactures women's undergarments, the concept for the umbrellas would be more feminine, perhaps using lace and shades of pink. For a hotel chain, the concept would be quite different and grander."
Etin did their initial research by means of questionnaires, attending trade shows, visiting factories in China to understand the prevailing trends, and going online to check industry data. They also paid special attention to observing the types of umbrella that people actually use. Ms Chiu says that having a personal involvement in the research also made it easier to understand public preferences and market needs.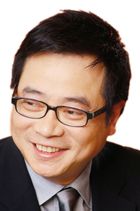 Raymond Ng
general manager
sales and marketing
Asia Pacific Oasis Hong Kong Airlines
Focus groups
In contrast, Oasis Hong Kong Airlines, which was established in February 2005, entrusted marketing research to a specialist company. The brief was to conduct a questionnaire based on telephone interviews with 1,500 potential customers for the low-cost airline. The feedback was used to decide on the appropriate pricing policy for tickets.
According to Raymond Ng, general manager of sales and marketing for Oasis (Asia Pacific), the research proved crucial and led to the formation of five major focus groups for further in-depth study of the Hong Kong market. The groups were classified as blue collars, white collars, housewives, executives and students/youth. "Consumer trends are not easy to follow," says Mr Ng. "The most reliable way is to conduct marketing research, which we believe is more objective and was vital for designing our pricing for long-haul destinations."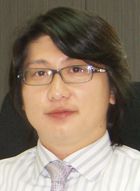 Ken Ma
operations manager
MPEG (HK) Ltd

Price point
Comprehensive marketing research services can be costly. Therefore, SMEs may opt for alternatives offered by smaller research firms that can offer more focused analysis via tailor-made methodologies. MPEG (HK) Ltd can do just that.
"We are focusing on research and helping our clients conduct questionnaires to understand the current market better," says Ken Ma, MPEG's operations manager. The company may lack the size to do certain types of in-depth analysis or prepare large-scale marketing plans, but its services are well-positioned to work for SMEs and it has set its prices accordingly. For some projects, rates are equivalent to only 20 per cent of those quoted by a large marketing research company, says Ivan Check, MPEG's assistant project manager, adding that demand is growing rapidly.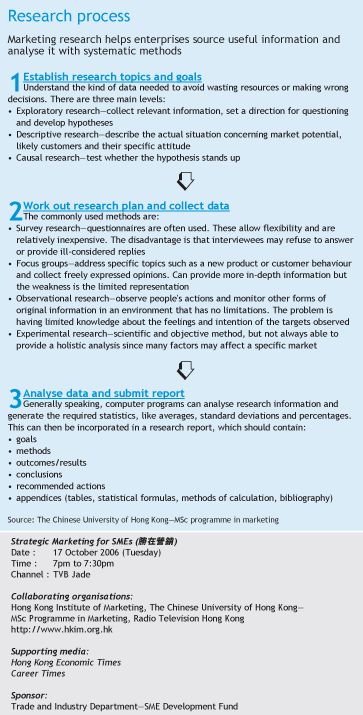 Taken from Career Times 13 October 2006

讚好 CTgoodjobs 專頁,獲取更多求職資訊!