Career Path
Off the beaten path
by Billy Chan
Rono Kwong
managing consultant
Fox Business Strategy Consultant Limited
Photo: Lewis Wong
A life-fulfilling career doesn't always have to follow a certain track. Rono Kwong's career demonstrates just this.

"I wanted a job that would give me multidisciplinary exposure and a huge volume of people interaction," concedes Mr Kwong, who is now managing consultant of Fox Business Strategy Consultant Limited.

Hailed from an engineering background, Mr Kwong joined an IT firm as a consultant with the bulk of his responsibility on the frontline.

To become better fit for the role, he continued his pursuit for academic credentials concluding it with a master's degree in training, which subsequently prompted him to sign on with Fox as a facilitator. That was nine years ago.

Energetic endeavours

Now carrying responsibilities as partner in charge for the firm's China markets including Hong Kong, Mr Kwong attributes his career success to the opportunities to gain extensive experience in managing people, and a commitment to exceeding customer expectation.

"We are known for our corporate programmes in team building, which give us an edge," he reveals. "Part of our strategic plan is to further penetrate mainland China by first of all gaining a stronger foothold in Chinese cities like Shanghai and Hangzhou. We are getting a whiff of success thanks to the support of our business partners."

He notes however that setting up a training business in the fast-changing mainland market cannot be taken lightly. "Challenge always comes with the job," he cautions, pointing out that the comparatively established corporate environment in Hong Kong poses a challenge of its own. A training professional should therefore be versed in the trade and possess a healthy level of self-confidence. "You'll need this to lead a class of people who may be years your senior or who hold high ranking positions in a company," Mr Kwong says.

A high energy level plus a full set of motivational, influencing, and presentation skills are equally indispensable, he remarks.

"I was once confronted by a veteran factory manager who questioned my experience in the field. I simply explained that my role was to inject new elements in the training process, and to engage and direct the class towards the training objectives," he says, adding that satisfaction towards that particular training session has cultivated a trusting relation. "We're now working on another training plan for this client for the third year," he beams.

Academic qualification isn't everything to people looking to tap into the training profession, stresses Mr Kwong. "It's more about a person's attitude and how much you want to learn to deal with people and how enthusiastic you are."

Tough love

It is true that interacting with people from all walks of life gives Mr Kwong a buzz, but he also finds fulfilment in managing change. "I draw on my experience and respond promptly to new challenge. It's not always easy but it's extremely exciting," he says.

A job in corporate training can be a right choice for young graduates but Mr Kwong emphasises that people should assess their aspirations and consider other career options before they take the plunge. "But if you have your mind set on this, then why not? The job can be tough at times but if you love it you'll love it for as long as you do it," he adds.

He points out that formal classroom sessions are sometimes part of the "game" but they need not be humdrum. "Executive training can incorporate action or experiential learning alongside debriefing workshops and other key elements," he explains. "A blended learning model can work magic."

A focus on mission-based experiential activities, which may range from producing a TV advertisement in a one-day time frame, to learning to play African drums in two hours, sets Fox apart from its competition. The trick, Mr Kwong discloses, is to keep the clients interested and fully engaged with the key message that is to be delivered. "The right experiences can effectively help to build and reinforce positivism in the workplace," he adds. "Robust and positive thinking has always been a major training objective."

In his experience, once positivism takes root in a company, it becomes part of a natural process of organisational growth. "Everything we do is to help our clients to achieve this," Mr Kwong emphasises.

For this particular reason, training professionals need a good dose of creativity and an open disposition. "Learning the robes will never get you far," he says. "One must be able to inject creativity into the business in order to generate optimal training outcomes," he advises.

A seasoned professional in his own right and an advocate of continuous improvements, Mr Kwong is in a constant pursuit of knowledge. "You can never learn enough," he concludes.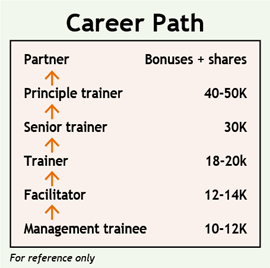 Taken from Career Times 28 January 2011, B10

讚好 CTgoodjobs 專頁,獲取更多求職資訊!