Engineering
Off to a flying start
by Grace Chan
Darryl Chan
head of engineering
Cathay Pacific Airways Limited
Photo: Edde Ngan
There's more to aviation engineering than industrial nuts and bolts

Behind the glitz and glamorous of international aviation is the dedication and diligence of a large team of engineering experts whose jobs encompass more than routine aircraft maintenance. Darryl Chan, head of engineering, Cathay Pacific Airways Limited (Cathay), confirms this.

Mr Chan joined Cathay Pacific Airways as an engineering trainee two decades ago after obtaining a bachelor's degree in air transport engineering from the City University London. He has held various positions, including technical services manager for Boeing aircraft; manager, aircraft engineering; and manager, engineering planning, before assuming his current position in 2008.

"In our role of supporting a fleet of more than 160 aeroplanes, a high level of technical competence is essential but high performing aviation engineers have plenty of scope to move up the ranks, and one option is to ultimately assume a management role, so we do need to develop a capacity for commerce and service," he explains.

Open horizons

The Hong Kong flag carrier has been running a 28-month engineering trainee (ET) programme since the 1980s, giving young graduates with a passion for the aviation industry a strong foot in the door. Undergraduates aspiring to a career in the field are encouraged to join its 10-week internship programme.

Both programmes aim to attract the best talent and, since 2008, take in new candidates twice a year. "Our goal is to give young people a unique opportunity to develop a career in this profession," says Mr Chan. "We do not only target at graduates with aircraft engineering degrees. Managing an aeroplane requires a wide range of skills. Therefore, our trainees hail from diverse academic backgrounds, including industrial, mechanical, electrical, electronic and computer engineering."

Cathay Pacific currently employs about 400 aviation engineers, of which 60 came through the ET programme. "Unlike the 1980s, when almost all our trainees were overseas graduates, half of our recruits now are from local universities," he adds.

While good technical knowledge is indispensable, aircraft engineers also need to be team players and possess top-notch business sense. "For effective project management, they must for instance take cost control into account and since they need to deal with business partners such as suppliers in addition to their colleagues, they should also have strong communication skills," points out Mr Chan.

The company takes in a varying number of ETs from year to year, depending on business development needs and turnover rates. "To fill expected vacancies resulting from retirement and fleet expansion, we handpicked eight trainees out of 1,700 applications this year, but on average we choose only two to three per year," he notes.

Competition is stiff for places on the programme and selected candidates have to complete a five-pronged selection process that challenges their problem-solving and analytical skills as well as their interpersonal and team-leading abilities.
The process starts with a series of interviews and group discussions where communication and language skills are assessed. This is followed by a presentation and numerical tests to review prospective trainees' technical and industry knowledge.

Ready for takeoff

The ET training starts with two weeks of formal general aircraft familiarisation, aimed at developing the recruits' basic knowledge of an aeroplane and its operations systems. Job rotations through different divisions follow, giving the trainees all-round exposure to all operations carried out by the engineering department. This covers everything from technical services to maintenance support, inventory operations, quality assurance and procurement.

The trainees also receive hands-on aircraft-maintenance training at the carrier's main engineering facility, Hong Kong Aircraft Engineering Company (HAECO), and its outstations in 50 worldwide locations including Taipei, Bangkok and Singapore.

"Aside from building up their fundamental maintenance knowledge, trainees are expected to hone their trouble-shooting skills, especially during their stints at outstations where the environment may be different from their home base," Mr Chan remarks.

Skills and performances are assessed three times a year during training. Once the trainees have completed their job rotations in various technical divisions, they are required to reflect on their learning outcomes in discussion with their senior colleagues who act as mentors to support and guide them as they progress towards their career goals. They also need to pass exams after formal training.

On completion of the programme, the trainees start their careers as assistant engineers. The next step up is into the role of engineer, followed by senior engineer. Management responsibilities increase as they move up the ranks.

"Some trainees experience great job satisfaction in technical positions and therefore prefer to remain in that role but all our engineers are free to choose the career path that suits their personal aspirations," Mr Chan concludes.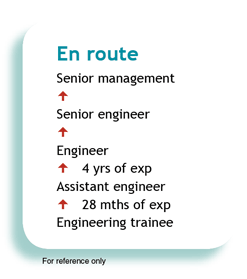 Taken from Career Times 20 August 2010, B3

讚好 CTgoodjobs 專頁,獲取更多求職資訊!