Career Path
On the right side of the law
by Natasha Rogai
Winnie Ng
consultant and head of Greater China employment practice
Minter Ellison
Photo: Nolly Leung
At the tender age of 16, Winnie Ng already knew she wanted to become a lawyer. "The law touches our lives in so many ways," she says. "It's relevant to everyone. That's why I set my heart on making it my profession."

Ms Ng set out to reach her goal by studying for an undergraduate LLB degree in law in the UK. This was followed by a mandatory year's Legal Practice Programme (the Hong Kong equivalent is the Postgraduate Certificate in Laws).

She then obtained a master's degree in law, which she notes was fairly unusual at the time but now has become more common among graduates wanting to enhance their resumes.

Now a consultant and head of Greater China employment practice at Minter Ellison—one of the major law firms in the Asia Pacific region, Ms Ng points out that it is not essential to study law as an undergraduate. She explains, "Some people start with another subject and switch over, or complete a first degree and then do a one-year intensive course covering the content of a degree programme."

Finding a niche

In 1996, Ms Ng returned to Hong Kong for the final step before acquiring her professional qualification, the two-year legal training traditionally referred to as "doing articles". She was offered a place at local firm Lo & Lo, where she qualified in 1998 and remained for two more years working in litigation and employment law—a field that interests her most.

She moved on to take up a position specialising in employment law, but the team she worked with was transferred to another firm where Ms Ng focused on litigation works. "It was like being back at square one," she recalls. Nevertheless, she is happy about this experience, which made her an all-round professional. "Employment law is quite narrow—it's important to get broader exposure and not specialise too early," she stresses.

In 2003, Minter Ellison offered her an associate position on its employment team. After two years there, Ms Ng moved to top US firm Baker McKenzie where she spent four years as an employment law associate. Then, earlier this year, Minter Ellison invited her back to assume her current position.

Although she still does some billable work, Ms Ng's new role involves plenty of management and administrative duties, including responsibility for profit targets. "This is a challenge," she admits. "But, if you want to move up the ladder in a law firm you must accept that your job will focus more on management. The more senior you become, the more responsibility there is to bring in business."

Maintaining equilibrium

As the mother of a three-year-old daughter and expecting her second child, Ms Ng believes it is important to maintain a healthy work-life balance. "As a young lawyer, you feel you must put in lots of hours," she notes. "These days, it is a priority that my children get enough of my time. Luckily I now have the experience to manage time more effectively."

The legal profession offers a range of career opportunities and young lawyers may, for example, choose between becoming solicitors or barristers.

"Barristers should enjoy speaking in public and being the centre of attention, but they tend to work even harder than solicitors," Ms Ng notes. "They need to prepare thoroughly because they may be challenged in court and the ability to think on their feet is crucial."

Solicitors may specialise in fields such as litigation, corporate and employment law. "A competent litigator needs to be an excellent strategist," she adds.

While some lawyers choose private practice, most big corporations have their own legal teams and many high-calibre practitioners prefer to work in-house. Other career options include working for the Department of Justice or focusing on international practice.

In order to succeed as a legal professional, hard work and passion are essential, Ms Ng advises. "You shouldn't choose law just for status or because it's what your parents want. You have to really love the job."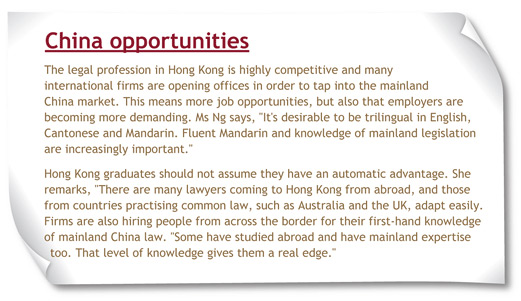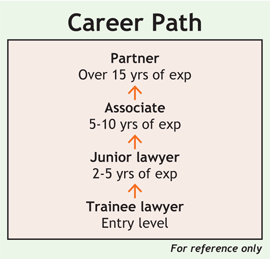 Taken from Career Times 18 December 2009, p. B12
讚好 CTgoodjobs 專頁,獲取更多求職資訊!