Money Moves
Opening up new horizons
by Grace Chan
Experienced bullion trader expands to the securities market
Andrew Tang, general manager
Wing Fung Financial Group Limited
Photos: Dickie Tam
A dynamic new player in Hong Kong's financial services industry has a host of career opportunities for frontline sales people.
Wing Fung Financial Group Limited may be green in the securities field, but its sister company Wing Fung Precious Metals has more than 20 years' experience in bullion trading.
Fuelled by a solid reputation, the group kicked off it securities and futures trading business in November last year.
"The volatility in the gold market has a number of implications, including inflation, which are directly connected to the stock market," says Andrew Tang, general manager, Wing Fung Financial Group Limited. "Our leading position and activities in physical gold trading have enabled us to take advantage of the latest market trends. In particular, we are in a premium position to analyse and draw up reports on the gold market and gain insight into the securities business."
Thorough preparation
Last month, Wing Fung completed its first wave of recruitments, employing staff for the research, operations and sales department, but hiring will continue throughout the year, Mr Tang notes.
"We currently employ an elite team of nine sales professionals and we expect to increase this to 30 by the end of the year. Experienced professionals and fresh graduates are welcomed to join us," Mr Tang explains.
The company has a dozen more openings in compliance, customer service, settlement and research, preferring candidates with at least a year or two's experience for these positions.
All new staff are immersed in two weeks of initial training that focuses on three key areas: classroom knowledge, selling techniques and market trends. "We have special customised classes to help new staff prepare for the Securities and Futures Intermediaries Papers 1, 7 and 8 licensing examinations. We expect them to obtain their licences within three months," Mr Tang remarks.
He points out that sales agents will also receive a range of soft skills training. "This will equip them with the necessary tools to assess their clients' needs," Mr Tang adds. "We also provide training to improve their ability to understand and analyse market trends."
In view of the strong competition for professional talent in the current employment market, Wing Lung will recruit around 10 fresh graduates for its trainee programme. "We are looking for people with a strong commitment to the profession, regardless of their academic background," Mr Tang notes.
To help these trainees build up their acumen and confidence, the company has handpicked a few senior staff who will act as mentors and share with the trainees their practical work experience.
The company sees integrity as the most important quality for its sales professionals. "It is a high level of integrity that enables our sister company Wing Fung Precious Metals to maintain its long-standing foothold in the bullion trading field," Mr Tang stresses.
Wing Fung staff receive daily briefings on the gold and oil markets as well as the Dow Jones indexes, before updating their clients on the latest developments. This quality, personalised service has also helped to strengthen the company's competitiveness.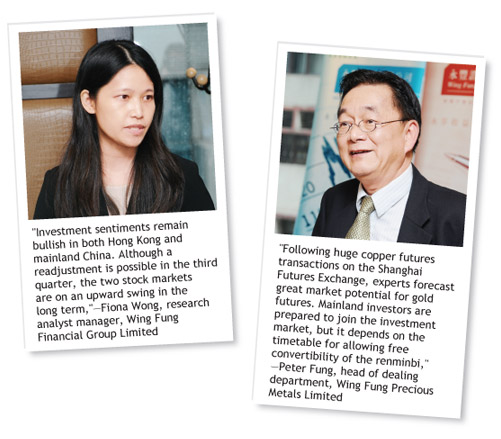 Mainland entry
In line with the company's strategic plan to enter the mainland market, Mr Tang says that candidates who speak fluent Mandarin will have an advantage. "At this stage, we are already planning for further expansion, providing financial consultancy services in a number of more remote mainland cities, where not many industry players are currently active," he adds. In accordance with Supplement VI to the Mainland and Hong Kong Closer Economic Partnership Arrangement (CEPA) signed in May this year, Wing Fung may also look for joint venture opportunities with mainland securities companies or form partnerships with foreign corporations.
Golden opportunity
Company to increase frontline salesforce three-fold
Experience as gold trader provides leverage for securities and futures business
Personalised service helps win customers
Strategic plans for entering mainland markets

Taken from Career Times 14 August 2009, p. A6

讚好 CTgoodjobs 專頁,獲取更多求職資訊!