Sales / Marketing
Paving the career expressway
by Grace Chan
Matthew Wong
director of sales, marketing & sales
TNT Express Worldwide (HK) Ltd
Photo: Edde Ngan
Analytical and listening skills essential for logistics sales professionals

The logistics business these days involves sophisticated supply chain solutions while point-to-point delivery is merely one function within the broader strategic scope. In view of this, people looking to excel in the field need more than good communication skills.

Matthew Wong, director of sales, marketing & sales, TNT Express Worldwide (HK) Ltd, notes, "It is essential to listen attentively to clients, and understand thoroughly their business models in order to tailor the best logistics solutions that correspond to their business needs, raise their market competitiveness and bring them maximum benefits."

Today's global consumer market, particularly for fast-moving categories such as fashion and electronic products, is demand-driven. As such, delivering products from the point of manufacture to shop floors around the world should be a timely service. "The value of our service lies in the ability to analyse our clients' logistics needs. We are more like an adviser and analyst than a salesperson," he adds.

Optimal solutions

According to Mr Wong, the world began to eye the mainland market in the early 1990s, when import and export trade volumes were rapidly increasing. At the same time, Hong Kong's logistics industry benefited from the emerging opportunities.

Between 2001 and 2006, Mr Wong was stationed in TNT's Beijing and Shanghai offices, meeting clients from different mainland provinces, supplying them with valuable information on customs regulations and restrictions of various countries regarding logistics arrangements. In devising a logistical plan for clients, Mr Wong tailored the most optimal and cost-effective solutions. In 2006, he returned to the Hong Kong office and worked in the marketing and sales department as general sales manager, and was responsible for the city's sales management, customer service and postal business.

His experience confirms that while a university degree in either logistics or sales and marketing can be an advantage, people need to have a keen interest to learn the industry's operations and a strong motivation to understand business models of different industries, while a flair for finding the best logistics solutions is a prerequisite to excel in the field.

"We have sales specialists without logistics work experience or relevant academic training but they come from the healthcare, telecommunications or fashion industry and have a broad understanding of the logistics process of these specific industries. With their industry expertise, they can draw up optimal business solutions for their clients," he says.

Learn the ropes

Graduates of logistics or business-related programmes can pick up practical experience through on-the-job training, while other newcomers often learn about the industry by starting in an entry-level position in operations or the sales division.

"Starting there allows new joiners to get extensive exposure to the business and a clear understanding of how things work and what benefits clients most. The hands-on experience also gives them the opportunity to interact with different people, from clients to their colleagues of various business units," Mr Wong explains.

In preparing new employees for a range of responsibilities, the company provides comprehensive training covering specific industry knowledge and market updates in the form of workshops, online self-studies and inter-departmental sharing sessions. "We often invite our colleagues from overseas or even our clients to talk on the global changes and challenges of the industry," he adds.

Keeping abreast of the latest industry developments is vital for those who want to succeed in the profession. "When talking to my clients, I always discuss their products rather than ours. From the way they sell their products, we can learn more about the industry trends and how we can help them cater to new business patterns and demand," Mr Wong says. "An urge for continuous improvement and a willingness to be challenged are important personality traits for breaking into our profession."

High performing employees have every opportunity to move up vertically from a local sales or marketing position to a regional and subsequently a global one. Alternatively, they may pick a general management route. "At TNT, examples of horizontal and vertical career movements like moving from the role of sales to business solutions, or from geographical sales to Asian regional sales, are common and highly visible. This gives our staff something to look forward to in their careers."

Despite the intense competition from neighbouring cities, Mr Wong remains optimistic about the prospects of Hong Kong's logistics industry as long as international trade keeps its growth momentum, particularly in the mainland's external trade. "In addition to our top-notch infrastructure, high efficiency and productivity remain our key advantages. Besides, our experience and expertise in the industry help set us apart," he remarks.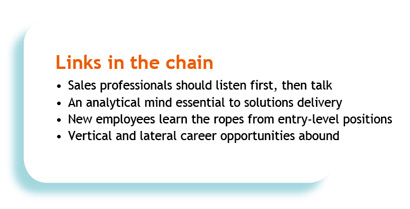 Taken from Career Times 16 April 2010, A10

讚好 CTgoodjobs 專頁,獲取更多求職資訊!