Self-enhancement
Personal branding made easy
by Grace Chan

Stay one step ahead by creating and boosting a sharp personal brand

Modern communication tools such as microblogs and social networking websites can connect people around the globe effectively, but in some ways they act as an obstacle to true interpersonal interaction.

Speaking recently at Career Times' seventh Marvellous Ways to Sell Yourself seminar, Hong Kong marketing guru James Hong spoke about ways to establish a personal brand using web-based tools, while television and radio host Sammy Leung shared his insights into effective face-to-face communication.

Enhancing brand equity

"From the toothpaste we use to the bottled water we drink, it's all a matter of choice, which depends largely on brand equity," said James Hong, general manager, marketing division, Sony Computer Entertainment Hong Kong (SCEH).

Mr Hong said that brand equity—the intangible value of a brand name—can also be associated with an individual. "You don't have to be in the entertainment industry to build up a personal brand with high equity," he added.

The personal profile of leading international corporation Hutchison Whampoa managing director Canning Fok, whose earnings totalled HK$124 million in 2009, equals that of celebrated Taiwanese pop singer and actor Jay Chou, who reportedly earned HK$133 million last year.

There are plenty more examples of successful personal branding in the Hong Kong business sector, with notable high-flyers including Ocean Park chairman Allan Zeman and Hong Thai Travel Services managing director Jackie Wong.

"Allan Zeman's personal brand ties in closely with Ocean Park. He always manages to grab the media's attention—whether it is dressed in a panda costume or as a giant jellyfish to promote the theme park," he pointed out.

Mr Hong believes anyone can build a personal brand by following a few simple steps. Drawing on personal experience, he explained how his own brand is closely linked with that of his company's flagship product Sony PlayStation.

The priority, he explained, is to identify the target market in order to get the product positioning right. In his own case, he sees himself as a young and fun-loving games lover, who at times dresses up as characters at new product launches.

"Over the years, I've become somewhat of an image ambassador for Sony PlayStation, which saves a lot on promotion expenses on the one hand and adds value to my company on the other," he explained.

Valuable endorsements

Building awareness is vital for a brand to succeed. Mr Hong suggested a number of channels to do this, including gaining traditional media exposure and making use of social media.

Since he started working as a marketing executive for SCEH in 1998, Mr Hong has regularly caught the media's attention with his creative and impressive marketing initiatives. In one instance, he managed to attract hundreds of video-game enthusiasts to queue up for the launch of Sony PlayStation 3 in 2006; in another, he staged a high-profile recruitment exercise in Tin Shui Wai for the Asia Game Show 2008.

In both cases, the result was extensive, free media coverage, as well as increased public awareness for Mr Hong as well as the company.

Since most people have limited budgets to build their individual brands, social networking tools and media such as Facebook and microblogs can be useful for profile building, Mr Hong said.

"Hong Kong Cantopop singer Gigi Leung's Sina microblog account now has more than 600,000 followers, giving her similar exposure to being featured in a top-selling daily newspaper," he stressed. "Another effective, but inexpensive marketing tool is to share promotional videos on YouTube."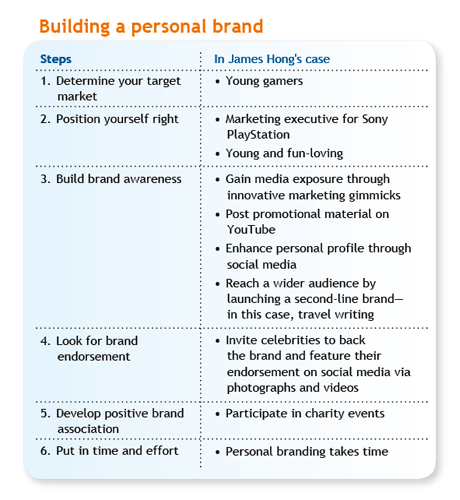 Wider exposure

Mr Hong has positioned himself as a travelogue writer in order to extend the reach of his personal brand. "Many international big-name product marketers have developed a second line of brands with the aim of capturing a broader target market. In a similar vein, I publish travel books, participate in travel radio programmes and write travelogues," he told the audience.

Cross-media and cross-disciplinary exposure, as well as endorsements by celebrities, can help to fast-track personal brand success, he added. "Positive association is essential for brand building, while participating in charity activities can also have positive spin-offs."

By donating all the proceeds of his 2009 book 1 Man, 2 Feet, 5,000 Years of Adventures to non-profit organisation Heifer International Hong Kong, Mr Hong not only supported the organisation's poverty-alleviation work in rural China, but also increased his personal profile.

As in many cases in the business sector, nothing can be achieved overnight. "Personal branding takes time," Mr Hong emphasised. Look the part

Product branding techniques can be applied to people, with a personal brand reflecting an individual's unique selling proposition, positioning, attributes and charm. Media personality Sammy Leung shared his five strategies to enhance charisma in order to foster a successful personal brand.

"Always smile when you encounter your boss in the office. This makes him feel accepted and happy and, in return, his impression of you may rise," he said, adding that smiling also helps people feel more optimistic and positive.

People tend to judge others by their appearance even before they have said a word, Mr Leung pointed out. Recalling an instance when he arrived for a job interview with Commercial Radio Hong Kong dressed as a rock musician, he said the panel kicked off by asking him if he played in a band. This enabled him to talk at ease and with confidence about his favourite music and band.

While it is vital to be prepared for meetings, sticking to the right dress code and choosing colours cleverly is another way of enhancing personal charm. He added: "Ask yourself what type of person you are and then select a colour scheme that works for you. Introverts, for example, can benefit from wearing brighter colours."

A good punch line

Personal charm is also conveyed through everyday conversation. Drawing on his experience as a professional disk jockey, Mr Leung advised seminar-goers to always plan what they wanted to convey to others and to structure this by introducing their topic, explaining it in a clear and plain way, connecting different points cohesively and then drawing a conclusion.

"You can use these four aspects to surprise your listeners and grab their attention," he noted, stressing that he always goes through his address a number of times before doing any public speaking. He also tests new scripts for his radio programmes on friends and modifies them several times before going on air.

"Regardless of what you say or how long you speak, the key is to talk passionately about your subject, have a specific goal in mind and conclude with a powerful punch line," he added. "However, there was no need to make up a story to impress. Just draw on true experiences. This is the easiest way to facilitate effective communication."

Proper etiquette

Making eye contact when conversing with others opens the doors to true communication, Mr Leung said. Some people are uncomfortable with this, but not looking at others may be taken as a lack of respect or self-confidence.

He advised: "If you struggle with maintaining eye contact, focus on the area between people's eyebrows and they won't notice the subtle difference." Approach others in a welcoming and friendly way, with a warm smile, and stay engaged. This helps to build trust.

"First appearances are important, so pay attention to your demeanour when you meet people for the first time," Mr Leung added. "Crossing your arms or leaning back when others are talking to you signify rejection or disinterest. Non-verbal communication essentially determines the ultimate success of a relationship."

He pointed out that people tend to seek mutual ground when interacting with others and network with people with similar interests. "A smile or eye contact can do wonders. Try practising your communication skills in front of a mirror, or film yourself to try and improve," he suggested.

He cautioned his audience against mistaking personal charm for being good looking: "By making yourself more attractive and alluring, you can create value and increase the worth of your personal brand. He remarked that the first step is for a person to understand his or her market in the first place. "The essential thing is to find out what your target market wants and to make this your selling point," he noted, urging the audience to invest in managing their personal brands, much as famous personalities do." This will be the most effective way to communicate with your target market, since you'll be giving them what they want."

Star qualities
Wear a smile
Dress according to your personality and role
Express yourself in a concise manner
Maintain eye contact
Pay attention to social etiquette
Identify your target market
Photos: Wallace Chan
Taken from Career Times 28 May 2010, B11
讚好 CTgoodjobs 專頁,獲取更多求職資訊!